I get it. I want a rebel, too.
I'm tired of hearing the lack of results coming from our Republican representatives after I celebrated the red map in 2014. Time and time again, we watch them all roll over to the great Washington, D.C. What is it about that city I love so much that creates such wimps?
But we're looking at the wrong rebel.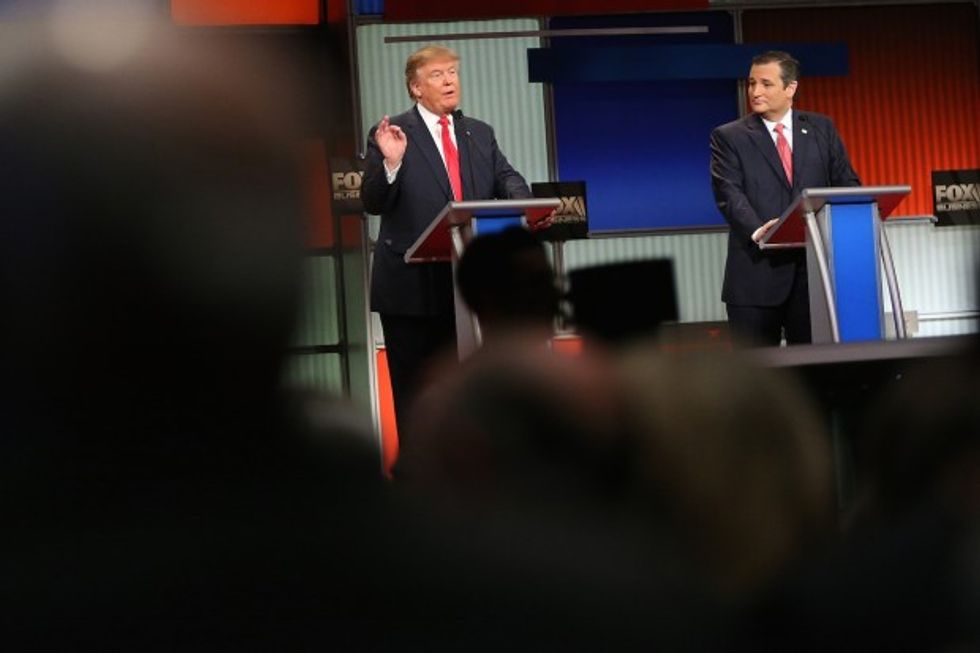 Scott Olson/Getty Images
Donald Trump said it himself, Ted Cruz doesn't have the support of many Republicans. Trump says that's pathetic, but is it? Why doesn't Cruz have the support of many Republicans? Because he stands up for the values he shares with his constituents – and when you do that, you don't fit in in Washington.
But Trump hasn't ever been in Washington, so that makes him a better rebel – right? Wrong. To define a rebel based on who is and isn't a politician would be a shallow, uneducated assessment, and we're smarter than that.
All of these candidates had lives and jobs before their career in politics. Is there really absolutely no benefit to having someone in office who has experience in, and therefore understands, the ways of Washington? None at all?
Let's not confuse experience in politics with rolling over in Washington – while they seem to be synonymous now, they don't have to be – and they shouldn't be! This election is our opportunity to show we won't stand for it anymore. Enter rebel.
Let's say there isn't any advantage at all to having someone with experience and understanding of Washington. So, we take a risk on Trump, the businessman who doesn't have any experience in Washington. That has to be good for the economy, right?
But, what if Trump gets to Washington and goes back to the beliefs and causes of his previous platform, which aren't so conservative? What if his belief that Planned Parenthood helps women with cancer leads to his support of them, and therefore, more abortions? What if he gets chummy with the liberals in Congress that he previously supported as a businessman?
Or what if Trump's campaign demeanor and language carry over into the Oval Office? What if there's a meeting with a world leader that requires a certain level of etiquette, like bowing, or using (or avoiding) certain phrases or words – would you trust Trump to maintain his demeanor and respect those individuals on behalf of us as a nation?
As Max Lucado shared in his blog post "Decency for President," we need someone who shares respect for the office. And for those of us that are Christians, we need someone who is representing us as a faith, not without sin, but who has the humbleness that comes from believing in a big God.
Rebels come in all shapes and forms. We need a respectful rebel, a decent rebel. We need someone who has experience (and a record) fighting against the masses in Washington, someone who proves that experience with politics isn't synonymous with rolling over in Washington. We need rebel Ted Cruz.
With the Super Tuesday results hot off the press, Trump now has 285 delegates, a sizeable win, but Cruz isn't out of the race with his 161 delegates. The competition is far from over and many of us still have to vote. When you head to the polls, choose your GOP rebel wisely.
–
TheBlaze contributor channel supports an open discourse on a range of views. The opinions expressed in this channel are solely those of each individual author.