This Sunday morning as our family gets ready for church, I find myself disheartened with the future of this country that my husband so proudly defends.
I long for this nation to be great again, but that status seems to slip a little further out of reach with each hopeful earthly "savior" we see fail publicly. While the blame for our nation's troubles lies with us all as fallible humans, the most recent embarrassment that is our presidential election could have been prevented if we had seen more unity, honesty, and courageous action among Christian conservatives when it mattered.
It's too little, too late, GOP.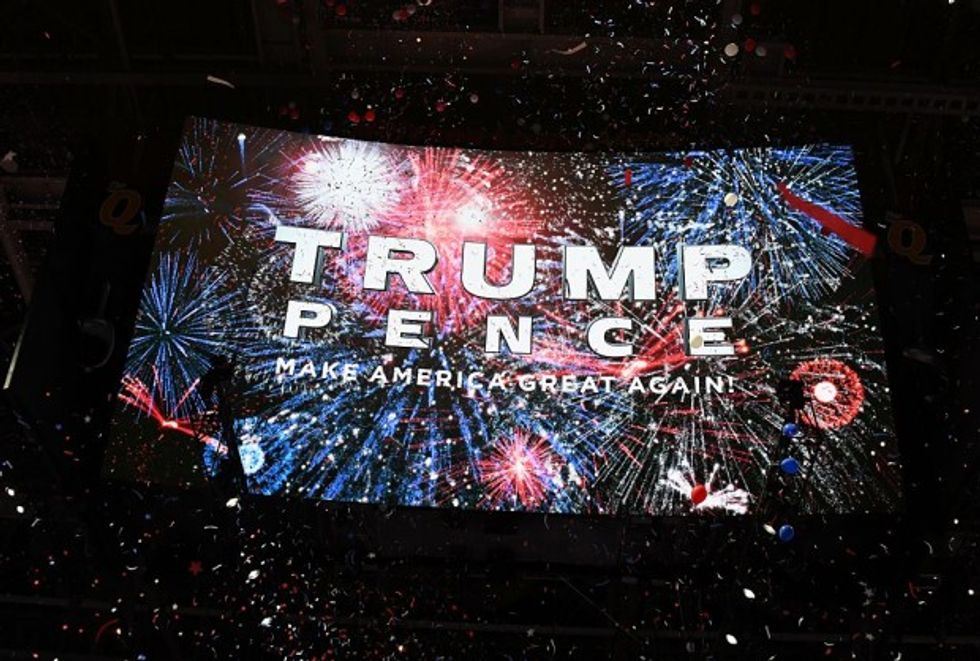 (Getty Images/Jim Watson/AFP)
You have put forth a completely unacceptable candidate on whose back you decide to turn during the final stretch of the election, when the latest revelations of his character are neither surprising nor shocking at this point. So many of you were quick to throw your support his way when it mattered, despite obvious indications the man was not at all a conservative or Republican, evident in his continued inability to intelligently explain a consistent stance on key issues that are of importance to the majority of the Republican Party.
We, as voters, must trust the process to give us a viable option that most closely represents our ideals, principles, and vision for the country we love. The process has failed us this election, and what is most tragic is that it was in a completely preventable fashion. The warning signs were there, GOP, and feigning outrage now is no better than still pretending they don't exist. If more of you had stood strong and voiced your reservations, you wouldn't have handed this election over to Hillary Clinton.
And you are responsible as well, prominent evangelical leaders who so quickly sold your souls and encouraged the support of your congregations. You made exception after exception for unrepentant, disgusting behavior, and glaringly obvious moral and character flaws that were inconsistent with and contrary to biblical definitions of a respectable leader. You misled Christians who earnestly sought your guidance, urging them to support a man who publicly claims Christianity, yet ultimately rejects our Savior's sacrifice by claiming he does not need forgiveness. While a few respectable Christian leaders maintained their condemnation, had more of you stood strong and voiced your reservations, perhaps this election would not be lost to Hillary Clinton.
We will be repeatedly disappointed if we put our faith in men instead of our Creator to guide the future of our country. Elected leaders should reflect the values and principles of their constituents, and sadly we seemed to have achieved that this election season. At this point all that is left for us to do is pray fervently for the future of our country.
It is better to trust in the Lord than to put confidence in man. Psalm 118:8
Brittney Kinne is a Jesus-follower, Air Force wife, mom of three, artist and engineer who loves our country and wants to make a difference. I'm a die-hard Texan, lover of all things Tex-Mex, anything pumpkin spice, penguins, and coffee. My husband and I met at the University of Texas engineering school before he joined the US Air Force and we've been enjoying exploring the country with our children ever since.
–
TheBlaze contributor channel supports an open discourse on a range of views. The opinions expressed in this channel are solely those of each individual author.