The prophet Isaiah is famous for his image of beating swords into plowshares and spears into pruning hooks. Less well known is the prophet Joel's command to reverse the process: "Beat your plowshares into swords." On this Veterans Day, we ask what the Bible really says about war and peace.
The Bible certainly offers its share of violence. In the Old Testament, Joshua and his men "utterly destroyed all the inhabitants" of a city called Ai (Joshua 8:26), for instance, and the great leader Saul was despondent because he hadn't killed as many people as David (1 Samuel 18). In the New Testament, Jesus warns, "Do not think that I have come to bring peace upon the earth. I have come to bring not peace but the sword" (Matthew 10:34).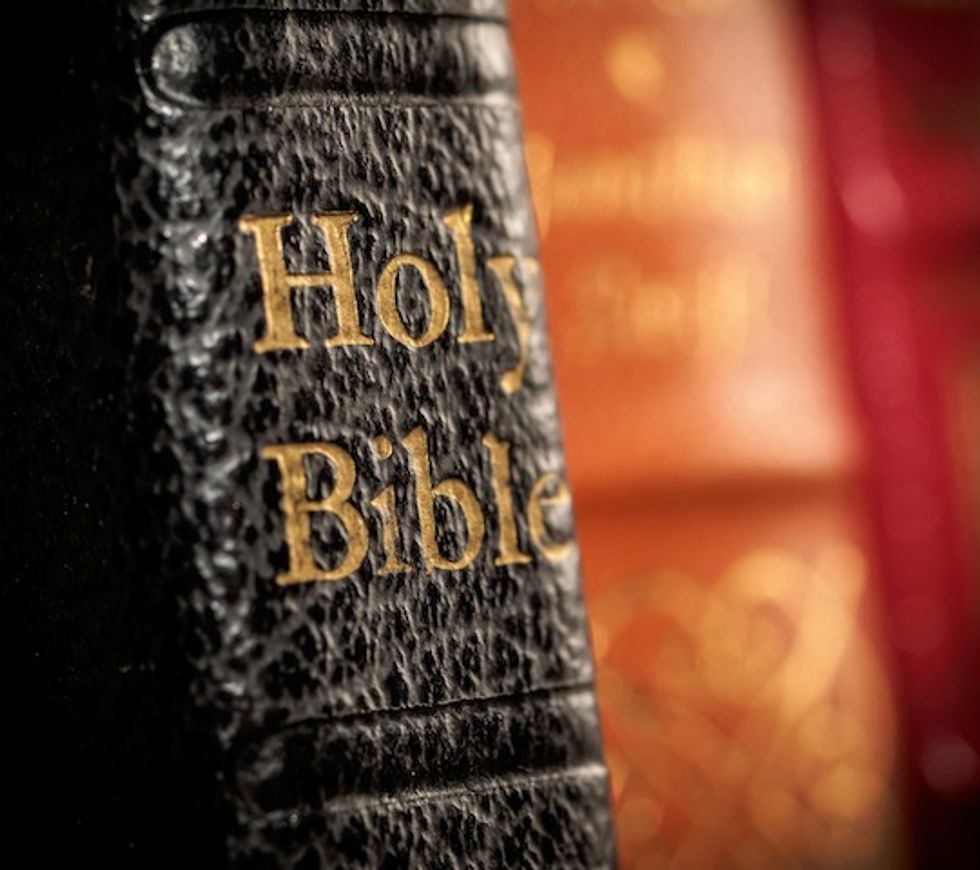 Photo: B Calkins/Shutterstock
These are matched by peaceful texts: Isaiah, as we just saw, and passages like Deuteronomy 20:10, which forbids the Israelites from waging war against a city without first offering it peace. Psalm 34:15, which commands "Seek peace and pursue it," was so central that it was quoted in the New Testament (1 Peter 1:33). And the New Testament also provides the famous "Glory to God in the highest and on earth, peace!"
A close look reveals a clear pattern in the Bible's mix of peace and violence. The violence, by and large, is what happened in the past: Joshua's military campaign, David and Saul, and a plethora of other sometimes-exaggerated accounts of military prowess. By contrast, peace is the goal moving forward. Even Isaiah's famous imagery is set in the future --- a prophecy to be fulfilled only when God serves as final arbiter. Isaiah knows the time has not yet come for pacifism, which is why he prefaces his famous vision with, "In the days to come..."
Peace, in other words, is better than war, even if we have yet to achieve that ideal.
But justice is even more important than peace.
We find the theme of justice in the Old Testament in passages like the doubly emphatic, "Justice, justice shall you pursue" (Deuteronomy 16:20). Sections like Leviticus 19 offer more detail, commanding judges to favor neither the rich nor the poor. Trials must be impartial. More generally, says the Bible, the world should be fair.
If peace and fairness are not both possible, then fairness wins out. That is, violence is an acceptible last-resort path to fairness. This leads to the famous command to extract "an eye for an eye and a tooth for a tooth" (Exodus 21:24).
At first glance, the New Testament appears different. In Matthew 5, Jesus rejects an eye for an eye in favor of the often quoted, "turn the other cheek." But that's only because, in the New Testament, justice will be doled out in the world to come. In this world, now, we may turn the other cheek instead of demanding an eye for eye, but unbelievers will eventually suffer a fate worse than Sodom and Gomorrah (Matthew 10:15). Even the "God of peace" will eventually turn to violence and "crush Satan" (Romans 16:20), just as "it is indeed just of God to repay with affliction those who afflict you" (1 Thessalonians 1:6).
Both the Old Testament and the New Testament, then, establish a hierarchy: peace is better than violence, but justice is more important than peace.
While the principle may be clear, its implementation is not. What counts as fair? How much violence is okay? And who gets to decide?
A core observation lies at the heart of all of these details. We live in a messy, complicated, nuanced, imperfect world in which ideals conflict and nations clash.
As a Bible scholar living in the United States, these matters are largely theoretical for me. I have the luxury of never having feared for my own safety. I know I owe this rare gift to those who grapple with the balance between peace and violence on my behalf, and I'm incredibly grateful.
A frequent speaker at churches and synagogues, Dr. Joel M. Hoffman is author of the forthcoming "The Bible Doesn't Say That: 40 Biblical Mistranslations, Misconceptions, and Other Misunderstandings," as well as the popular "And God Said: How Translations Conceal the Bible's Original Meaning" and, most recently, "The Bible's Cutting Room Floor: The Holy Scirptures Missing From Your Bible." He can be reached through his website at www.Lashon.net.
–
TheBlaze contributor channel supports an open discourse on a range of views. The opinions expressed in this channel are solely those of each individual author.