But the battle has just begun; we still have to select a movie. Between mom, dad, a teenage daughter and two younger sons, rallying around a single candidate is tougher than nominating a Republican for president. (Our riots aren't too shabby, either.)
Recently I picked up a DVD I feared could be so controversial, my boys would threaten to boycott movie night completely. More candy for me, right?
The film was "Once I Was a Beehive" starring Paris Warner and Lisa Valentine Clark. You should have seen the looks on my boys faces when I read a snippet from the back of the DVD case about a Catholic teenage girl who loses her father to cancer, watches her mom marry a new guy, and is immediately roped into joining her new step-cousin at a weeklong summer camp for Mormon girls.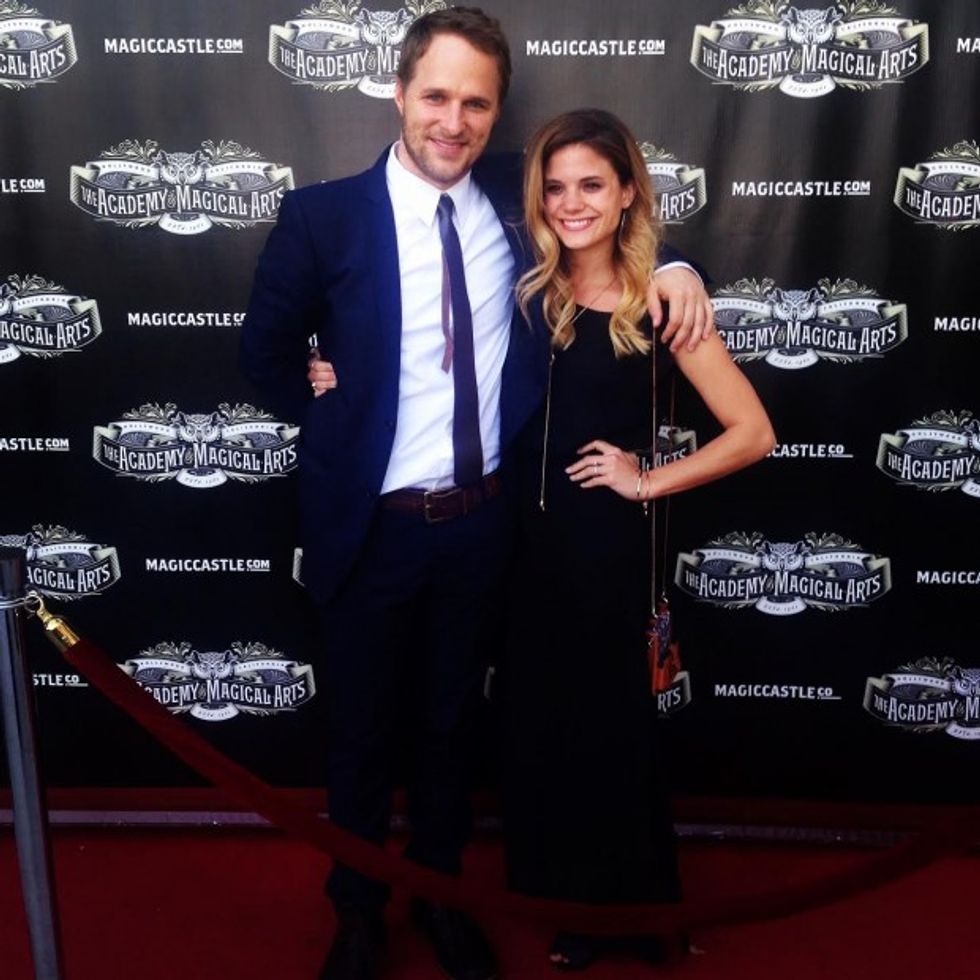 Maclain Nelson and Clare Niederpruem, producers of "Once I Was a Beehive." (Thrillion Dollar Movie)
"Dad," my 12-year-old said, "unless aliens invade that camp, I'm out."
I reminded him it's called "family movie night" and that the treat buffet would stay in front of the television, whether he did or not.
He conceded. "I'm in."
Over the next two hours, we were all in — in love with the film, the actors and the message.
Curious about this rare blend of humor, drama and genuine spirituality by a group of relative unknowns, and armed with my own experiences with my wife and daughters attending similar camps, I reached out to filmmakers Maclain Nelson and Clare Niederpruem for an interview.
My first discovery? The creative duo is married. My second? He's a Mormon, the common nickname for members of The Church of Jesus Christ of Latter-day Saints, and she's Catholic.
We started there.
"Sometimes as a Mormon," Nelson said, "our culture has the attitude that we have everything to share with other religions, but nothing to learn. It's not true. I have learned so much from my Catholic wife and in-laws, and with this film we wanted to be sure that all the characters learn something from each other."
Not surprisingly, Niederpruem agreed.
"People seem to target the differences in religion rather than similarities, and it was important to us to show connection rather than disconnect. Rather than telling a conversion story, we wanted the movie to be about acceptance. As a non-member immersed in the Mormon community, I have experienced some unwanted pressure to convert. But much more often, I have felt loved, respected and accepted. And that's where our film lives."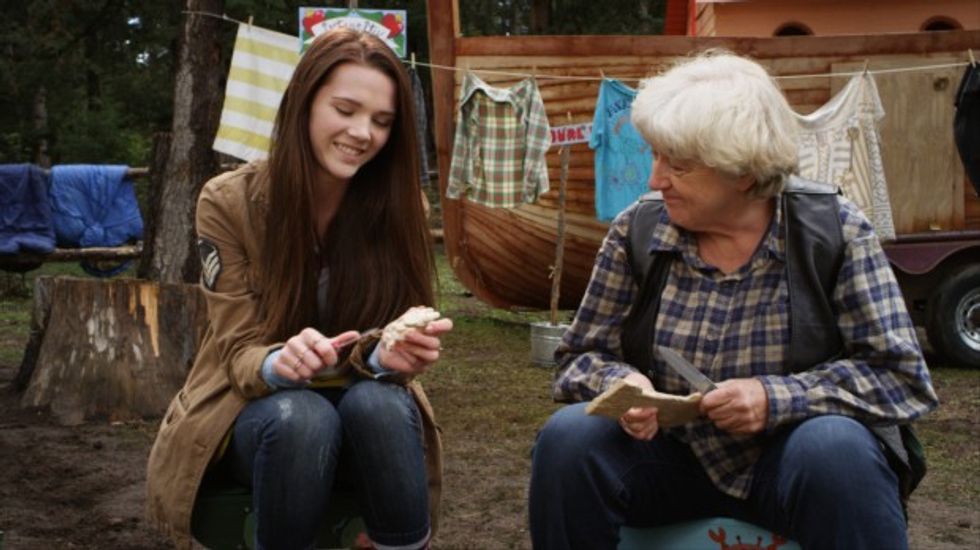 Lane Speer (Paris Warner) talks with a girls' camp leader named Nedra (Barta Heiner) in "Once I Was a Beehive." (Thrillion Dollar Movie)
When I asked where the idea originated for a film on the quirkiness of a religious summer camp, Nelson pointed quickly at his mother.
"She's probably the most gung-ho camp leader ever. I'd never seen her at camp, but the preparation and work that she put into it was very inspiring. I knew there was something special at camp that deserved to be explored," he said.
Because of their family's religious mix, Nelson and Niederpruem felt the camp setting would create an entertaining and emotionally powerful story.
"Maclain and I have both experienced being a religious outsider, and we drew on that to create the lead role of Lane, the Catholic character dropped into this Mormon situation. I remember first attending a Mormon church and not understanding a lot of the lingo or cultural norms, and we put a lot of those examples into the film."
I also asked the couple how they feel about the success of their faith-based, independent movie. Nelson described being overwhelmed by how well the movie has been received by all ages and both genders. "We hoped that young women and their mothers would enjoy the film, but I have had countless fathers, like you, tell me how much they sincerely enjoyed it. People are starting to quote it and even sing the songs. And the feedback we have received from all different faiths has been glowing. That means the world to us."
"Yes!" Niederpruem added. "We had no idea if the audience would connect to it the way we did. And like any movie, it was a battle to get it out there and draw an audience, but then when you have a girl who has lost her father who says 'this is my favorite movie ever' or a dad say 'this was a great bonding experience for me and my daughter' — those reactions are incalculable."
With my own interest in independent moviemaking, I asked Nelson and Niederpruem to discuss their view of the market for family-friendly films. "The subject matter is not enough," Nelson began. "The films have to be as entertaining as they are edifying. That's the key. Even if they are Christian or family-themed, people won't see them unless they have high production values, look great, have a strong script, story, acting, etc. People are yearning for good entertainment that is earnest, heartfelt and comedic, and something you can watch with all ages."
Both contend that you can please an audience by keeping films clean and appropriate without losing the heart of the story. "We need to treat our audiences more intelligently," Niederpruem said. "We can't assume they want, as my husband always says, 'a whitewashed version of the story.'"
Niederpruem also believes that audiences are asking for more relatable films. "What's more relatable than family, friends, and our relationships with our neighbors? Although I love a good post-apocalyptic movie, I think we are craving the simpler, yet powerful stories about growing up."
When it comes to my own highly-selective audience at home, this filmmaking team is right on the mark. When I asked my own family why they enjoyed the film, each praised its humor and heart. Not only was it a film the whole family could enjoy without covering anyone's eyes or hitting the fast-forward button, it was a movie that moved us. In fact, it moved us twice when we rewatched it a few weeks later.
The question remains. What do you get when a Catholic and a Mormon make a movie? Magic.
Even if there were no aliens.
–
TheBlaze contributor channel supports an open discourse on a range of views. The opinions expressed in this channel are solely those of each individual author.