Prime Minister Benjamin Netanyahu traveled to the United States this week to speak before Congress at the invitation of House Speaker John Boehner. His speech, focusing on the threat of Iran and their nuclear ambitions, has deeply divided Congress as Democrats in both houses rushed to show their loyalty to President Barack Obama and his policy of negotiation toward the often fiery and apocalyptic state.
Netanyahu, not easily swayed by the faux outrage and political pressure, made this trip as relations with Israel have reached a low point and will most likely grow colder by the end of this week. His resolve regarding the speech, in the face of so much pressure, mirrors his overall stance and conviction about Iran. It is firm; it is decisive; and it is shaped by a very personal knowledge of his enemy.
[sharequote align="center"]It is firm; it is decisive; and it is shaped by a very personal knowledge of his enemy.[/sharequote]
To better understand Benjamin Netanyahu's firm conviction, and the man himself, you must know his brother - Yonatan Netanyahu.
Yonatan "Yoni" Netanyahu was born in New York City in 1946 and spent a good portion of his childhood in a lush and sprawling town outside of Philadelphia. His childhood was filled not only with two younger brothers, but with plenty of good natured roughhousing. As the older brother, he would beat up on his younger brothers, especially Benjamin, to toughen them up.
In 1964, just after graduating from high school, Yoni joined the Israeli Defense Forces and excelled as a soldier and student. He would soon be given command of a paratrooper company and led his troops in Sinai and the Golan Heights during the Six Day War in 1967.
This first taste of war left his mouth bitter and he longed to remove himself from its effect and devastation. In the summer of that same year, shortly after marrying his girlfriend, Yoni moved back to America where he attended Harvard University to study philosophy and mathematics. This incredible dichotomy, a man split between the beauty of arts and the duty and horrors of war, would be a theme throughout his life and a constant struggle of the spirit.
After only a year at Harvard, he moved back to Israel where wars and constant fighting had become the norm not only for his own life, but for younger Benjamin's as well who served in the IDF until 1973.
Over the next several years, Yoni would join and eventually lead the Sayeret Matkal, a special forces unit that specialized in counter terrorism and hostage rescue. He would receive medals for his wartime service that saw action in Syria, the Sinai peninsula and the Golan Heights.
Yoni was a rising star in the Israeli military, respected for his ability and leadership. Yet despite this success, despite his ability for the unfortunate necessity of war, the internal struggle of a man shouldered with such an awful duty showed itself in his poetic letters home:
"On me, on us, the young men of Israel, rests the duty of keeping our country safe. This is a heavy responsibility, which matures us early... I do not regret what I have done and what I'm about to do. I'm convinced that what I am doing is right. I believe in myself, in my country and in my future"

"A kind of sadness has overtaken me which doesn't leave me. I sense the cry and depth of sadness in others who came through the war with their bodies intact. That harmony that characterizes a young man's world is not a part of me anymore. We're young and we were not born for wars alone. I intend to go on with my studies but I can no longer see this as my main mission in life. Hence the sadness of young men destined for endless war."
On June 27, 1976, Air France flight 139, originating in Tel Aviv and destined for Paris, made a stop in Athens where it picked up an additional 58 passengers. Among those 58 were four terrorists who would hijack the aircraft shortly after takeoff. Two of them were Palestinian, two were German.
The flight was immediately diverted to Benghazi, Libya. After a long delay in Benghazi and more than 24 hours after originally leaving Tel Aviv, Flight 139 landed at Entebbe Airport in Uganda. The terrorists were joined by others at the airport and had the full support of Idi Admin, Uganda's president at the time.
They released their demands the same day: 5 million U.S. dollars and the release of 53 Palestinian militants. Israel, not known to negotiate with terrorists, had three days to comply before hostages would begin to be killed.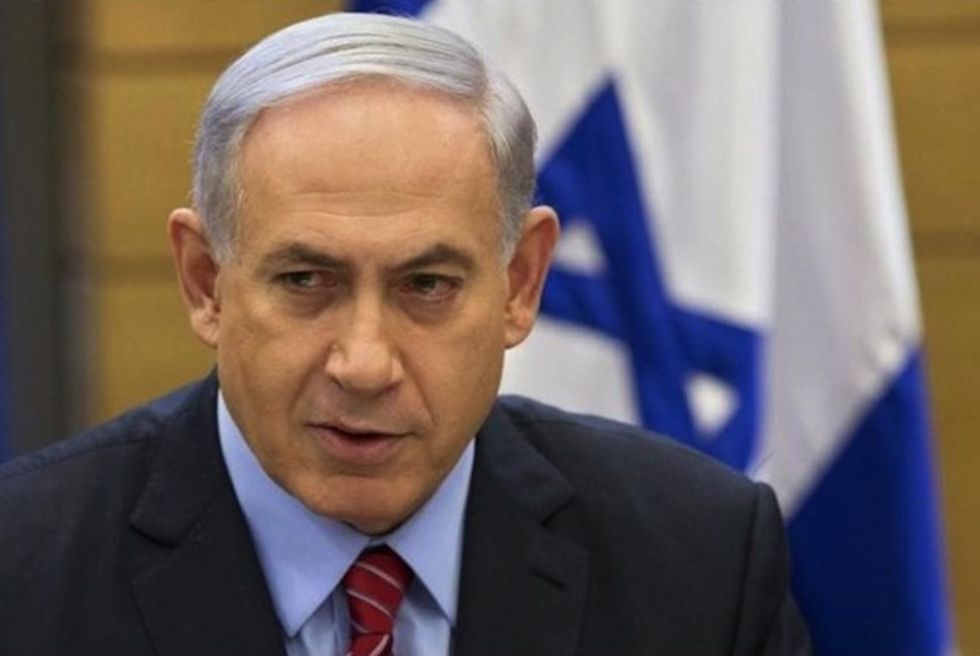 In this Dec. 3, 2014, file photo, Israeli Prime Minister Benjamin Netanyahu speaks during a faction meeting at the Knesset, Israel's parliament in Jerusalem. (AP Photo/Sebastian Scheiner, File)
Showing their true nature and intent, the terrorists separated the hostages into two groups - Israeli/Jewish and other. All of the "others" would be released from capture without harm leaving only the Israeli citizens and Jewish people.
Behind the scenes, the military scrambled to figure out a plan of attack. Diplomatic channels through Idi Admin and through leaders in Egypt had proven unsuccessful. As the deadline approached and the pressure built from inside, Israel offered to negotiate with the terrorists and bought themselves three more days.
During this time, a plan for a raid was hatched. Using transport aircraft, Israel would fly down to Uganda and land at Entebbe in the middle of the night. After finally winning permission to land and refuel in Kenya, a decision that would cost a Kenyan official his life, Operation Thunderbolt was a go.
The leader of the assault force? Yoni Netanyahu.
After landing at Entebbe shortly before midnight, the assault force drove to the terminal in a black Mercedes flanked by Land Rovers, the typical motorcade of Idi Amin. Unfortunately for them, Amin had recently purchased a white Mercedes and so the soldiers guarding the terminal knew immediately that something was wrong.
The firefight started and the Israeli assault force quickly entered the terminal. In less than an hour, the entire operation was over.
Benjamin Netanyahu, half a world away at the Massachusetts Institute of Technology, had heard of the daring raid by the unit he had been a member of not long ago. He knew his brother would be there.
Of the 106 hostages, 102 were safely rescued. Every hijacker and terrorist had been killed along with over 40 Ugandan soldiers. The mission was an enormous success and would change Benjamin Netanyahu's life forever. His brother, the artistic and poetic soul stuck in a world of war, was the only Israeli soldier killed in the raid.
Netanyahu's conviction about the nature of terrorism and his resolve to crush it with strength was directly and profoundly affected by this life changing event. This is not a political position formed in the hallways of universities, shaped by the ever-changing polls or carefully planned by strategists; it is an understanding forged by sorrow and unforgettable loss at the hands of a very clear and ever-present evil that exists today in Iran.
While the Democrats in Congress and in the administration race to see who can proclaim their loyalty to President Obama's policy the loudest, Benjamin Netanyahu will continue to take the slings and arrows for a duty and responsibility to protect his people and the nation of Israel.
As his late brother wrote in a letter back home -
"Any compromise will simply hasten the end. As I don't intend to tell my grandchildren about the Jewish State in the twentieth century as a mere brief and transient episode in thousands of years of wandering, I intend to hold on here with all my might."
–
TheBlaze contributor channel supports an open discourse on a range of views. The opinions expressed in this channel are solely those of each individual author.