I don't care one whit if Charlotte, North Carolina wants to open up the ladies' room to men who "feel" like women or "wish" they were women or just want to pee with women. That is up to Charlotte.
Nor do I care if the North Carolina legislature wants to overrule that decision. It is none of my business.
I do care, though, about the abject dishonesty of the Obama administration in framing this debate. To suggest that those who oppose boys using the girls' bathroom are mean-spirited is deceitful and wrong.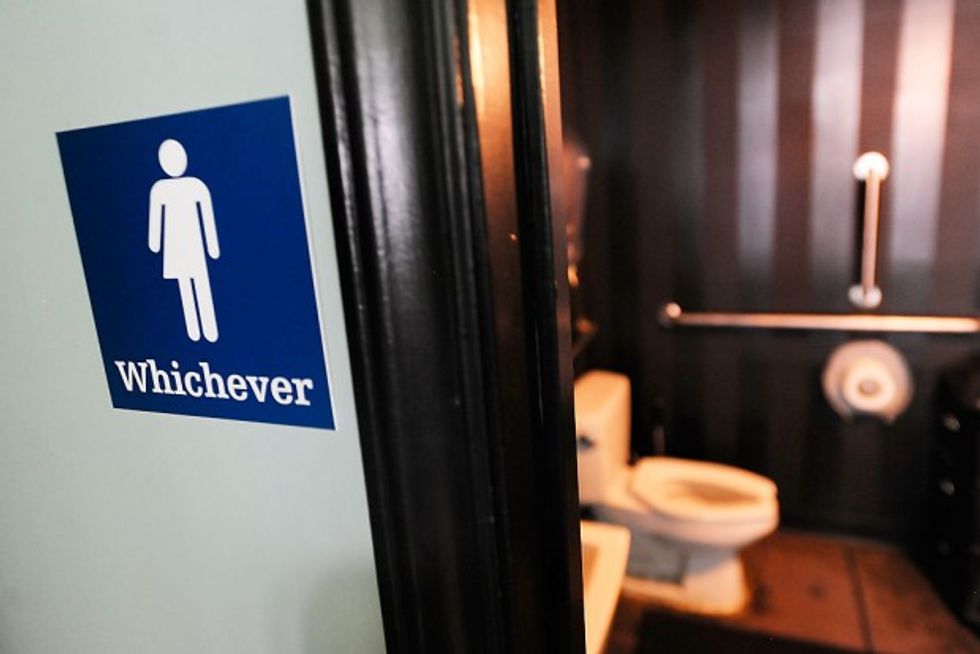 DURHAM, NC - MAY 11: A gender neutral sign is posted outside a bathrooms at Oval Park Grill on May 11, 2016 in Durham, North Carolina. Debate over transgender bathroom access spreads nationwide as the U.S. Department of Justice countersues North Carolina Governor Pat McCrory from enforcing the provisions of House Bill 2 (HB2) that dictate what bathrooms transgender individuals can use. (Photo by Sara D. Davis/Getty Images)
Those who believe that boys and girls should use different bathroom facilities did not begin this debate. They are merely defending the moral order of the last several thousand years which accommodates the modesty of 99.7 percent of the population which is not confused about its gender.
This debate was begun by those who want to disrupt that moral order and they are merely using fairness and empathy for the 0.3 percent of our population who are gender uncertain to achieve their goal.
This has never been a problem before. Those genuinely going through a gender transition process have been using facilities in keeping with their dress and comfort for years. They are just as modest as the rest of us and are not interested in being a spectacle.
I also care that Attorney General Loretta Lynch has decided what laws in North Carolina may or may not be enforced. That is none of her business.
The Justice Department determined that the North Carolina law that requires people to use the restroom of their biological gender violates Title VII of the Civil Rights Act of 1964 which prohibits discrimination in the workplace.
North Carolina has been advised that enforcement of the law could cost them $2 billion in federal funds.
The DOJ further concluded that the North Carolina law violates Title IX of the Education Amendments of 1972 which prohibits discrimination based on gender in schools and school activities. It was intended to give girls' sports equal treatment to boys' sports.
The North Carolina University System was warned last week to stop enforcing the law or face a federal lawsuit and the loss of $1.4 billion in federal funds.
If the DOJ can decide 40 or 50 years after laws have been passed that they were written to protect an entirely different class who knows what they will decide next.
The telling argument in the Supreme Court decision regarding gay marriage was that people should not be discriminated against just because of whom they love.
One of the winners in the Supreme Court's decision regarding gay marriage was the North American Man-Boy Love Association.
I promise you that within 10 years there will be a political impulse to defend the "true love" between adult men and young boys. The same politicians on the left who today will ridicule that notion will be leading the charge in the next decade.
I know. I know. That is a ridiculous extrapolation of the gay marriage decision. Surely no one could possibly think that it will extend to pedophilia.
Of course they will. And they will frame the debate in terms of fairness and empathy, but its goal will be to further disrupt the moral order.
Less than a decade ago, President Obama and former Secretary of State Hillary Clinton opposed gay marriage on biblical grounds. Today, gay marriage centers their political agenda.
I was ridiculed 40 years ago for predicting that female babies would be aborted because the parents wanted to have a boy first. It is happening.
In an additional insult to the constitution, the attorney general has decided to pre-empt the appropriating power of the Congress and choose entirely on her own how to spend your tax dollars.
Article 1 of the United States Constitution gives the power of taxing and spending to the Congress. When Congress passes the spending bills they are signed by the president and become the law of the land.
Lynch does not have the authority to amend that law and declare that federal funds that have been appropriated could be withheld from any jurisdiction that has the audacity to enforce state laws of which she does not approve.
The Congressional Budget and Impoundment Control Act of 1974 specifically prohibits an administration from withholding spending unless Congress approves the rescission.
The ultimate insult to history, though, is when a simple effort to protect privacy of little girls is compared with Jim Crow laws to segregate races.
Is nothing sacred anymore?
If you would like to be added to John Linder's distribution list please send your email address to: linderje@yahoo.com or follow on Twitter: @linderje
–
TheBlaze contributor channel supports an open discourse on a range of views. The opinions expressed in this channel are solely those of each individual author.