Another slugfest ensued Sunday night between presidential hopefuls Hillary Clinton and Donald Trump.
It was a raucous 90 minutes of political mud-wrestling at its 21st century best, i.e., all-time deplorable worst. When the candidates first appeared on stage, neither reached to shake the other's hand but instead gave a curt nod. Clinton's clipped "hello" was so chilly it could have been a wife to her husband at the breakfast table after a humdinger of a fight the night before.
Things only got more awkward from there.
Round 1: Audience member asks if the candidates think they are modeling appropriate and positive behavior for today's youth. Clinton is non-responsive; makes aspirational comments about her campaign and the American people. Anderson Cooper thanks her. Trump is non-responsive; makes wide-ranging comments about trade, Obamacare, the Iran nuclear deal, immigration, and law enforcement. Anderson Cooper chastises him for not answering the question. Lather, rinse, repeat.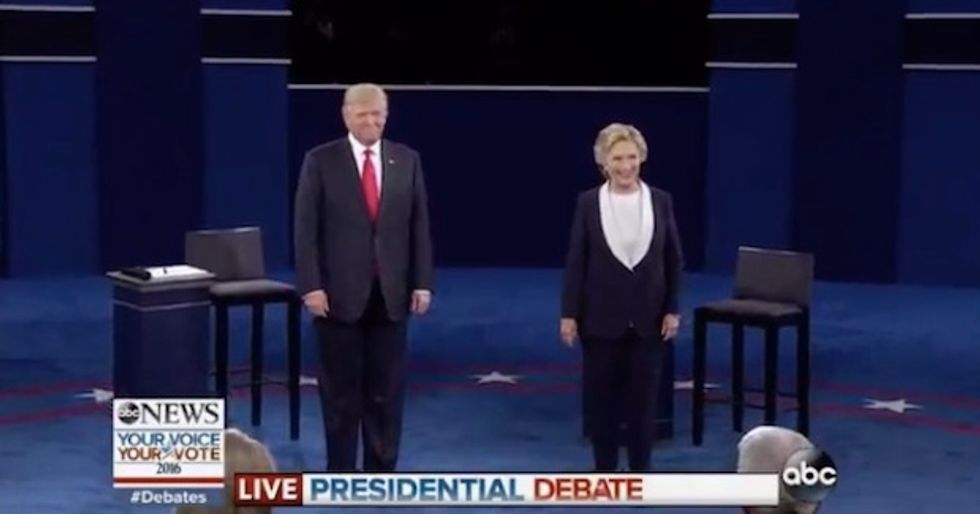 Image source: YouTube
The first moderator question, no surprise, was to Trump about the "hot mic" tape from 11 years ago where he is heard talking about women in—dare I say it—the most deplorable way.
"You described kissing women without consent, grabbing their genitals. That is sexual assault. You bragged that you have sexually assaulted women. Do you understand that?" asked Cooper.
Deplorable. No one defends the comments, not Melania, not Trump himself, who apologized to his family and to the American people. Saying he was "very embarrassed" and that he "hated" the tape, Trump called it "locker room talk."
All-male environments—and there isn't a man in America willing to admit this to his wife right now—fuel sexual braggadocio. Women are a civilizing influence on their men so we've never witnessed it at its worst. Things done on the Trumpian scale, I think we can all agree, are the worst of the worst. Deplorable.
But since when is slimy verbal posturing (the only thing documented on tape) "sexual assault?" It's an insult to the Juanita Broaddricks of the world to equate locker room talk with felonious physical penetration. And then Cooper proceeded to lecture Trump, it's an insult to those of us who don't want the heinous behavior of rape watered down to equivalence with lewd comments.
Cooper pressed Trump four times on his lewd comments and twice on payment of his federal income taxes. Raddatz pressed him twice on the fall of Aleppo and at one point actually forgot she isn't a candidate and debated him on our military strategy in Mosul.
Neither Cooper nor Raddatz press Clinton on anything. Ever.
To her canned responses about deleted emails and sending classified information on a private server, all they said was "thank you" or "okay, we're going to move on."
Though Trump walked on stage like a lobotomized creature, he sprang to life when he started to wax poetic about wealth. Once warmed up, he delivered a steady barrage of blows against his opponent: Benghazi, the Second Amendment, Islamic State, "radical Islamic terrorism," Sid Blumenthal, WikiLeaks, her support for the war in Iraq, Syrian refugees, criminal illegal aliens, Goldman Sachs, her private speeches, and her "deplorables" comment.
What he lacked in substance during the first debate he disgorged in spades during the second.
If Trump had started anywhere but behind the 8 ball of his "hot mic" tape, he would have killed it. Because he kept his cool, showed command of the topics, and went for her jugular, he resurrected a campaign that was hanging by a thread when the debate started. He is a scrapper, you've got to give him that.
Clinton handled the debate like a tank, rolling over and crushing Trump with a monotonous and utilitarian "everything he just said is a lie." Only the rapid eye blinks and the sheen of sweat on her upper lip gave her away. He got to her this time.
Hands down his best line—maybe the best line of any recorded debate in history—came in response to her "…it's just awfully good that someone with the temperament of Donald Trump is not in charge of the law in our country."
Without missing a beat, the stand-up comedian/carnival barker/ruthless politician in him whipped back with "because you'd be in jail."
The moderators ended the debate on a low note with one last question "sneaked in" from the audience: "[R]egardless of the current rhetoric, would either of you name one positive thing that you respect in one another?"
Two yucky people known for lying and BS are asked one last time to lie and BS about each other.
Who won? Like Megyn Kelly said, "…certainly not America."
Feature Image: AP Photos
–
TheBlaze contributor channel supports an open discourse on a range of views. The opinions expressed in this channel are solely those of each individual author.