A shooting at Umpqua Community College in Roseburg, Oregon, has left 10 people dead and seven injured. So we're going to have yet another discussion about gun policy.
No, it isn't "politicizing" to take positions on gun control and gun rights in the wake of a shooting. When there's an earthquake, there's nothing wrong with talking about building codes and emergency efforts, and debating what we did right or wrong in dealing with the situation. The same goes for mass shootings.
But there are some bad arguments – like the "politicizing" one above – that need to be challenged.
Like the idea that our gun policies make us safer. In accord with the Second Amendment, the United States has fewer prohibitions on gun ownership than most other "WEIRD" (Western, educated, industrialized, rich, and democratic) countries, and it has more guns per capita than any other nation. Yet we have far higher homicide rates – both overall and gun-related in particular – than pretty much all of those other countries.
Look at the accompanying chart (compiled from data here, here, and here): U.S. homicide rates are typically anywhere from two to 10 times higher than other countries. What is it about U.S. society that's counteracting the safety guns should be providing us such that our homicide rates are – not 10 or 20 percent higher – but 100 to 900 percent higher (or more)?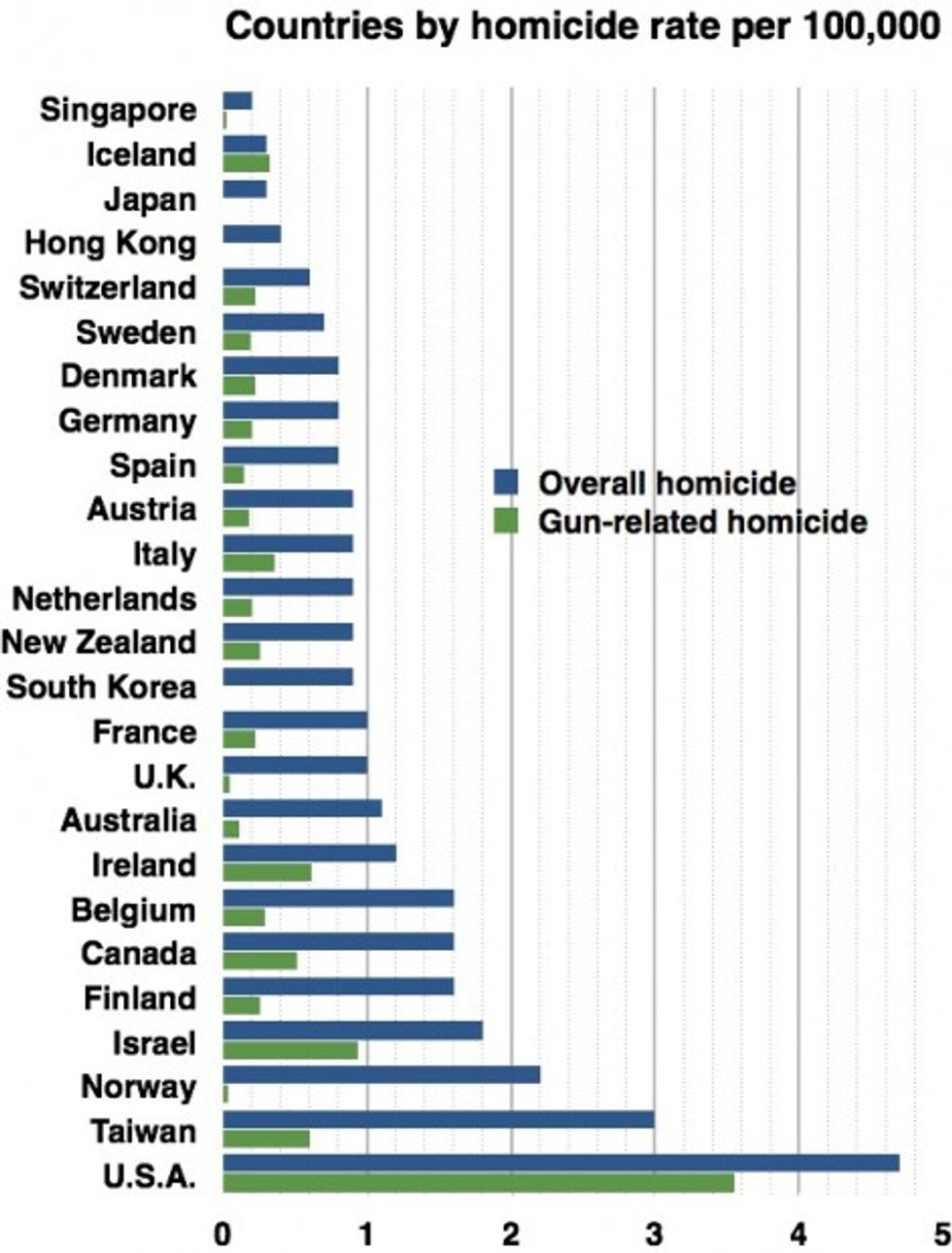 Data from Wikipedia and GunPolicy.org. (Alasdair Denvil)
Or could it be that our gun policies doesn't make us safer?
Let's look at a few other arguments that are also likely to show up in the coming week:
"The school was a gun-free zone, where people couldn't defend themselves!"
Yes, that's true. But, unless the majority of U.S. shootings are happening in gun-free zones, that's doesn't explain why our homicide rates are so much higher. Besides, other countries have gun-free zones, too; Japan is basically one giant gun-free zone, and their homicide rate is almost zero.
"Other countries have mass murders, too!"
Yes, but their murder rates are way, way lower than ours. They don't have nearly as many total murders, whether mass or single ones.
"Gun laws make no sense, because criminals don't follow the law!"
Then why do other countries have vastly lower rates of gun-related homicide? Is it because they don't have criminals? Or are their criminals far more law-abiding?
"Evil people will find a way to harm others, even without guns."
This defies the last 700 years of human history, in which armies all over the world have adopted firearms rather than sticking with swords and bows and arrows in recognition of the fact that guns make it easier to kill people. When was the last time you heard about someone killing 10 and wounding seven with a knife? Why do mass murderers – from Columbine to Virginia Tech to Sandy Hook to Umpqua – routinely use guns if they could kill just as many with something that's easier to buy, like an axe?
And why doesn't Iceland have just as many murders as we do? They don't have guns, but they still have axes and evil people, right? Or are Americans just more evil than Icelanders?
"I've been a responsible gun owner for years!"
The last time I wrote about gun policy, I got a ton of offers: "I'll take you shooting, and you'll see how safe we are – how safe we're required to be – with our guns." People had this idea that because I didn't understand what proper gun ownership is about, my arguments were therefore flawed.
What these people failed to understand is that just because they're safe with guns doesn't mean that our gun policy is safe. And that's because our gun policy isn't ensuring that guns only wind up in the hands of responsible people like them.
Shooting lessons aren't going to change the facts: before you take me down to the range to educate me on the virtues of responsible gun ownership, the U.S. gun-related homicide rate is five times higher than Denmark's, and about a hundred times higher than Singapore's. Post-gun lesson, those numbers will be exactly the same.
I don't believe that the only reason our murder rates are higher is because of guns. Crime in general is difficult to predict and explain. and there are no doubt cultural and economic factors involved. And I also don't support gun control. The Second Amendment, in my view, is about the citizenry being armed against a potentially tyrannical government.
But I definitely don't buy the argument that guns make us safer from crime. If that were true, we should have homicide rates vastly lower than these other countries. Instead, the opposite is true.
If you disagree, tell me: what it is about the U.S. that makes our homicide so much higher than almost every comparable nation on the planet?
Feature Image: Shutterstock
–
TheBlaze contributor channel supports an open discourse on a range of views. The opinions expressed in this channel are solely those of each individual author.