If you have a Facebook, Twitter, or other social media account, you know that it doesn't take long to find a negative statement about the president, or members of Congress, or other governmental leaders and departments.
Some are scathing, some are tongue-in-cheek, some are even funny. Some are true and some are not.
But here's the thing. If you're looking to point the finger for America's declining spiritual state; if you want to place blame for the moral apathy you find in this country, you should not be throwing your proverbial stones at our nation's government. No, the problem lies with God's people and the church. And if you are a follower of Jesus Christ, let me bring it home on a personal level: the problem lies with you, and the problem lies with me.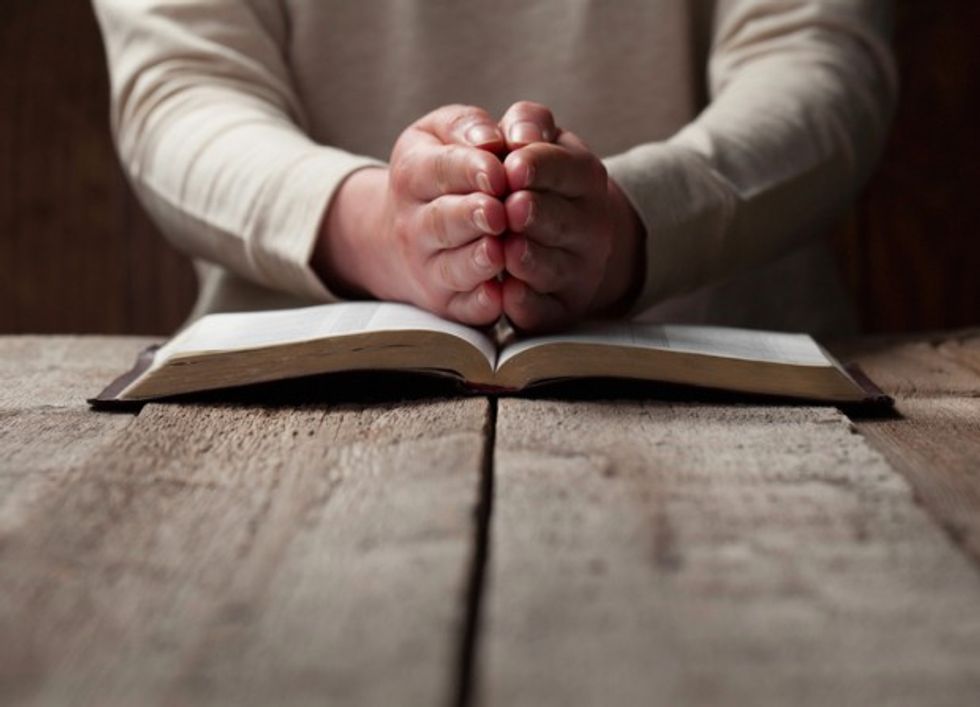 Photo credit: Shutterstock
Why do I say that?
When we look at a passage familiar to most believers, 2 Chronicles 7:14, we find that God doesn't reproach the White House; He calls attention to His house. Here's what 2 Chronicles 7:14 says [emphasis added]:
"If My people who are called by My name will humble themselves, and pray and seek My face, and turn from their wicked ways, then I will hear from heaven, and will forgive their sin and heal their land." (NKJV)
Now, initially this verse was spoken to the nation Israel. Some would argue that we take it out of context if we apply it to America. But I think in principle it applies to the believers of any nation, including the United States, for we as Christians are certainly called by His name and are His people.
Notice that God doesn't mention secular culture. He doesn't say a thing about your "garden variety sinners," if you will. He talks to His own people. "If My people ..."
So, for those of us who are true followers of Christ, what are we to do if we want to see our land healed? What is God's prescription for revival? There are three things God tells us to do.
1. If we want to see a revival, we need to humble ourselves and pray.
The word used here for "pray" is interesting. Of the 12 Hebrew words employed in Scripture to express the verb "to pray," the one used here means to judge self habitually. We are so quick to judge and criticize others habitually. But the Bible says we should really be judging ourselves. If we spent less time criticizing others and more time examining ourselves, maybe we would have revival. It starts with you. It starts with me.
What does it mean to judge ourselves?
It means that we realize we have a long way to go. If you are completely satisfied with where you are at spiritually right now, and don't think there is any other change or transformation needed in your life, you've got a problem. Any Christian who really knows what it is to follow Jesus will always realize they have a long way to go.
The apostle Paul said after years of walking with the Lord, in Philippians 3, "Not that I have already attained, or am already perfected; but I press on, that I may lay hold of that for which Christ Jesus has also laid hold of me" (verse 12 NKJV).
You have got to keep growing. Keep learning. Keep moving forward spiritually. And that starts with setting aside your self-pride and humbling yourself before the Lord.
2. If we want to see a revival, we must seek His face.
We cannot organize a revival, but we can agonize for one in prayer. We can prepare the ground—or perhaps I should say "pre-prayer" the ground—for revival to take root in. There has never been a prayerless revival in history, so it does start with prayer.
We are not just to pray, but to "seek God's face." There is a difference between, "Lord, send revival. Amen. Let's get lunch" and "Oh Lord, we are seeking You. Lord, we are calling out to You. Lord, we are desperate for You. Lord, we need You. Send an awakening to America!"
Seeking the Lord's face is effectively a prayer that will not take no for an answer.
You may say, "Aren't you being presumptuous when you pray that way?"
No. Jesus said, "Ask, and it will be given to you; seek, and you will find; knock, and it will be opened to you" (Matthew 7:7 NKJV).
A different translation would say, "Keep asking, keep seeking, keep knocking." Press on. When you are praying for revival—for the turning of hearts to God and the salvation of loved ones—you are praying according to the will of God. We need to press forward in our prayer and seek His face, not backing down.
3. If we want to see a revival, there must be repentance from all known sin.
We must repent. Again I remind you that God is speaking of His own people when He says they must turn from their wicked ways.
All of the praying in the world is not going to help you if you are living in sin. Isaiah 59:1–2 says:
"The LORD's arm is not too weak to save you, nor is His ear too deaf to hear you call. It's your sins that have cut you off from God. Because of your sins, He has turned away and will not listen anymore" (NLT).
Want to see America return to God? Don't look to a political candidates, economic reform, or government mandates. Look inwardly—humble yourself, pray, seek God's face, and turn from your sin. Then God will hear from heaven and will heal our land.
Greg Laurie is senior pastor of Harvest Christian Fellowship® in Riverside and Irvine, California, and is hosting two evangelistic crusades this fall, in Southern California and in Georgia, with more information available at www.harvest.org.
–
TheBlaze contributor channel supports an open discourse on a range of views. The opinions expressed in this channel are solely those of each individual author.