When I was about 6 years old, I remember talking to my friend about how much I like The Muppets. She turned her nose up in disgust, "Ew. I hate those stupid things," she said.
I felt like I had just been slapped. "WHAT?" I thought, "But I like The Muppets!"
Silly, I know—but it was one of those "core memories" (to borrow a concept from "Inside Out") that has stuck with me all these years. It was the first time anyone had really ever challenged something I liked, and it shook my whole little world … because I was 6. And I didn't understand that people can disagree and it doesn't necessarily mean the friendship's done, or the other person is heinous—or whatever.
This mentality came back to mind this week as I let a few people in on a decision I had made (and I realized that one doesn't necessarily need to be 6 to continue operating this way…)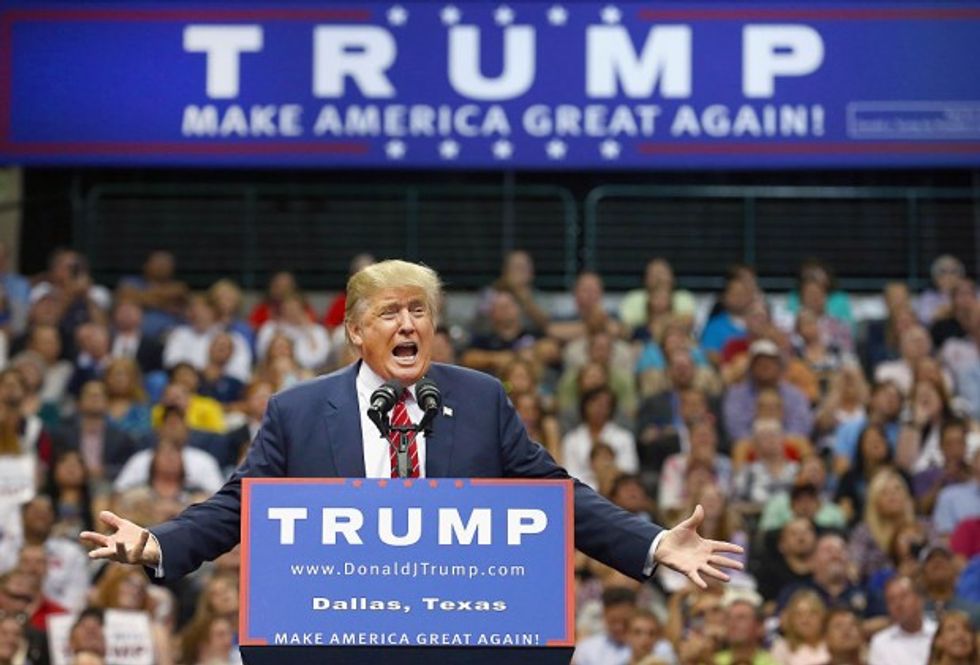 Republican presidential candidate Donald Trump speaks during a campaign rally at the American Airlines Center on September 14, 2015 in Dallas, Texas. (Tom Pennington/Getty Images)
I shared this personal struggle with you all back in May when I wrote this piece:
"I'm having a heart-and-gut-wrenching conscience battle with myself right now over what's least worst. I think Democratic presidential candidate Hillary Clinton is an immense danger to this country. And, if his record and his campaign show us anything, presumptive Republican nominee Donald Trump looks to be just as bad. Do I end this ridiculous cycle of voting for the lesser of two evils by writing in a candidate or not voting at all? Or, since I know exactly what kind of damage Clinton will cause, do I risk it on the slim, slim chance that I'm wrong about Trump?"
This went on for months. I even—for the first time in my recollection—was at odds with my father, with whom I rarely disagree. (Don't worry, it wasn't the Hatfields and the McCoys.)
He was convinced Trump was the lesser of two evils, and I couldn't get there. I just couldn't.
And then I heard Daniel Lapin paint a picture that I just couldn't get out of my head. You're on a ship that's going to sink. No questions about it—it's going down like a rock. You find two lifeboats; one has holes in it, and the other has a cover over it.
Now honestly, which one do you choose?
"Crap," I remember thinking, as that illustration put a kink in my entire train of rational thought about my choice.
I battled on all summer long—but I couldn't get that image out of my head. With Hillary Clinton, we're not just faced with a politician whose policies we don't like, but rather we're faced with a truly corrupt, utterly evil woman whose capacity for wrongdoing grows by the day.
And yes—I know a lot of Donald Trump's past and present doesn't look much rosier. Yes, I know. I know, y'all, I've written about it and taken copious (even high profile) flack for it as I begged and pleaded with people during the primary process to pick a good, decent candidate whose character and wobbly principles didn't have us holding our noses in the voting booth, or staying home altogether.
But they didn't listen. And this is the army we got stuck with.
And I've come to the conclusion that we can be absolutely certain of Hillary Clinton's propensity for awfulness if she's allowed to become president. I'm only pretty certainabout Donald Trump's. I'm betting on the shred of hope that I might possibly be wrong.
I know I'm not wrong about Hillary Clinton.
So, I guess that makes Trump the proverbial covered life boat. Might be full of holes … might not be.
And I decided I couldn't look my kid or my country in the eyes and say I didn't take a chance with the lifeboat that *might* not sink; that I didn't try to stop a certain evil.
So there. I said it. I decided I'd be voting for Donald Trump come November. But I also decided I wasn't going to make a big deal out of it, because I wasn't about to become this guy's cheerleader. I'm still not. I also avoided it for the very flack I'm about to share with you.
And then Mark Levin made his big announcement that he too had arrived at the same conclusion.
Suddenly, the decision I had previously decided to keep between me and the little circle I'd fill in at the voting both came to the surface—and it became clear that unless I was going to sit and nod my head as people slammed Levin (just so I wouldn't have to talk about my decision), I'd have to share that I had come to that conclusion a while ago, too.
One person I shared this with was incredible. His mind wasn't changed (nor was it my intent to), and while he agreed that we fundamentally disagreed on this one, he recognized the agonizing struggle I and so many others had arriving at this crappy decision.
Others informed me I'd have to answer to God for my decision—calling into question my very salvation.
I hate this election. I hate what it's done to our country, to friendships, to relationships—to our dignity as human beings.
Remember my Muppets story? That's how I felt so many people reacted (and will react) to my decision. "WHAT? She doesn't think like ME? Well that's THAT then."
And listen, I'm not here to whine. People can call me what they want; I'm at peace with my decision (and my conscience, thank you very much).
I'm just here to say we need to get a grip. We need to stop acting like six year olds when it comes to dealing with someone whose decision we don't agree with—even if we disagree fundamentally and vehemently.
To once again borrow from my favorite Tim McGraw song, we've forgotten how to be humble and kind. Let me direct you to my good friend Jonathon Dunne (avidly Never Trump, by the way) who puts it so well: stop dehumanzing the individual. Stop it.
I stand with Ted Cruz—vote your conscience. For me, that's a vote to stop Hillary. Make up your own minds, and don't let anyone bully you into anything different.
Mary Ramirez is a full-time writer, creator ofwww.afuturefree.com(a political commentary blog), and contributor to The Chris Salcedo Show (TheBlaze Radio Network, Saturday, from noon to 3 p.m. ET). She can be reached at: afuturefree@aol.com; or on Twitter: @AFutureFree
–
TheBlaze contributor channel supports an open discourse on a range of views. The opinions expressed in this channel are solely those of each individual author.