Fifty-five years ago at the University of Minnesota, Duluth the raging campus debate was expressed in Latin: In loco parentis.
Colleges believed that they had a legal responsibility to act "in the place of a parent" and thus to decide matters in the best interests of the student.
The response from the students was; "I am old enough to be out on my own and I can take care of myself. Thank you very much."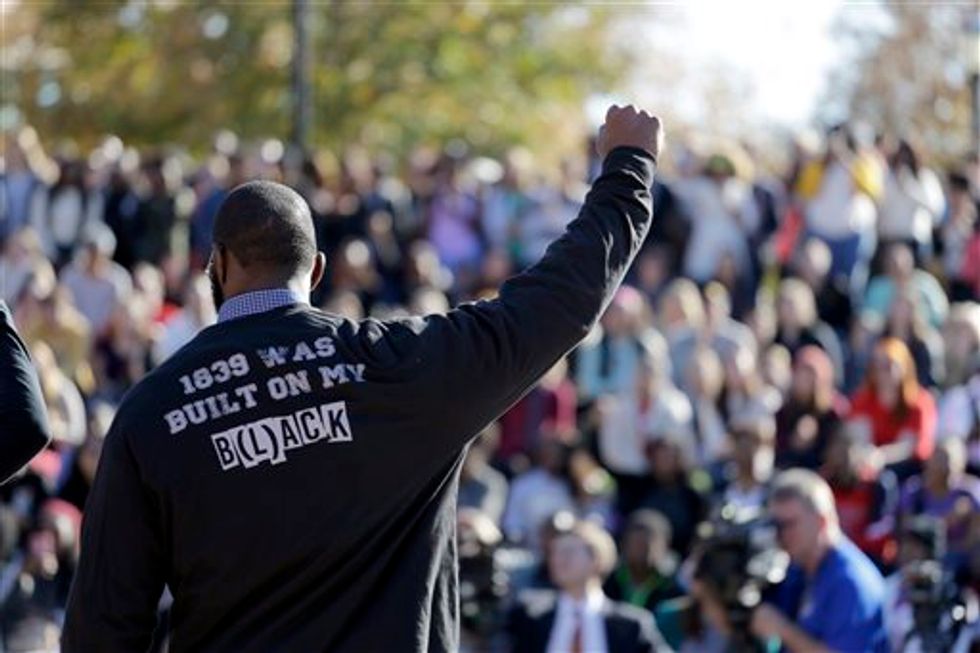 A member of the black student protest group Concerned Student 1950 gestures while addressing a crowd following the announcement that University of Missouri System President Tim Wolfe would resign Monday, Nov. 9, 2015, at the university in Columbia, Mo. Wolfe resigned Monday with the football team and others on campus in open revolt over his handling of racial tensions at the school. (AP Photo/Jeff Roberson)
For all that we read today about the tender little "snowflakes" on college campuses who are threatened by ideas foreign to their indoctrination, I expect that the vast majority of college students feel the way we felt; entirely capable of taking care of themselves.
The protestors on the quad at the University of Missouri were but a handful of the Mizzou population. While we saw rude kids being led by brain-dead professors in protest against a perceived or invented slight, 30,000 students were too busy to fool with that and went about their business.
Fifty years ago the Free Speech Movement shut down the University of California at Berkeley and then spread to campuses across the country. What began over civil rights quickly morphed into the anti-war movement.
The movement demanded the absolute right under the First Amendment to say uncomfortable things in public. For all the consternation it caused among parents of college students it succeeded in opening the door for anti-American speakers of all stripes. Avid communists became popular heroes.
While it led every evening's newscast, it was, frankly, pretty boring. In time President Richard Nixon, who was universally despised by the free speech crowd, ended the war and their raison d'être. The movement quietly went away.
[sharequote align="center"]Fifty years ago we relished the confrontation of uncomfortable ideas. Conflict made life interesting[/sharequote]
Fifty years ago we relished the confrontation of uncomfortable ideas. Conflict was what made life interesting.
Today's students are pleading for in loco parentis. For them, and their faculty advisors, differing opinions are existential threats.
If students had even suggested "safe spaces" when I was in college the dean would have called them into his office and politely suggested that perhaps they weren't cut out for college and it might be best for them to return home.
Our faculty was comprised of serious people who were there to impart knowledge. Had any of them threatened the dean over that decision the others would have run the ingrate professor out of town.
Aayan Hirsi Ali is an author and intellectual whose background of progressive humanism, feminism and support for gay rights earned her the offer of an honorary degree from Brandeis University.
She is also, however, an outspoken opponent of Shariah, particularly female genital mutilation and the honor killings of Muslim women.
The thugs at the Council of American-Islamic Relations wrote letters to the Brandeis administrators complaining about her wrong views and evil words. Brandeis faculty members joined CAIR in opposing her appearance and the administration immediately caved and withdrew the offer of an honorary degree.
How did we ever get to the place where the politically correct position is in support of Islamic thugs who mutilate women and kill gays?
Dr. Christina Hoff Sommers is a feminist, author and former philosophy professor who has been speaking on college campuses for 30 years. When she speaks on the current rape and victim culture vulnerable students demand "safe spaces" so their tender sensibilities are not accosted with a differing view.
I cannot imagine a worse preparation for a world in which there are no safe spaces at all.
In every conflict in which liberal sensibilities are offended it is not enough to just win the argument, they must inflict pain. Someone must lose their job.
The protests at the University of Missouri, over vague charges of racism, forced the resignation of its president, Timothy Wolfe and its chancellor, R. Bowen Loftin.
Harvard President Larry Summers stood up to the politically correct shibboleths of the Left and was forced to resign.
Last week at Claremont McKenna College the dean of students reached out to a student who had written about the difficulties she faced on campus as a minority. Dean Mary Spellman wrote, "… we are working on how we can better serve students, especially those that don't fit our CMC mold."
That was eight words too many. Dean Spellman was forced out.
Young impressionable adolescents striking out on their own are influenced by the behavior they see. When those in authority exhibit such timidity and cowardice their students can be forgiven for needing to be tucked in at night with a bedtime story.
–
TheBlaze contributor channel supports an open discourse on a range of views. The opinions expressed in this channel are solely those of each individual author.