Pamela Rae Solomon had a keen eye. She saw people others didn't. She saw teachable moments the rest of us might roll right by. She saw opportunities to serve God with all her heart, might, mind and strength.
Oh, and she took a pretty good photo, too.
On August 18, Solomon, 54, a church youth leader from West Jordan, Utah was killed on a river rafting accident on Idaho's Snake River. She was chaperoning a large summer youth conference and serving as president of her church's young women organization.
"She was doing what she loved," Mikey Jacobson said, speaking for the family during our exclusive interview. "She was serving the Lord by serving the youth."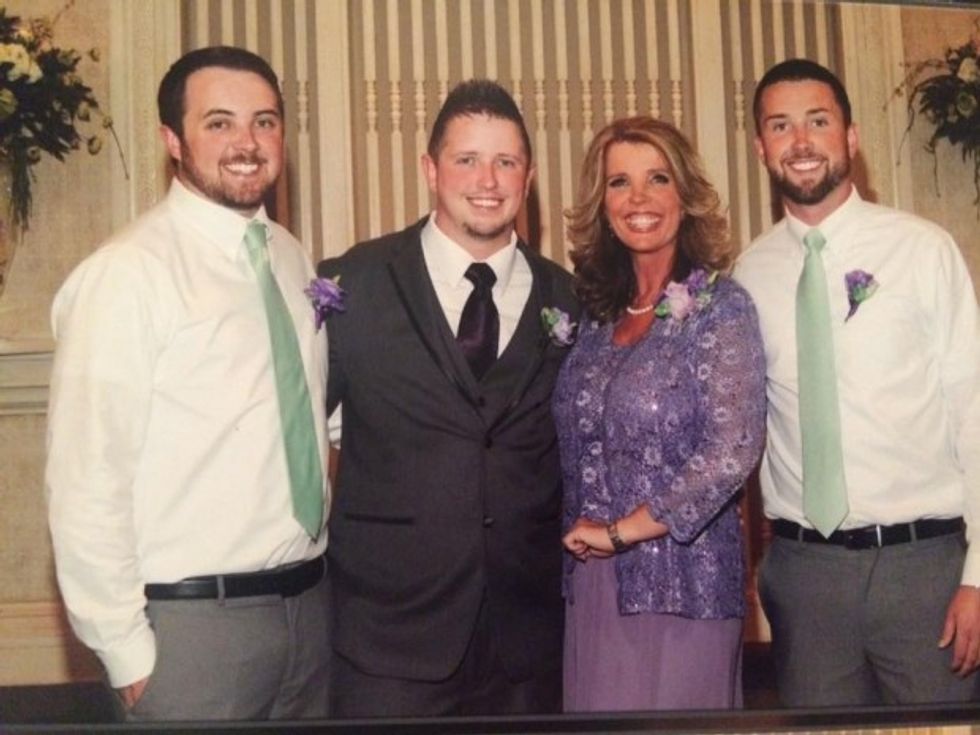 Pam Solomon with her sons Mikey, TJ and Dylan Jacobson. (Provided by Cassie Urban Jacobson)
Despite following all safety precautions, Solomon was tossed overboard when a raft flipped in a section of relatively mild level-two rapids. Already in cardiac arrest, she was pulled from the water but died shortly thereafter.
Jacobson, Solomon's second of three sons, spoke at length of his mother's selfless church service throughout her life. But there was no calling she enjoyed more than working with the young women. Diagnosed with sarcoidosis, a rare disease that attacks and weakens the lungs, Solomon had every reason to skip this particular youth conference.
"She could have stayed home," Jacobson said. "But she never did."
Her influence on the young women and her legacy of inviting them to a closer relationship with Jesus Christ was even evident in her final breaths. Jacobson said that eye-witnesses reported that girls gathered to pray on the riverbank following the accident.
"They prayed she'd be brought back, of course, but only if it was God's will," he said. "And if it wasn't, they would be OK. Somehow they'd make it."
Jacobson said that while Pam Solomon's name might not be familiar to everyone, her photography is known by many. Her eye for a great photo has blessed countless families, teams and special events for many years.
"The outreach since the accident has been overwhelming, even from her clients," he said. "As the scope of her influence become more clear, we're seeing that she was so much more than a photographer to these people. She was there for all the special moments, all the important scenes."
Whether taking team photos, senior portraits, wedding photos or shots of a newborn, Solomon had the unique ability to make people of all shapes, sizes and ages feel beautiful.
"She knew how to help people find their smile," he said. "She had a way of making them feel like they had great worth, more than they knew."
Many of her clients became dear friends who invited her to photograph all their major life events. And though her business was successful, Jacobson said it was never about money.
"It was about helping families, teams, kids. Anyone she could."
In addition to her professional efforts, Solomon was a trustee with Joyful Welcome, a nonprofit that provides blankets and clothes to newborns and mothers. In a Facebook post, the organization expressed the sentiments of many who knew and loved her.
"Our thoughts and prayers are with the Solomon family over the heartbreaking loss of our dear friend and Trustee Pam Solomon. We have all been touched by Pam's generosity, love, and service. She was so fun-loving and always brought so much joy to us all. Thank you for brightening our lives, Pam. We are heartbroken and will miss you dearly!"
Despite her success outside the home, nothing was ever more important than her role as wife and mother.
"She was the glue that kept us together," he said. "She was a single mom for a long time before she married our stepdad. And with three boys, you can imagine how tough that was. But we always came first, no matter how busy she was."
Solomon was a deeply faithful woman who couldn't wait for her first grandchild. Jacobson suspects she's meeting those grandkids now in heaven and sharing stories about their parents. "I bet she's telling some stories about us," he said with a quiet laugh.
Jacobson admits that every day is a challenge.
"We know she died doing the Lord's work, and we know she'd want the rest of us to get back to life as quickly as possible. But she was patient during this life and I'm afraid she's still going to be need to be patient with us. It's going to take time. Every morning we wake up and wonder if it's real."
Funeral services are scheduled for Friday, August 26 and Jacobson says they'll break a few norms by honoring their mother with floral ties and floral dresses. "She loved the outdoors. She had an eye for nature."
Her son also notes that the service will be more of a celebration than a funeral and that it will take place on what would have been her and husband Scott's 16th wedding anniversary.
Indeed, Pam Solomon had an eye for big moments.
Jason Wright is New York Times best-selling author of 11 books. His latest, "A Letter to Mary" is now available for preorder on Amazon. Learn more at jasonfwright.com, or connect on Facebook at facebook.com/jfwbooks
–
TheBlaze contributor channel supports an open discourse on a range of views. The opinions expressed in this channel are solely those of each individual author.