When one is at war with a country, or nation, it's generally considered advisable to learn as much as possible about that nation's history, previous military victories, culture, and any other relevant information that might make defeating them more easy.
But what happens when one is at war with an idea - specifically, a religious idea? To say the situation gets complicated is a serious understatement, as the Joint Forces Staff College in Norfolk, Virginia, is currently demonstrating after outcry erupted about an elective course being taught at the school. The course in question, according to documents originally obtained by the website Wired.com, apparently contained some highly politically incorrect ideas about the religion of Islam. Some slides from the course follow as we proceed with the story.
A little background is both necessary and helpful. According to the original report from Wired, Colonel Robert Dooley, an instructor at the Staff College, taught an unspecified course which apparently included material on how military officers ought to view Islam's relationship to global terror.
The material was openly controversial, in that it treated Islam as akin to communism in its goals of absolute global domination, and very clearly scorned the idea of moderate Islam (Wired has speculated that it may have been influenced by the work of authors such as Robert Spencer). Moreover, the materials advocated for tactics that many see as morally questionable - for instance, targeting Islamic civilians.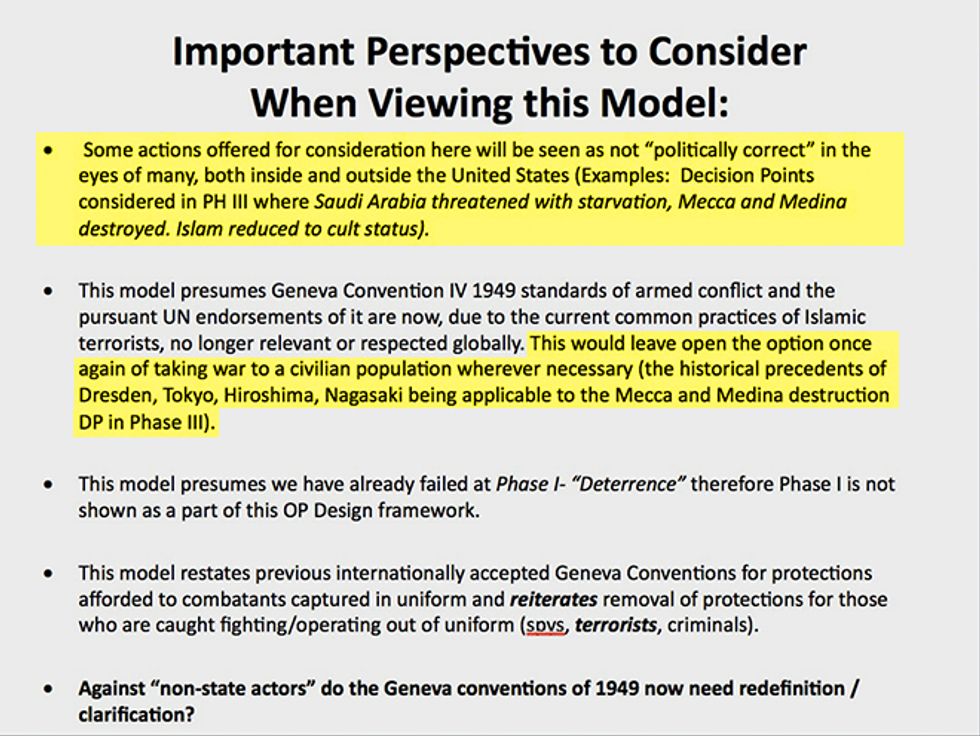 It is not clear just when these materials were introduced at the college. However, now that they have been uncovered, an outcry has erupted regarding them. MSNBC brings further details:
"This is Abu Ghraib by power point and lectern," said Mikey Weinstein, president of the nonprofit Military Religious Freedom Foundation (MRFF), referring to the scandal that erupted in 2004 after the surfacing of torrid pictures of U.S. troops abusing prisoners in Iraq. "It's even worse than Abu Ghraib. What they are talking about is essentially genocide," of Muslims.

The military announced a review of its training materials and canceled the "Perspectives" course in late April. The action came after an FBI review resulted in the elimination of reams of materials that were found to be discriminatory against Muslims, treating the whole population with suspicion.

The details coming to light from the the 8-week course at an elite military institution — taught to officers since 2004 — have shocked even those who have long complained about discrimination against Muslims.[...]

Instructor Lt. Col. Matthew Dooley, the main focus of the criticism, taught that the Geneva Conventions that set standards of armed conflict are "no longer relevant."[...]

On Thursday, the Chairman of the U.S. Joint Chiefs of Staff, General Martin Dempsey called the course "totally objectionable" and "against our values."
Along with the official response, lawsuits have also been filed under the Freedom of Information Act to get the full story on Col. Dooley's courses, and organizations have called for Dooley to be fired, and all of his former students to be retrained not to agree with this material. Among those groups making such calls are CAIR and the Arab American Anti-Discrimination Committee. Judging by the official response from the Pentagon, it seems that they are likely to cooperate.