This image was posted yesterday on Facebook to the Oreo fan page, apparently by representatives of the company that makes the "world's favorite cookie." While the cookie depicted is not available for consumption, this decision by representatives of such an iconic snack to support gay pride has prompted (perhaps unsurprisingly) quite a high level of controversy. The Guardian reports:
While most commenters were in support of the multi-coloured equal rights cookie, others disagreed with Oreo's tolerant stance, some even threatening a biscuit-boycott.

"This is absolutely disgusting," opined Desean Washington. "Your attempt to 'normalize' the behaviour of homosexuals has cost you a customer."

Steven Osoria was another to express displeasure with the post, which provoked such a violent response that he had decided he was "never eating an oreo ever again".

Facebook user Steve Permar, whose interests on the site include "Sarah Palin" and "I Love Jesus", posted: "Guess I won't be buying oreo's [sic] anymore", while Mike Wirth declared the Oreo post was evidence of "more homosexuality shoved down our throats".
Not that all the response was negative. This image, taken from a petition at change.org, shows that some people are more upset that the rainbow cookie isn't real than about the message it implies:
The petition, set up by gay pride activists, lists the following reasons for wanting the cookie to be made real:
It's important for so many reasons, with the main two being:

1. Gays deserve equal rights

2. It looks DELICIOUS

Please sign this and tell Nabisco that you want to see the 7-layer "Gay Oreo" on store shelves soon!
Meanwhile, viral internet site Reddit designed an image pointing out something problematic about the "rush to boycott" impulse typified by the reaction to this cookie: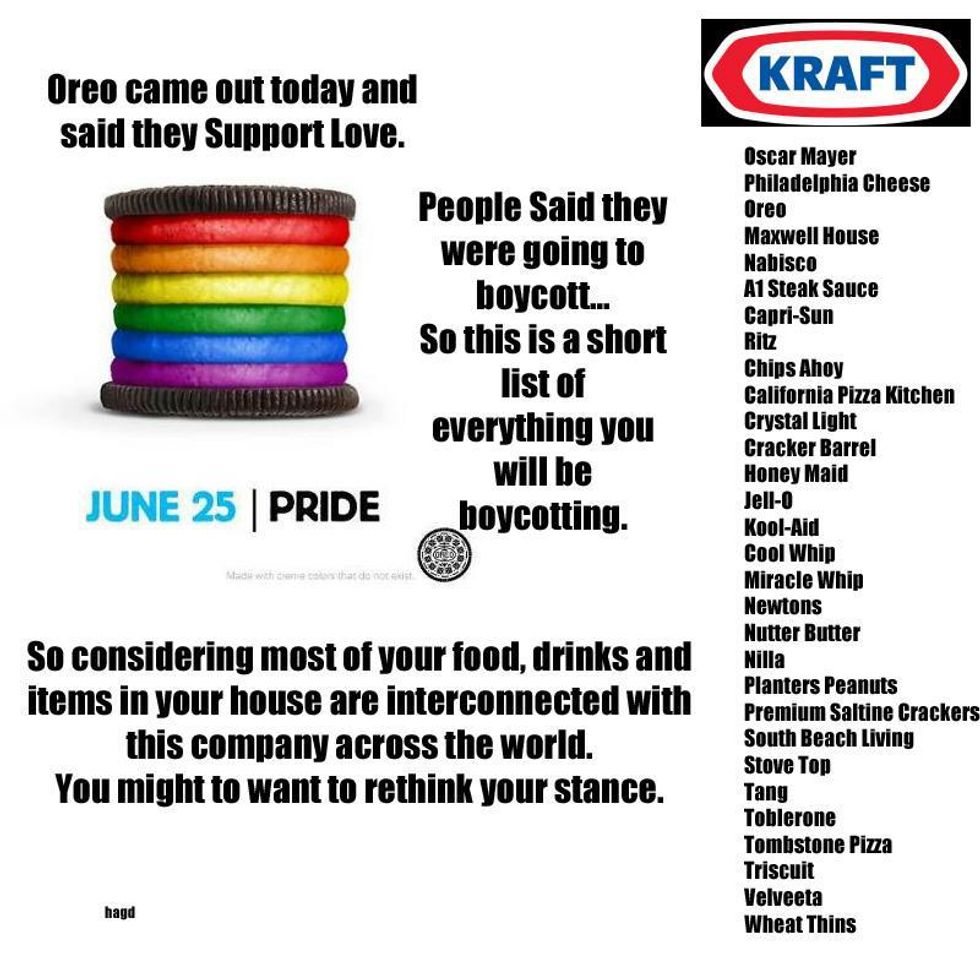 Would you eat that cookie? Or are you going to boycott Kraft?