You're eyes aren't playing tricks on you: These are real levitating particles.
Researchers at the University of Tokyo have been experimenting with particle levitation using speakers for several months, and their new program, dubbed "Pixie Dust," takes object suspension to the next level by creating shimmering, levitating screens.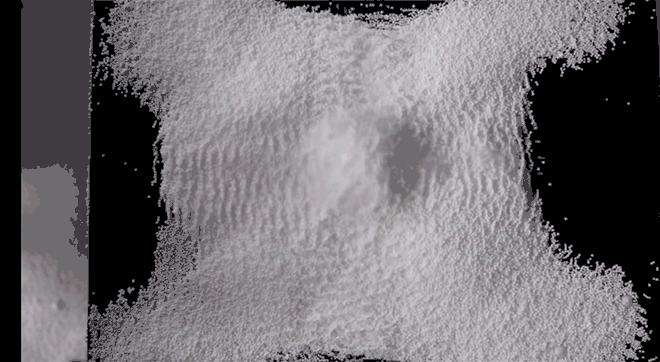 The team has had success using a four-speaker array to lift and glide tiny beads around in perfect formation: An iron screw spins gently in space. Pieces of plastic, broken match heads, and even droplets of water all defy gravity, all thanks to the precise application of ultrasonic sound waves, Wired reported.
Pixie Dust builds on these successful levitation experiments and takes what the researchers call the "digital control-ability of non-digital objects" to impressive new levels by animating the particles to create graphic displays. Their highlight video shows small beads that look like sharks hanging in the air, and a floating grid of sand that suddenly falls away, leaving just a cross behind.
Potential applications for the technology are highlighted in the video that accompanied the research paper, such as a storefront window area where a floating display might attract passing customers. Theme parks with dynamic, interactive displays are a no-brainer, but practical, daily application is still likely years off.
Check out the video here:
(H/T: Wired)
—
Follow Elizabeth Kreft (@elizabethakreft) on Twitter