If fighter pilots and motorcycle riders brainstormed to design a helmet, it would probably look something like this.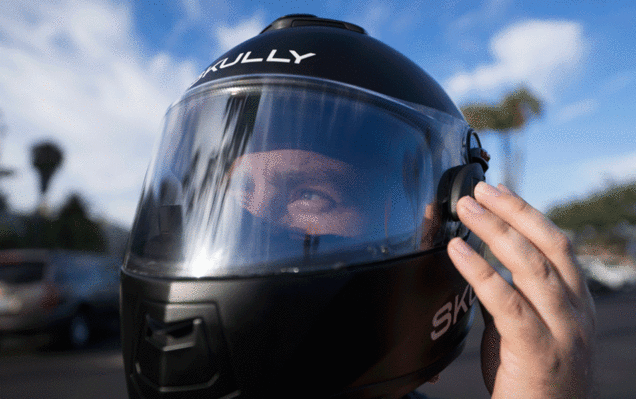 The SKULLY AR-1 is the self-declared "World's Smartest Motorcycle Helmet," and it boasts technology that has yet to be combined in a single helmet, unless you're Tony Stark. Singularity Hub notes:
High-definition action video is owned by Go Pro. Navigation and directions showed up in cars a long, long time ago. Voice recognition is standard in Siri, Google Search, and other applications. Bluetooth helmets already connect to phones. The novel, Iron Man-like feature is that Skully includes all this and ties it together with voice recognition and a head-up-display. If the design is right, it'll be awesome.
The helmet combines helpful technology like a rear-view camera feed and navigation in a futuristic heads-up display that is reminiscent of what a fighter pilot would view in the cockpit.
(Image source: YouTube)
The display shows a rear view camera feed with a near 180 degree viewing angle, meaning the rider can keep an eye on impatient drivers behind, and also check left and right blind spots in case a quick lane change is needed. The helmet also delivers optional turn by turn directions, but the icons are "present only when needed, then automatically disappear when not in use," the Skully team notes. The helmet can also report the bike's telemetry such as speed, gear, tachometer, etc., if supported by the motorcycle.
The helmet is also outfitted with voice control as well as phone and music links (Image source: YouTube)
"We believe that technology should eliminate distractions. It should remove blindspots. It should ... help you focus your attention back where it belongs - on the road ahead," the Skully team declares on their Indiegogo campaign page. Since their campaign began Aug. 10, the group has raised more than five times their fundraising goal.
Currently the helmet is offered for just under $1400.
"Technology should be seamless, and should give you more from the experiences you love," Marcus Weller, Skully Founder & CEO says in their pitch video.
"Our technology fundamentally enhances human capability," he claims.
Check it out below!
(H/T: Singularity Hub)
--
Follow Elizabeth Kreft (@elizabethakreft) on Twitter.