Speaker John Boehner (R-Ohio) did not waste time punishing those who publicly betrayed him.
After securing his third term as speaker, the Ohio Republican immediately moved to take revenge on those who crossed him.
Politico, citing sources familiar with the decision, reported that Boehner will strip Florida Reps. Daniel Webster and Richard Nugent of their prestigious spots on the House Rules Committee. Webster ran against Boehner for speaker and was supported by Nugent.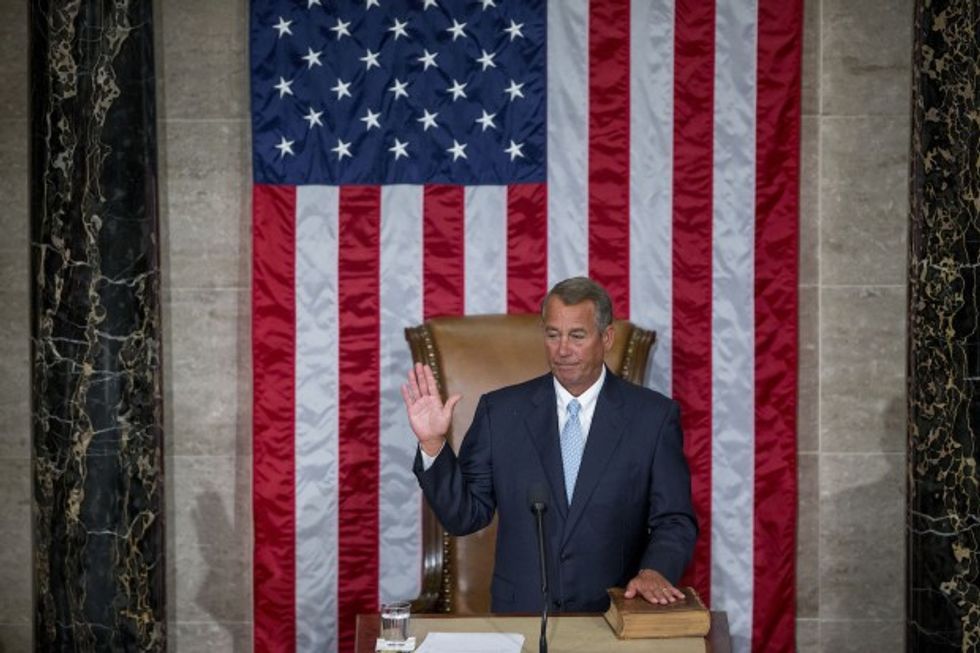 U.S. House Speaker John Boehner, a Republican from Ohio, is sworn in during the first session of the 114th Congress in the House Chamber at the U.S. Capitol in Washington, D.C., U.S., on Tuesday, Jan. 6, 2015. (Bloomberg/Bloomberg via Getty Images)
The House Republican leadership is carefully reviewing the list of members who voted against the speaker and those who opposed a procedural motion in December on the so-called "crominibus," the $1.1 trillion spending package to keep the government open through to September.

Subcommittee chairmanships might be stripped and other perks could fall away, top Republican sources suggested, in a process that could take months to unfold.

[...]

"This is one of those cases where the fire has only gotten more intense," said a GOP lawmaker. "More attention has been brought to this now. It's not going to away."
25 Republicans ultimately voted against him, more than twice the number of GOP members that crossed Boehner two years ago.
This story has been updated.
—
Follow Oliver Darcy (@oliverdarcy) on Twitter