Governors involved in the lawsuit against President Barack Obama's executive action on immigration say there needs to be action from Congress to resolve the immigration crisis.
"Even though we are not a border state, we are impacted by the illegal immigration and at this point in time we need to have this issue resolved," North Carolina Gov. Pat McCrory (R) told TheBlaze shortly after meeting with Obama Tuesday as part of a delegation from the National Governors Association.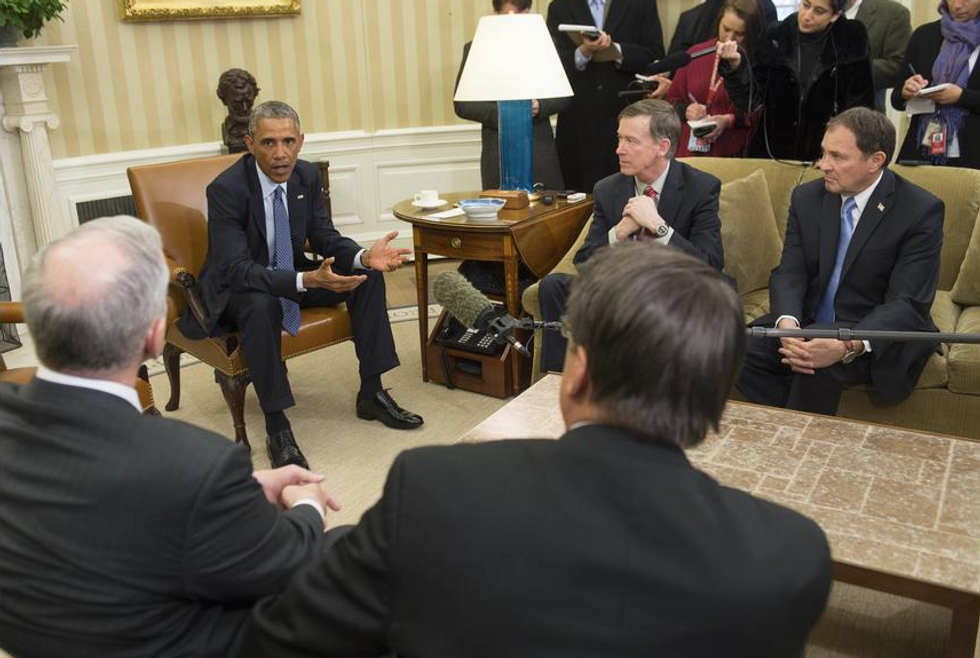 President Barack Obama meets with executive members of the National Governors Association at the White House, Jan. 6, 2015. (AFP/SAUL LOEB)
After Obama announced several executive actions, including one expected to shield about 5 million illegal immigrants from deportation, 17 states signed onto a lawsuit challenging the constitutionality of Obama's unilateral actions.
Joining McCrory at the White House were other members of the executive committee of the National Governors Association: Chairman and Colorado Gov. John Hickenlooper, a Democrat; Vice Chairman and Utah Gov. Gary Herbert, a Republican; and Minnesota Democratic Gov. Mark Dayton.
"It's really more of a separation of powers issue for me regarding that lawsuit," McCrory said. "It is a very serious subject we have to have resolved in Washington because it is impacting each of the states in education, health care and public safety."
Of the governors at the White House, only McCrory and Hebert are part of the lawsuit challenging Obama's actions. Hebert wants Congress to pass a law.
"I understand the frustration that many people have because of Congress's inaction," Hebert told TheBlaze. "We in the state of Utah have had frustration in the past with Congress's inaction in addressing the immigration issue. We've tried to do it ourselves as a state. We passed our own laws. We were challenged in court. We lost. We've learned this is a federal issue."
"We've explored a lot of possibilities and options, but Congress needs to explore the immigration issue and not kick that can down the road," he said.
The lawsuit was initiated by new Texas Gov. Gregg Abbott (R), when Abbott was the state's attorney general.
The lawsuit says that Obama violated the "take care clause" of the U.S. Constitution that limits the scope of presidential power. It further contends the federal government violated rulemaking procedures and asserts that the actions will "exacerbate the humanitarian crisis along the southern border, which will affect increased state investment in law enforcement, health care and education."