Newly elected House Speaker John Boehner (R-Ohio) said Tuesday that the new Congress needs to focus on strengthening the U.S. economy over the next two years, and called economic growth "our vital task."
But Boehner made no mention of the $18 trillion national debt, something that Boehner focused on intently when he was sworn in as speaker two years ago.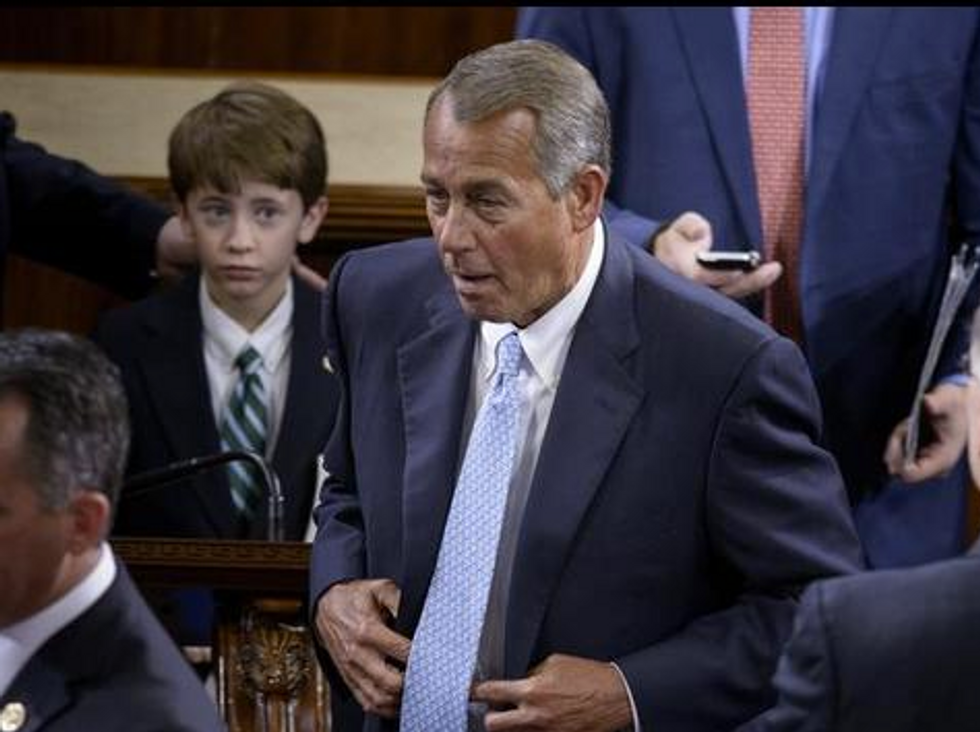 House Speaker John Boehner (R-Ohio) said two years ago that reducing the national debt was a critical goal, but he made no mention of the debt in his re-election speech.
Image: BRENDAN SMIALOWSKI/AFP/Getty Images
In 2013, Boehner went on at length about the need to tackle the debt, at a time when the debt was $16 trillion. Since then, the annual budget deficit has fallen, but the U.S. has still continued to pile up half a trillion dollars each year at least, and that number is expected to rise in the coming years.
"Our government has built up too much debt," Boehner said two years ago. "Our economy is not producing enough jobs. And these are not separate problems. At $16 trillion and rising, our national debt is draining free enterprise and weakening the ship of state."
"The American Dream is in peril so long as its namesake is weighed down by this anchor of debt," he said then. "Break its hold, and we begin to set our economy free, jobs will come home, and confidence will come back. We do this not just to boost GDP or reduce unemployment, but to secure for our children a future of freedom and opportunity, and, frankly, nothing is more important."
"As Washington wrote in his farewell address, 'We should not throw upon posterity the burden which we ourselves ought to bear.' Well, that burden is ours, and so is the opportunity."
"There's no substitute for the wisdom of the people. We here are their servants," he said. "As Speaker, I pledge to listen and to do all I can to help all of you carry out your oath of office that we're all about to take. Because in our hearts we know it's wrong to pass this debt on to our kids and our grandkids. Now, we have to be willing, truly willing to make this problem right."
Two years later, the debt — of which Boehner said "nothing is more important" — was not mentioned at all. Instead, he said the key issue is how to create jobs.
"In recent months, our economy has shown signs of improvement, and after difficult years there may be a temptation to accept what I'll call the new normal," he said. "Far too many Americans remain out of work, and too many are working harder only to lose ground to stagnant wages and rising costs."