Thanks to the battle Rep. John Boehner faced over the Speaker's position, the House of Representatives grabbed the spotlight on Tuesday. However, there was still some action happening over in the Senate.
The GOP took control of the chamber and Mitch McConnell assumed his role as Majority Leader.
Because he is the "President of the Senate," Vice President Joe Biden was in the building for the swearing in ceremony and the photo opportunity that accompanies days like these.
As Biden met with different senators and their families, the cameras rolled, and magic was captured.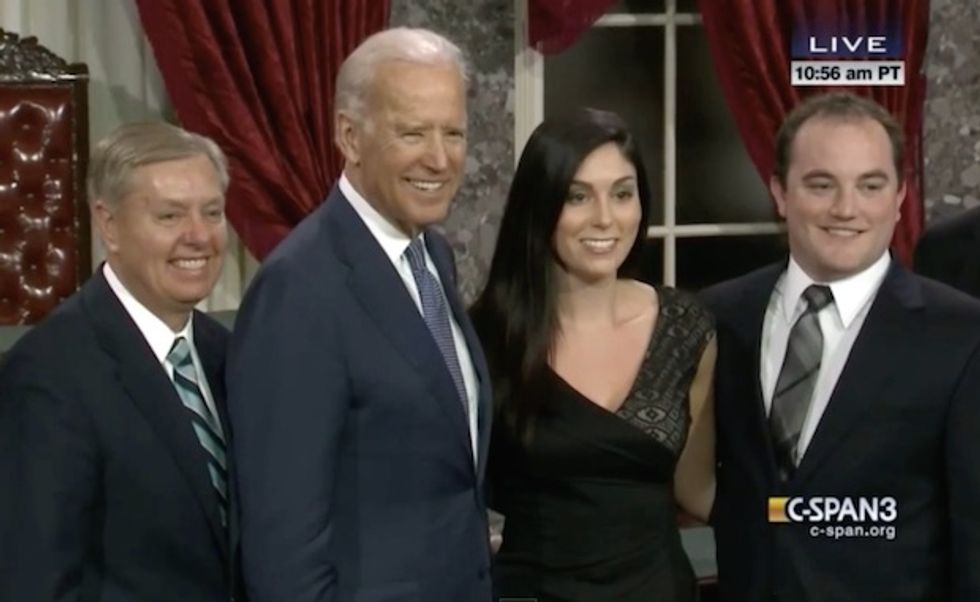 Image: YouTube
From the vice president's home state of Delaware, Senator Chris Coons, his wife Annie and their young daughter Maggie were posing with Biden when an uncomfortable moment was recorded. The veep whispered something unintelligible and attempted to kiss the young lady -- she turned away from him as Biden added, "See you back home, I hope."
Biden continued his "gaffe-a-palooza" when posing for a photo with Senator Lindsey Graham's staff. Making certain that the most attractive woman in the group was standing next to him, Vice President Biden is heard to say, "I may be Irish, but I'm not stupid."
The vice president did not disappoint when Republican Senator Steve Daines of Montana brought a large crew with him. Gathering the youngest ones in front of him, Biden announced, "I like kids better than people."
Perhaps the most publicized screw-up of the day happened when freshman Senator Joni Ernst of Iowa walked into the setting and Biden yelled, "Gail!" The Iowa Republican corrected the vice president and introduced him to her husband, Gail.
Editor's note: This post was updated to correct the fact that Senator Graham was posing with staff members and not family.
__
Follow Mike Opelka (@Stuntbrain) on Twitter.