Drivers in Atlanta were terrorized Monday night after a person camping out with an air soft rifle along a road just one block from the Georgia governor's mansion and now police are out to get their guy.
At least four drivers' windows were shot at and damaged in what the Atlanta Police Department described as random attacks, WGCL-TV reported.
One driver, who reportedly told the outlet she did not want to be named, heard a shot while she was driving. At first, she thought the noise was just gravel kicking up against her car.
"We wondered if it came from another vehicle. It didn't appear to," the unnamed woman said. "Then immediately right after that, we heard a boom sound. We turned around and my window was shot."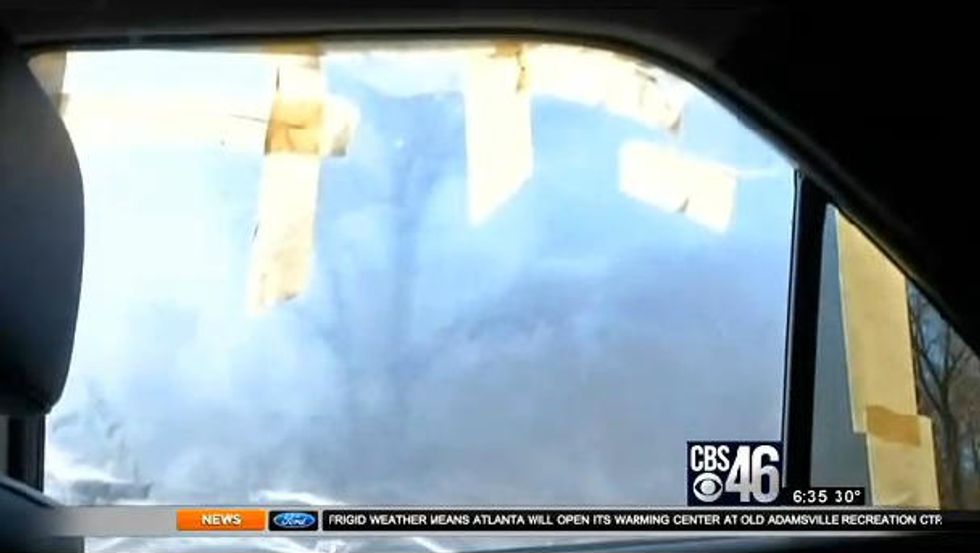 A broken window with tape attached is shown following a air soft rifle shooting spree in Atlanta, Monday, January 5, 2014. (Image source: WGCL-TV)
Not long after, she realized hers wasn't the only car being shot at. That's when she decided to pull over and ask the other drivers what was going on.
"So we stopped and we walked over to them and they had the same situation. Their cars were hit on the right rear passenger side window," she said.
While the shooter used an air soft rifle rather than a more dangerous and potentially more lethal gun, police warned of the severity of the crime.
"It's a lot more dangerous than simply, shooting a parked vehicle - something that a vandal or a juvenile would do - this is something very serious," APD Sgt. Gregory Lyon said.
The unnamed woman called the event "very startling" and pointed out the "great" potential for causing accidents that could result in injuries.
"I hope that they catch whoever is responsible," she added.
There are currently no reports which indicate the governor's mansion is at risk. The suspect is reportedly still at large, although the APD did not immediately respond to TheBlaze when asked to confirm that.
APD officer Ralph Woolfolk said no injuries have been reported, the Atlanta Journal Constitution reported.
(H/T: WGCL-TV)