The American left used to be known for its support of the sanctity of the First Amendment. No longer.
Nowadays liberal progressives will make you pay for speaking your mind.
MRC's Dan Gainor examines what has happened to free speech in America and why the progressive left wants to silence the American people.
The story also includes to bonus items on "The Power of the Boycott" and "Radical Islam and the Suppression of Speech in America."
Every issue of TheBlaze Magazine contains exclusive content not found anywhere else — online or in print. The magazine's stories, research and special reports are reserved for subscribers to the print and/or digital edition.
Below is an excerpt from Dan's piece, "Expensive Speech." The full story is available ONLY in the newest issue of TheBlaze Magazine.
Click here to order today and get the digital version of this issue absolutely free.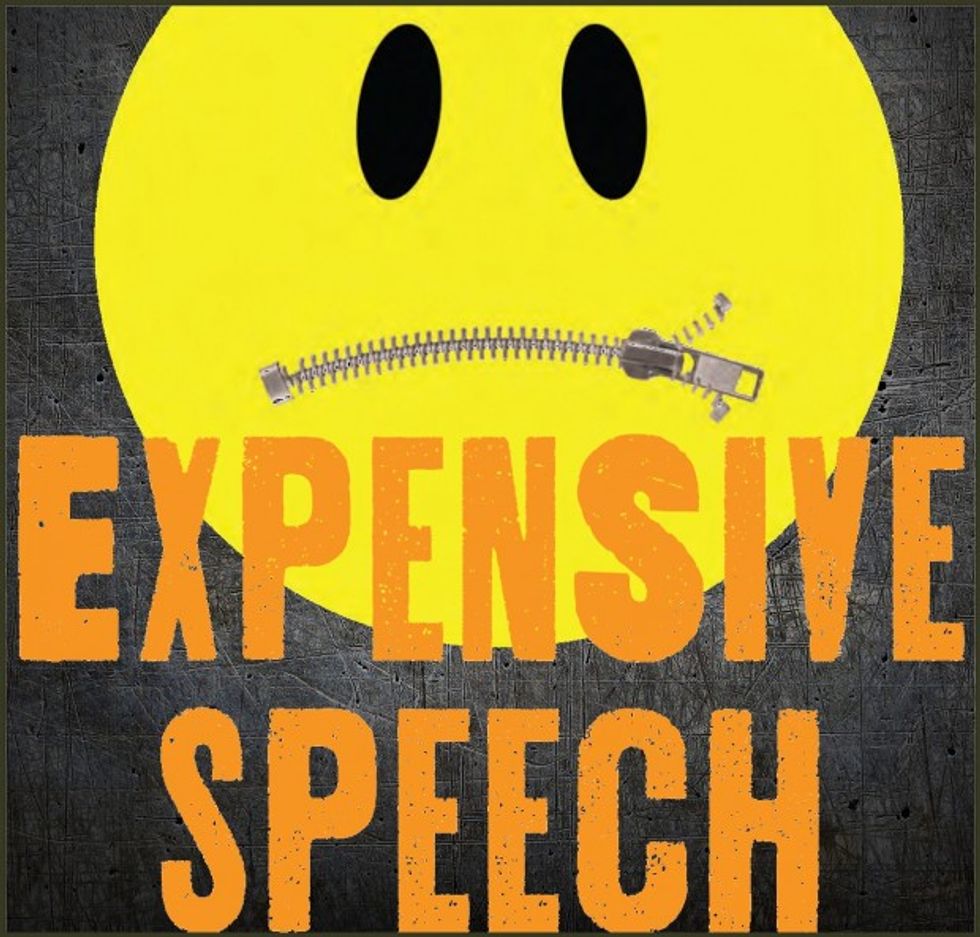 Liberals were once famous for the free speech movement. The University of California, Berkeley became known as the bastion of speech freedom in the 1960s, and the ACLU defended the rights of Nazis to march in Skokie, Ill., a predominantly Jewish community.
Bob Dylan was right. "The times they are a-changin'." Now the left reviles the ACLU for its free speech stance in support of the Supreme Court's Citizens United ruling, which protects the rights of nonprofits and corporations to back political candidates, and Berkeley became home to another free speech protest—this one to stop a proposed speaker from ever having a forum—to mark the 50th anniversary of the free speech movement.
Leftists are at war with free speech from cities … to government agencies … to the floors of Congress. It's not just about constitutionally protected speech; the left is at odds with the very premise that Americans can speak their minds.
[…]
****Want more than excerpts? Click here to subscribe and get a FREE issue today****
Liberal progressives are trying to use both the pressure of media and the force of government to limit free speech—political, business, religious and even journalistic.
The First Amendment has become the new battleground.
[…]
The Battle Over Political Speech
Since the Supreme Court's 2010 Citizens United ruling, the battle over political speech has become even more intense. Gone is talk of return of the so-called Fairness Doctrine, aimed at reining in conservative talk radio. Liberals seem to realize they lost that fight.
But that setback didn't stop them. The progressive left's newer agenda has meant using the FCC, the FEC and other federal agencies to either investigate conservative voices or regulate them.
One liberal action item would force businesses to reveal their charitable donations. That would, in effect, create a target list for left-wing groups and be used to effectively defund conservatives in a way similar to their attacks on the American Legislative Exchange Council, which has become a particular enemy of the left because it helps create business-friendly legislation at a state level. The organization's members have been under repeated assault to withdraw support. In fact, the Center for Media and Democracy has an entire site, ALECexposed.org, devoted to targeting the group.
****Want more than excerpts? Click here to subscribe and get a FREE issue today****
A mid-range step toward such intimidation would be making "government contractors to disclose their dark money campaign contributions," argued Lee Fang with the Investigative Fund at the Nation Institute.
Team Obama has taken several such steps. On Nov. 14, Judicial Watch announced that it filed a Freedom of Information Act suit against the FCC pursuing "any and all records" for what is known as the commission's "Critical Information Needs" "pilot study of how news media make editorial decisions on the stories they cover." Although the FCC backed off its original idea, there is still huge concern about it.
The Washington Post described the initial plan as a "study of how media organizations gather news," a topic seemingly in obvious conflict with the First Amendment. "As the survey was originally designed, government researchers would have asked reporters, anchors and news managers at as many as 280 news organizations to describe their outlet's 'news philosophy' and about how they selected stories," explained the Post's Paul Farhi last February.
Media groups, especially conservative ones, were strongly opposed. Ajit Pai, one of the two Republican FCC commissioners, argued strongly that "the government has no place pressuring media organizations into covering certain stories." "Unfortunately," he wrote, "[the FCC,] where I am a commissioner, does not agree."
In October, another media study appeared, this time a plan to monitor Twitter and funded by the National Science Foundation. Pai wrote in the Post that the so-called "Truthy" study "seems to have come straight out of a George Orwell novel." The study's name even had its roots in a term made popular on the liberal "Colbert Report" TV comedy.
The Truthy study "is being developed by Indiana University researchers to study how popular ideas and jokes spread throughout popular culture. One focus is the spread of 'political smears, astroturfing, misinformation, and other social pollution,' researchers said," according to The Hill. Essentially, Truthy is a social media cousin of the original FCC project.
Rep. Lamar Smith, R-Texas, the head of the congressional Media Fairness Caucus, "is launching a formal inquiry into the taxpayer-funded 'Truthy' study of Twitter that critics say targets conservatives on social media," added The Hill on Nov. 10, 2014.
****Want more than excerpts? Click here to subscribe and get a FREE issue today****
Then there's the "net neutrality" battle that has become another liberal cause célèbre—one endorsed by President Obama. He came out publicly calling for more regulation, just the day before Smith's letter targeting the "Truthy" study.
"In his most direct effort yet to influence the debate about the Internet's future, President Obama said on Monday that a free and open Internet was as critical to Americans' lives as electricity and telephone service and should be regulated like those utilities to protect consumers," reported the New York Times.
Obama's actions opened up a debate that had been simmering for several years—about the rights of companies to charge based on how much data customers use and several other items. With his call to treat the Internet like a utility, Obama was asking for increased governmental control over something that is successful because of its freedom and openness.
Phil Kerpen, the president of American Commitment, was extremely critical of the idea of giving the FCC any added power. "The same agency that is pondering making 'Redskins' a dirty word and banning it from the airwaves also wants to turn the Internet into a government-regulated public utility and has put forward a proposal to sidestep Congress and force disclosure of political donors," he argued.
Teaching Young People to Obey
The very counterculture forces that once rebelled against ...
***********************************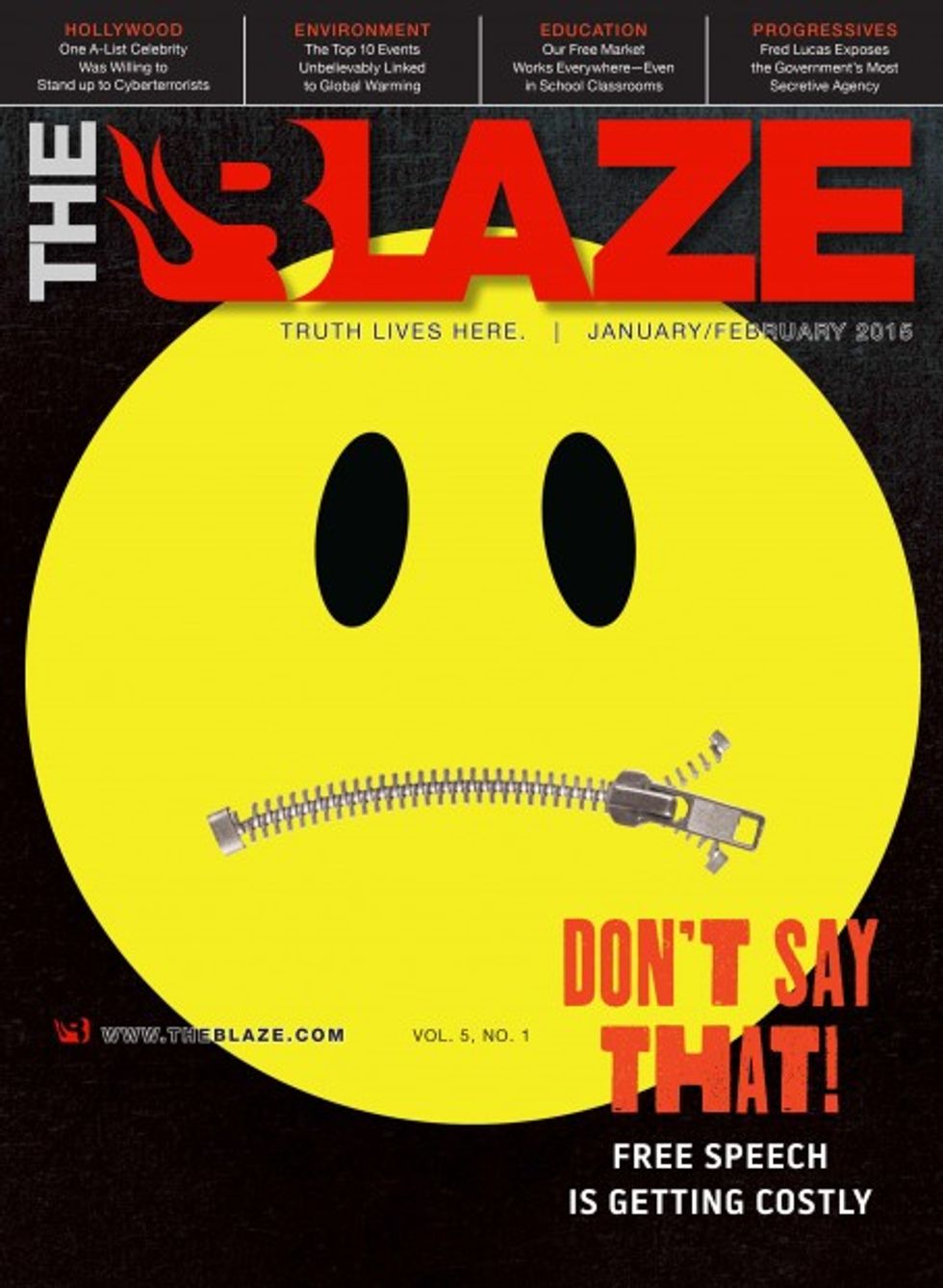 Want more than excerpts?
Do you want to know what's really going on among our government officials who would ignore the First Amendment and make you pay the price for saying things they don't like?
All of that and much more is exposed in the full cover story examining the progressive left's abuse of our free speech in the January/February 2015 issue of TheBlaze Magazine.
Dan examines how the government has threatened our press, the liberal progressive movement's stated desire to imprison those who violate speech codes, what university progressives are doing to anyone who dares to step out of line, which liberals are actually standing up for our free speech rights and much more. It's all in the newest issue of TheBlaze Magazine.
Order today and get the digital version of this issue for FREE.
Follow Chris Field (@ChrisMField) on Twitter