Police in New York City arrested a man they say purposefully rammed his car into a Port Authority police vehicle because he "wanted to take out a police officer."
It happened on the New York side of the Holland Tunnel Wednesday. The suspect, identified as 24-year-old Matthew Cash from Easton, Pennsylvania, was driving a gray Audi sedan along Varick St. in Lower Manhattan, WNYW-TV reported.
#BreakingNews 24yo Matthew Cash of PA arrested for making terroristic threats on police in #NYC #PAPD crash #myfoxny pic.twitter.com/ahHmB7dg4B

— Lisa Evers (@LisaEvers) January 8, 2015
Police say Cash was about to enter the tunnel to cross into New Jersey when he swerved through several lanes of traffic, hitting two parked vehicles and forcing one officer to bolt out of the way of the car. The suspect's vehicle eventually crashed into a Port Authority Police Department cruiser.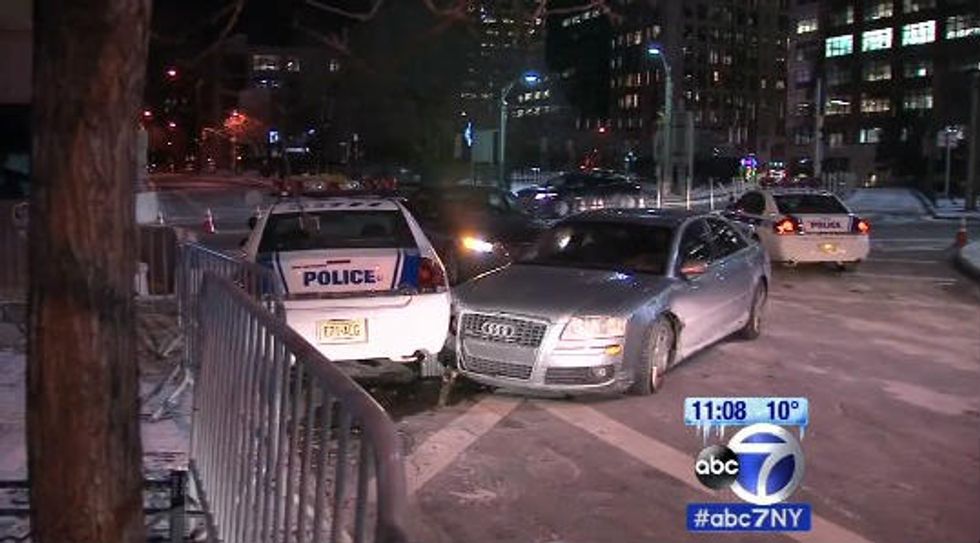 A Port Authority police cruiser is seen here after 24-year-old Matthew Cash of Easton, Pennsylvania allegedly "wanted to take out a police officer." (Image source: WABC)
No officers were inside the patrol car when it was struck. The only reported injuries belonged to Cash, who was taken to Bellevue Hospital Center to undergo psychiatric evaluation. Police arrested him on charges of attempted aggravated assault, terroristic threats and reckless driving, the Associated Press reported.
Joe Pentangelo, spokesman for the Port Authority of New and New Jersey, said the suspect told police he had been smoking PCP and "wanted to take out a police officer."
(H/T: WNYW-TV)
–
Follow Jon Street (@JonStreet) on Twitter