French President Francois Hollande on Friday said a united France is strong enough to withstand the terrorist attack that left 12 dead this week, and called on citizens to be vigilant but united going forward.
"We are a free nation that does not give in to any pressure, that is not afraid, because we carry an idea that is greater than us," Hollande said in an address to his country, according to an interpreter.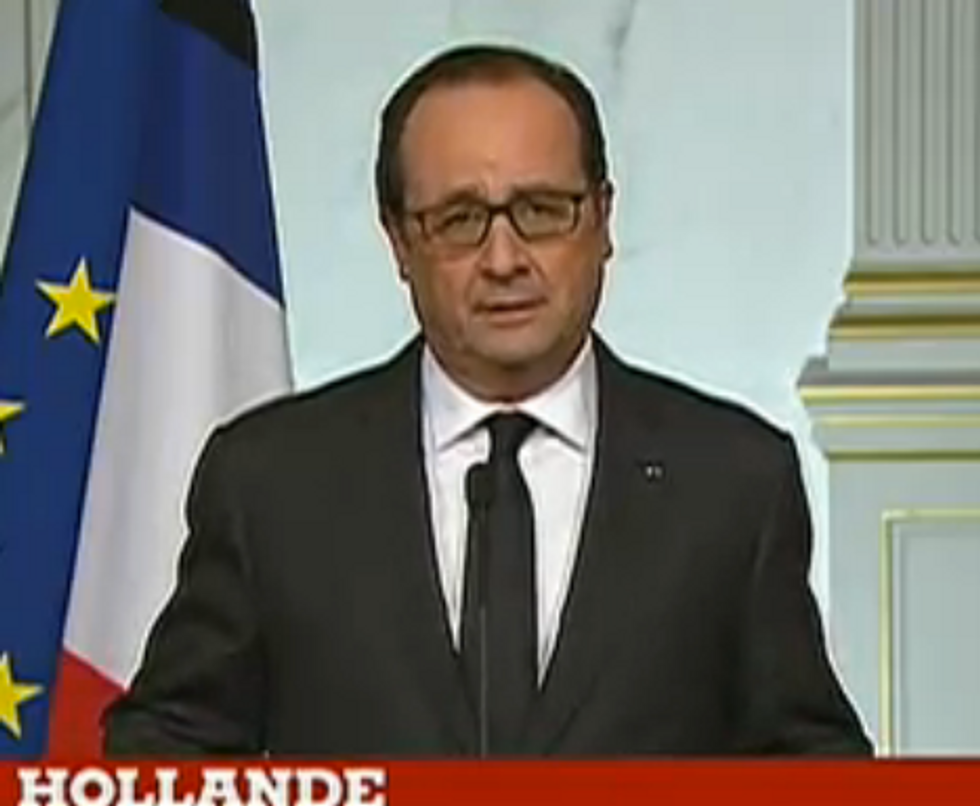 French President Francois Hollande urged his country to unite around the terrorist attack this week, and to be vigilant.
He spoke shortly after French police killed two brothers who were suspected of massacring 12 people in their Wednesday attack on Charlie Hebdo, a satirical magazine, in what many surmise is a response to cartoons depicting the Prophet Muhammad. Hollande decried the suspects for taking hostages in a Jewish neighborhood.
"Unity is our weapon, and we must show our determination to fight against anything that might divide us, and to be implacable in our fight racism and anti-semitism," he said. "Today, in Kosher shop, it is obviously a horrible, anti-Semitic act that was committed."
But he also said the country must take care not to label all Muslims as the enemy in the wake of the attack. The two brothers were linked to al-Qaeda.
"Not being divided means that we should not paint people with a broad brush, and that we should beware of exaggerations," he said. "Those who have committed those acts, those fanatics, have nothing in common with the rest of the Muslim faith."
Hollande thanked French police who carried out the operation Friday.
"I would like to tell that them we are proud," he said. "We are proud of them because when the order was given, they launched the assault simultaneously with same purpose in mind — to save the... lives of the hostages and to neutralize the terrorists who had committed murders."
He also said he would march with other leaders on Sunday, when mass demonstrations are planned in France to mark the tragedy.
"I will be with them," he said. "And I would like to call upon all French people to stand up this Sunday for liberty, pluralism, all those values that are so important to us, and which Europe in a way also represents, so that we'll be even stronger after this trial."
"Long live the Republican, long live France."