An indoor shooting range in Montgomery, Alabama, has come under fire after publishing a controversial photo on its Facebook page Thursday in an effort to spark discussion about gun safety. In fact, the business says it doesn't even support the picture.
"Primarily here at Montgomery Indoor Shooting Complex, we promote firearm safety, so in order to stimulate a little dialogue, we put a controversial picture in effort to get people's feedback and get some awareness about that topic," Lilly Ann Gibbs of the Montgomery Indoor Shooting Complex told WAKA-TV.
The picture shows a baby lying on top of a camouflage blanket on a wooden floor and holding a pistol. The infant is surround by several large guns. Gibbs explained the shooting range does not condone the picture it posted. Rather, Gibbs said, it was to spark conversation.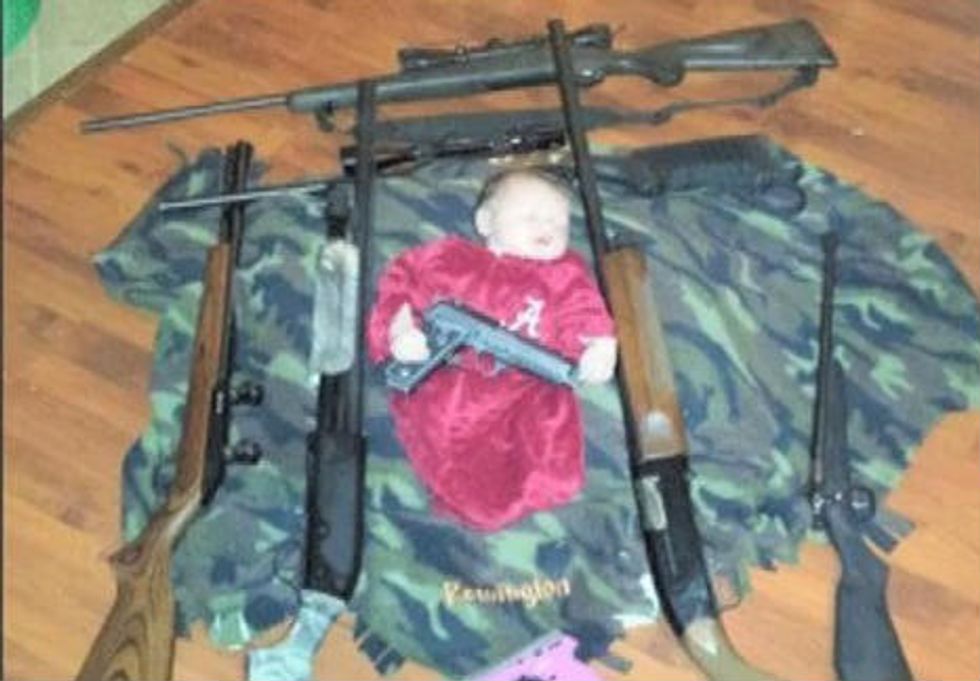 A baby is surrounded by guns in a picture posted to Facebook by the Montgomery Indoor Shooting Complex. The post has since been removed. (Image source: WAKA-TV)
Not long after being contacted by WAKA-TV, the shooting range removed the photo from its page. The owners later took to Facebook to post a link to Project ChildSafe, developed and sponsored by the National Shooting Sports Foundation.  
"Project ChildSafe is a nationwide program that promotes safe firearms handling and storage practices among all firearm owners through the distribution of safety education messages and free firearm safety kits,"according to its website.
(H/T: WAKA-TV)
–
Follow Jon Street (@JonStreet) on Twitter