Officer Lou Golson, a former Marine and a 31-year veteran cop, retired from the Albuquerque, New Mexico, police force more than a decade ago.
But his respite was short-lived, the department told TheBlaze: Because of an officer shortage, Golson came out retirement less than three months later and has been back on the beat — including work with the SWAT team and DWI unit — ever since.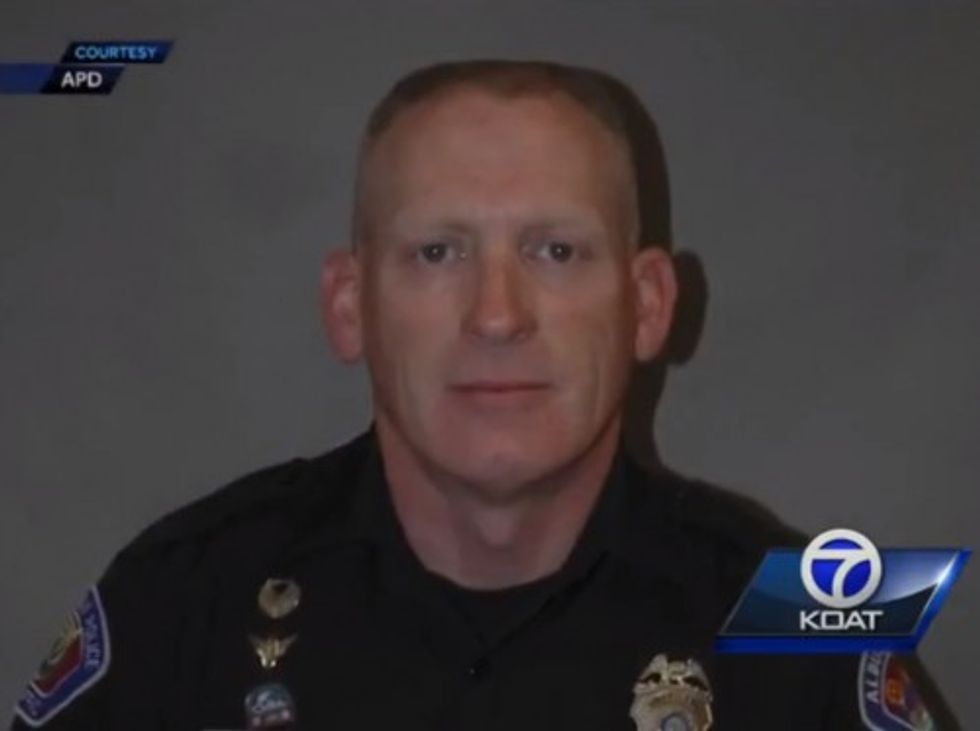 Officer Lou Golson (Image source: KOAT-TV)
Which makes what happened to Golson last weekend all the more gut-wrenching.
Golson pulled over an SUV driver around 2:30 a.m. Saturday on suspicion of drunk driving, KOAT-TV reported.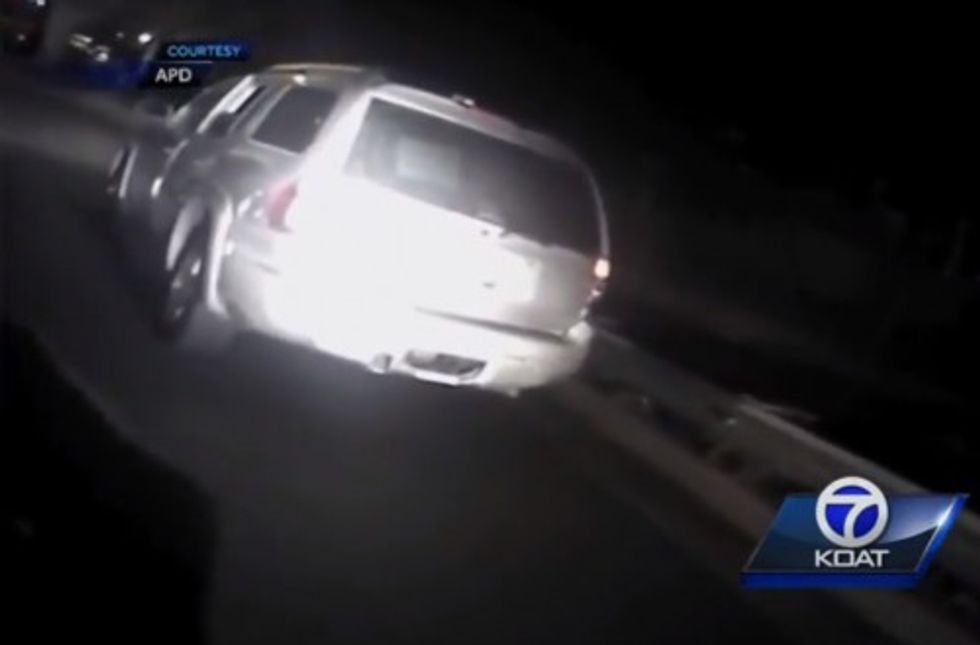 Image source: KOAT-TV
Golson, who was wearing a body camera, approached the driver's door and shined a flashlight through the driver's window, telling him to turn the engine off.
But once the engine went silent, the door swung open and the driver fired five shots at Golson.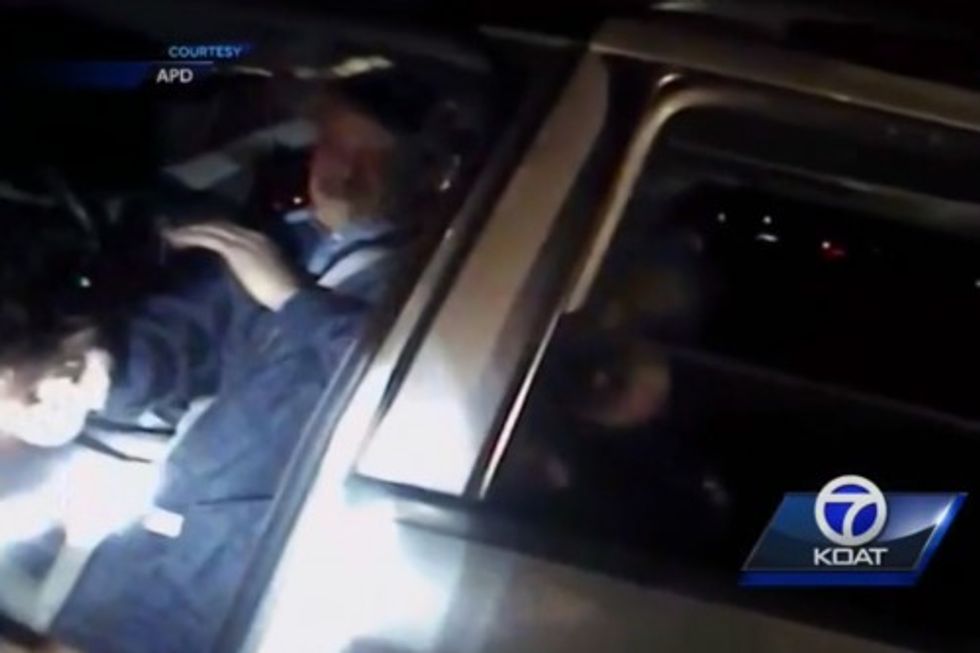 Image source: KOAT-TV
The officer groaned and crumbled to the street, hit by three of the rounds. Yet Golson was able to return eight shots.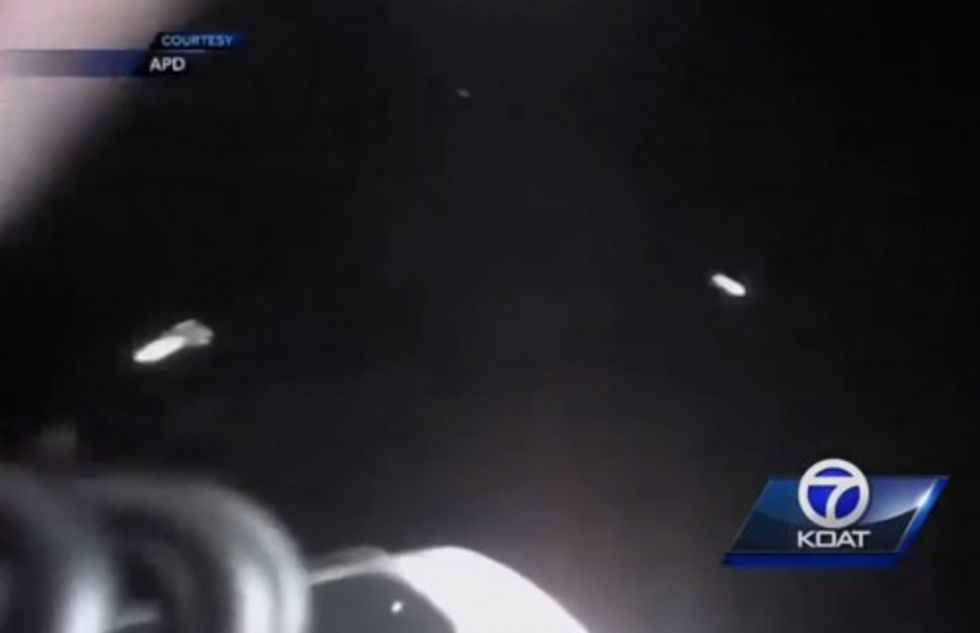 Shells fly from Golson's gun during his return of fire. (Image source: KOAT-TV)
None of them hit the driver who was seen fleeing from the SUV, which police later learned had been stolen from a car lot during a test drive.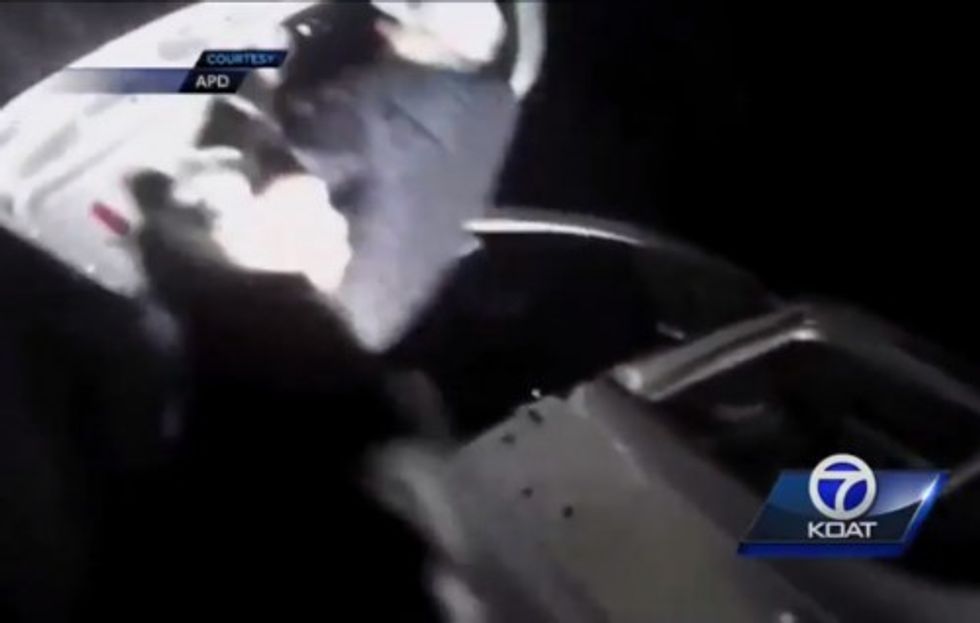 Image source: KOAT-TV
Golson, still lying in the street, then calmly called in the shooting: "Blue jacket. Running northbound. San Mateo. Blue hat and blue jeans," Golson is heard saying on his terrifying lapel video, which police released Tuesday.
"It hurts. Stomach, leg…he's gone," he added as fellow officers arrived on scene. "Do you see any blood?"
Golson had surgery and and his recovery is expected to take months, KOAT reported. He was shot through his left side and broke his left femur, the Albuquerque Journal reported. Golson also was bruised by shots hitting his bulletproof vest and broke his wrist upon falling, the Journal added.
Here's the video from Golson's body camera:
Sheriff's deputies arrested Christopher Cook around 4 a.m. Tuesday when he appeared to be staggering along a road; authorities then charged Cook in connection with Golson's shooting, KOAT-TV reported.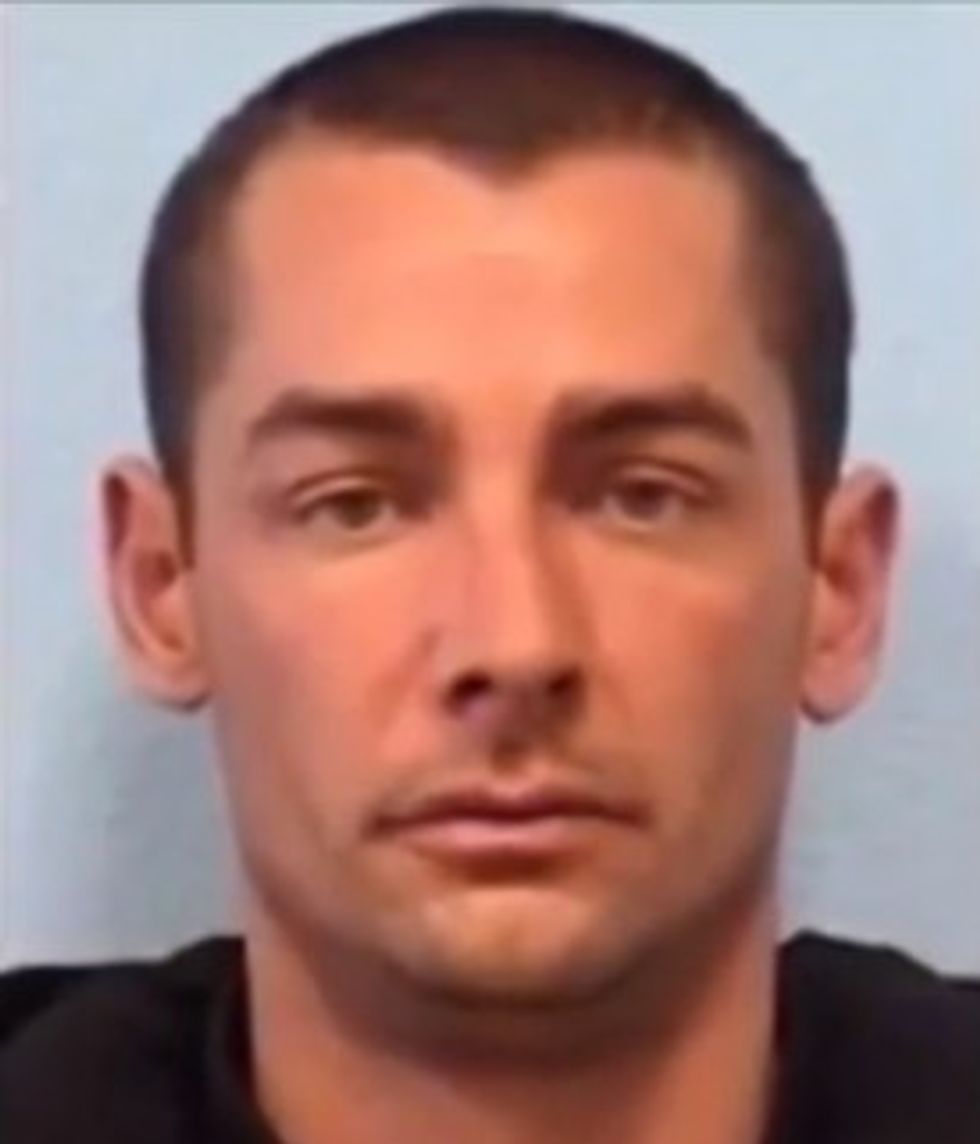 Christopher Cook (Image source: KOAT-TV)
More from KOAT:
Police said DNA evidence led them to believe Cook was the shooter. Officers found Cook's fingerprints on the door of the SUV, on an alcohol bottle and on a gun that was left behind at the scene.

Forensic experts ran Cook's DNA through a database and linked him to the crime late Monday night.

He faces several charges including attempt to commit a felony (murder), felon in possession of a firearm, shooting at/from a motor vehicle and receiving and transferring a motor vehicle.

If the court determines that Cook is an armed career criminal, he could face life in prison.
Cook pleaded not guilty Wednesday to the attempted murder charge, the Journal reported. Cook's attorney also requested no contact with Albuquerque police over an allegation that cops wrapped Cook in a blanket and beat him up after taking him into custody, KOAT reported.
An Albuquerque spokeswoman told KOAT that Cook's allegation is false, and in fact police bought him a meal after Cook said he hadn't eaten in three days.
Cook, who's apparently homeless, has a lengthy criminal past. He's been arrested for numerous violent crimes over the last 15 years, including aggravated assault against an officer and armed robbery with a deadly weapon, KOAT said, citing court records.
During that span Cook has spent about 10 years in prison and was most recently released a year ago after serving time for a freeway high-speed chase.