A Muslim doctor who is a vocal opponent of radical Islam and an ardent supporter of Israel is blasting an Australian television program for plastering an interview segment in which she appeared with images depicting Israeli military strikes on Gaza even though the subject of her interview was not about the summer conflict.
This, as one of the interviewers compared radical Islamism to what he called "extreme fundamentalist Christianity" in southern U.S. states which he alleged seeks to "stamp out Judaism and other forms of religion."
Qanta Ahmed, a sleep disorders specialist who is currently involved in an Israeli-Palestinian coexistence project, this weekend described her experience back in November when she was interviewed by Australia's Weekend Sunrise program, calling it "a Muslim's ambush."
During the interview segment on Australia's Channel 7, Ahmed described Project Rozana which supports the efforts of Israel's Hadassah Hospital to train predominantly Palestinian Muslim physicians from the West Bank.
"As an ambassador for the Project, I was lock step with my ideals both as a physician and as an observing Muslim opposed to virulently anti-Semitic Islamism," Ahmed wrote on the British website the Spectator.
When she later saw the interview, Ahmed wrote, "The shock was physical as I witnessed my exploitation. At each description of the pluralism and egalitarianism I had witnessed in Israeli medicine, the screen split to show the rubble of decimated North Gaza during the Israel-Hamas war, or the launching of an Iron Dome interception missile. Then the screen split to the Security Wall, shown from the Palestinian, not Israeli side."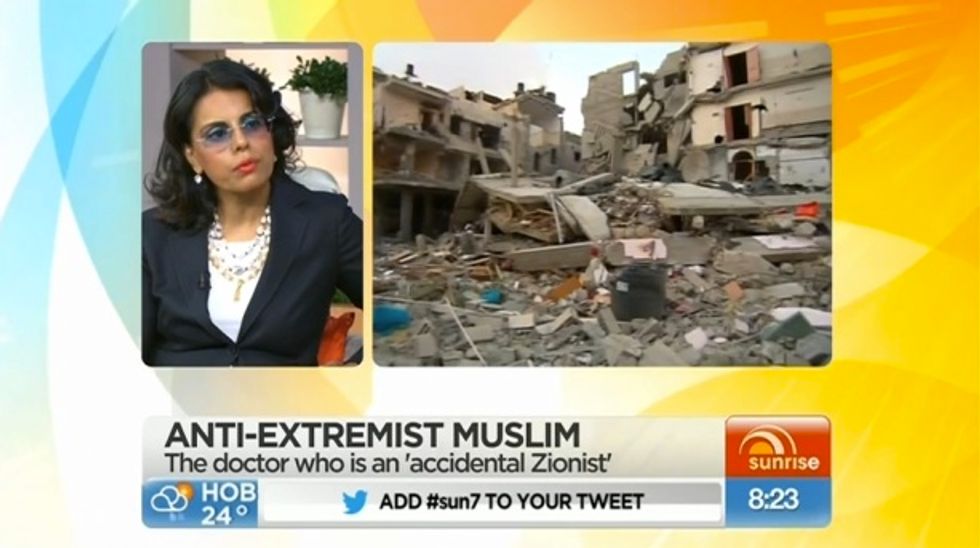 While Ahmed discussed Israeli medical efforts to train Palestinian doctors, video showed aftermath of an Israeli airstrike on Gaza. (Screenshot: Weekend Sunrise)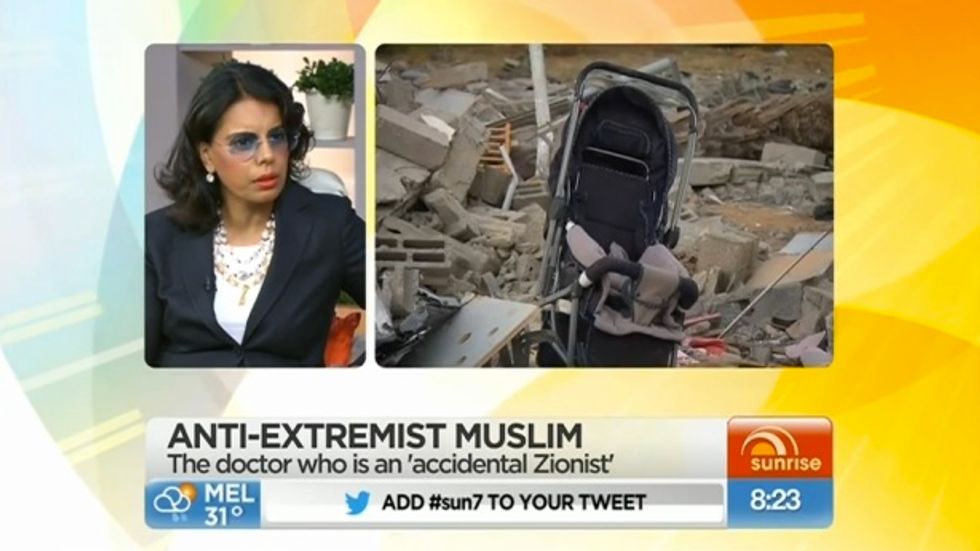 The images included a close-up of a stroller, undamaged despite the surrounding destruction (Screenshot: Weekend Sunrise)
"Mortally wounded Palestinian children, injured in conflict were broadcast liberally. The war footage had clearly been assembled in advance of my live interview without prior knowledge of what I would say. In an unseen control room, to the producers' signal, as I responded with words like 'coexistence', 'integration' or 'pluralism', a technician pulled the trigger and rolled the stock 'Israel as a terrorist state' footage; detonating my truthful and universal message. I had been reduced to an instrument of rank media opportunism," Ahmed wrote.
A review of the video also revealed one of the images wallpapered in the split screen next to Ahmed showed the stridently anti-Israel doctor Mads Gilbert in a Gaza hospital. This same doctor shortly after the 9/11 attacks told a Norwegian newspaper that he supported a terrorist attack on the U.S.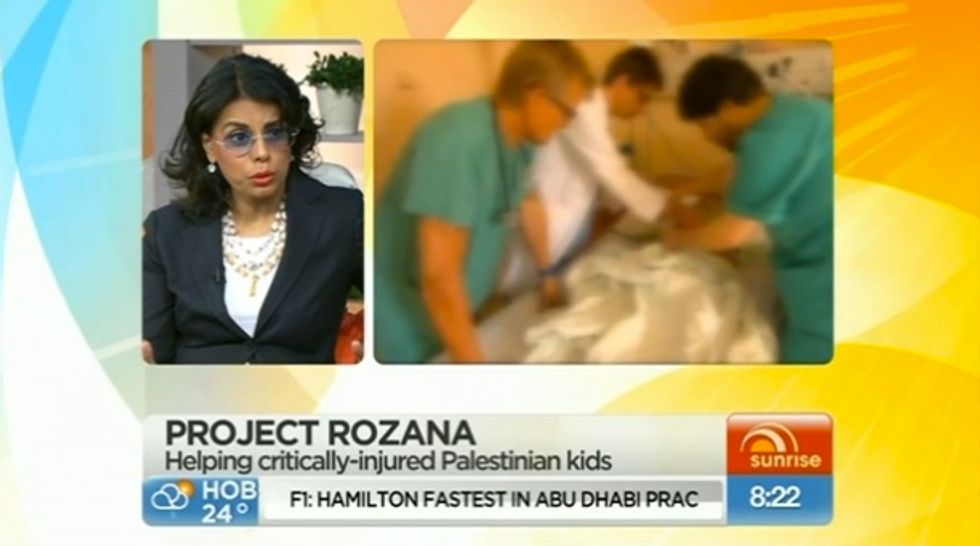 Norwegian doctor Mads Gilbert, a vocal critic of Israel who once supported terrorist attacks on the U.S., also appeared in the video wallpaper next to Ahmed. (Screenshot: Weekend Sunrise)
Ahmed who calls herself a Zionist who supports Israel as the home of the Jewish people told the show, "All of medicine and science in Israel is fully expressing coexistence collaboration. It's normal for Israeli Arab and Israeli Jewish faculty to be working together and people of Palestinian origin to be working together, but the outside world whether it's the United States or Australia often doesn't recognize that."
One of the show's hosts, Andrew O'Keefe, tried to temper Ahmed's argument by comparing Israel with the Palestinians and likening the dangers of radical Islam with other religions, including Christianity as practiced in the U.S. South. (Note: the interview took place before both the France terror attacks and the Sydney café hostage-taking).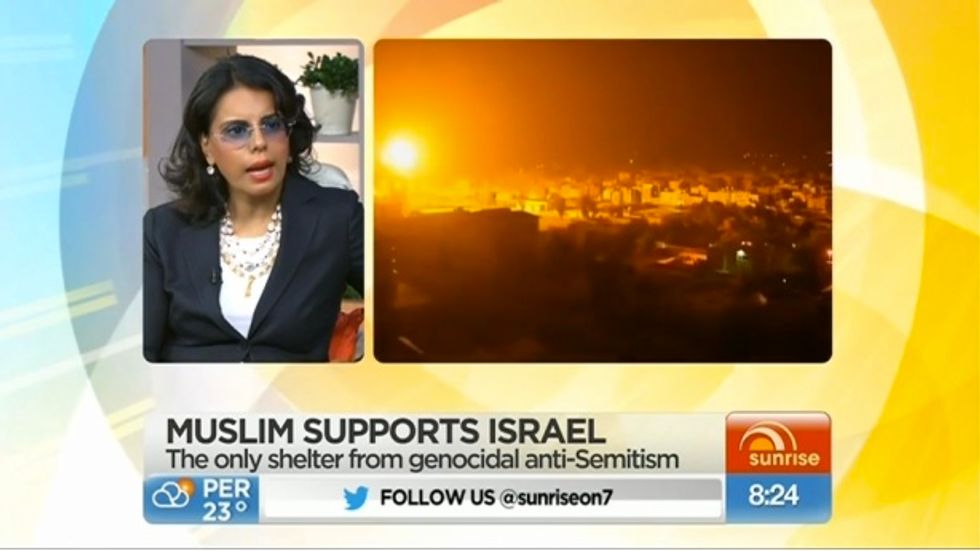 Ahmed described the global dangers of Islamism, but images showed a bomb exploding this summer in Gaza, when Israel itself was fighting the radical Islamists of Hamas. (Screenshot: Weekend Sunrise)
O'Keefe told Ahmed that she has gotten criticism over "your insistence that the state of Israel is a refuge, the only real refuge from a potential genocide against Jews and the same I guess would have to be said for Palestine and the Palestinians."
Ahmed corrected him, saying that she's attacked predominantly because she's an "anti-Islamist Muslim" who calls Islamism a totalitarian ideology.
The program host further said, "Any religious tradition is vulnerable to being hijacked for political or non-religious purposes to inculcate extremism. I think the debate here in Australia is centered around Islam, but meanwhile in Burma we have Buddhists running riot against Muslims attempting a genocide there; we have Hindu nationalism going crazy in parts of India; the southern states of America even now there is an extreme fundamentalist Christianity that's sought to stamp out Judaism and other forms of religion. So I think it's any religious tradition isn't it?"
Ahmed said that while "any belief system can be galvanized into grounds for persecution … Islamism is extraordinary" due to the large number of its followers and powerful nations led by Islamist regimes.
"It's much bigger than some of those things you've mentioned," Ahmed said.
Now, Ahmed believes she "unwittingly collaborated in my own exploitation by the Australian broadcaster who chose to cast me not as an anti-Islamist Muslim physician volunteering in pursuit of coexistence but as a vapid tool serving the malignant media construct of a two-dimensional anti-Semitic caricature of Zionism."
"This is neither journalism nor broadcasting; it's pure pro-Hamas propaganda," Ahmed wrote. "The producers hadn't bothered to insert Hamas foot-soldiers which include recruited Palestinian children and youth who wage war on Israelis, nor reveal the damage wrought by its hundreds of rockets on Israeli civilians (of whom 23% are non Jewish – mostly Sunni Muslim), nor did Australians see the industrially rendered labyrinth of Hamas tunnels so central to the recent conflict."
"Weekend Sunrise prostituted my goodwill in the service of personal or official anti-Israeli and pro-Hamas propaganda," she wrote.
"This is what Israel faces, that which no other nation embattled with the lethal threat of Islamism wrestles: the battle over narrative. … Only Israel must be denigrated, reviled and excoriated in her efforts to secure citizens and territories from the ambitions of genocidal anti-Semitic Islamism," Ahmed wrote.
"To be whored out as I strive as an ambassador for a philanthropic mission with universal reach, to be debased as an instrument despite my decades long authority as a physician and Muslim humanist is nothing but obscene," she concluded.
TheBlaze reached out to the Australian station by telephone Sunday seeking comment, but an employee who answered would not provide any email or telephone contact information for those in position to comment.
--
Update: Later on Sunday, Weekend Sunrise hosts Andrew O'Keefe and Monique Wright penned a scathing response in the Spectator insisting they had not exploited Dr. Ahmed.
"To suggest that we came with any agenda, either designed to promote Hamas or to debase you, is insulting in the extreme," they wrote. "To impugn our show and our staff publicly and in such a hostile and defamatory fashion based solely on your own preconceptions about supposed media bias is plainly unethical."
O'Keefe and Wright wrote that the interview segment showed that they were "very sympathetic" to Ahmed's argument on Islamism and expressed interest in both the Jewish-Muslim cooperation project at the hospital and her own presentation of Israel as a pluralistic nation.
"Your suggestions that you were somehow set up as a stooge, that you were in any way 'ambushed' or exploited, or that our producer Iman had anything other than your best interests at heart in constructing the segment, are completely false," they wrote.
Of the Gaza footage, they offered a few explanations, including that some of it was shown without referencing the conflict.
As they described other parts of the footage, the television personalities suggested that Palestinian-Israeli tensions are a cause for Islamist hostility, though Ahmed made the argument that extreme Islamist ideology is innately anti-Semitic.
"Other parts of the footage was, perhaps, too bluntly illustrative of tensions between Muslim and Jewish populations in Israel and Palestine, on which so much of the Islamist hostility you discussed is based," they wrote.
"And admittedly, we did use some footage that was inappropriate to what you were discussing at the exact moment it was played, but was very illustrative of what had been discussed prior to its display i.e. the grave injuries, both psychological and physical, sustained by children as a result of ongoing conflicts between Israel and Palestine," O'Keefe and Wright wrote. "This was merely an issue of timing and was in no way intended to cast you as 'tool serving the malignant media construct of a two-dimensional anti-Semitic caricature of Zionism.'"
"There was nothing 'deliberate' or 'opportunistic' about it," they wrote, adding, "As a 'veteran media commentator' you must know that, from time to time, especially when the hosts veer off script to follow a particular train of thought of the guest, the wrong vision goes up at the wrong time. For that, I apologize. Sometimes these things happen on morning television."
"We have here apologized for our minor mistake. You should seriously consider apologizing for your baseless and libelous comments against our staff," the Australian hosts added.
Watch the segment here:
This story has been updated.