Turkish Prime Minister AhmetDavutoglu said he'd like to see a rally like what took place in Paris on Sunday to be organized against "Islamophobia."
"It is a message to the whole world that everyone must confront the threat of terror," Davutoglu said, according to Agence France-Presse. "We would expect the same sensitivities to be shown to attacks on mosques or Islamophobia."
Davutoglu was one of dozens of world leaders who attended Sunday's huge rally following three days of Islamist terror that killed 17 in France last week.
Some Middle East watchers noted the Turkish leader's attendance at a rally condemning terrorism and defending freedom of the press was cynical given Turkey's dismal record on press freedom and its open support for the Palestinian terrorist group Hamas.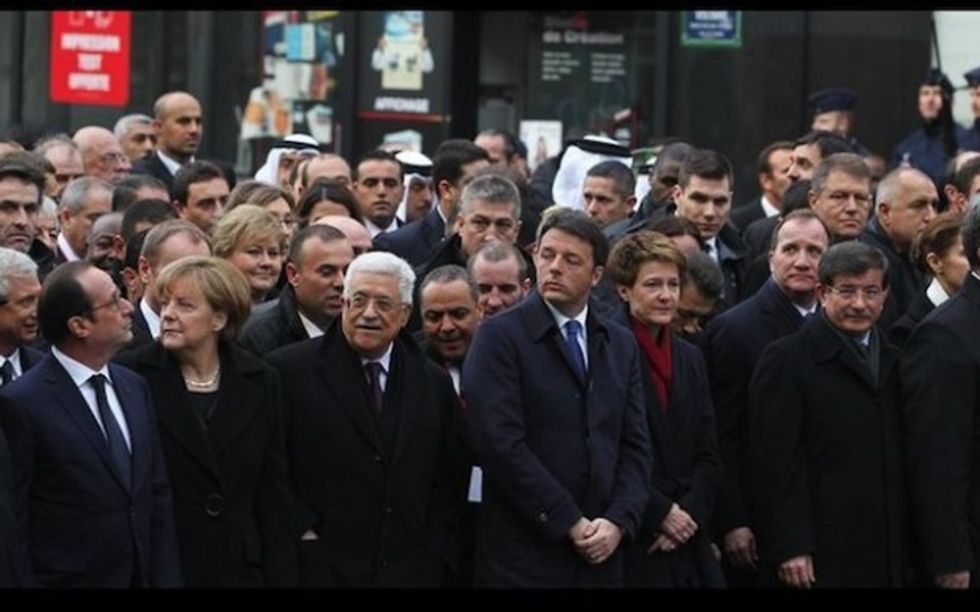 From left, French President Francois Hollande, German Chancellor Angela Merkel, Palestinian President Mahmoud Abbas, Italian Prime Minister Matteo Renzi and Turkish Prime Minister Ahmet Davutoglu, right, attend the national unity march in Paris, Jan. 11, 2014. (Anadolu Agency/Getty Images)
But the prime minister insisted Turkey stands against terror, saying, "Turkey has the same values around the world as far as terror is concerned. There can be no double standards."
He pointed specifically at what he called "state terrorism" against the Palestinians and in Syria.
AFP observed that Davutoglu's participation in the rally was seen in Turkey as "hugely symbolic," because of Charlie Hebdo's history lampooning the Prophet Muhammad.
Davutoglu insisted that the perpetrators of last week's attacks "have nothing to do with Muslim religion," calling them "fanatics."
He also emphasized that they were raised in Paris, not Muslim countries, and that this environment in which they grew up should be examined, AFP reported.
The Times of Israel reported Sunday that in Turkey, Jews are the group most targeted by hate speech in the Turkish media.
An upcoming study by the Middle East Media Research Institute's Turkish Media Project found that anti-Semitic attacks printed in the media have increased, especially in Islamist outlets.