Fox News' Ed Henry questioned White House press secretary Josh Earnest on how Israeli Prime Minister Benjamin Netanyahu managed to make it to Sunday's anti-terrorism rally in Paris, but President Barack Obama did not.
Earnest acknowledged Monday that the White House should have sent a higher-level official to represent the United States at the rally, but that security considerations for Obama coupled with the last-minute nature of the march prevented either him or Vice President Joe Biden from attending.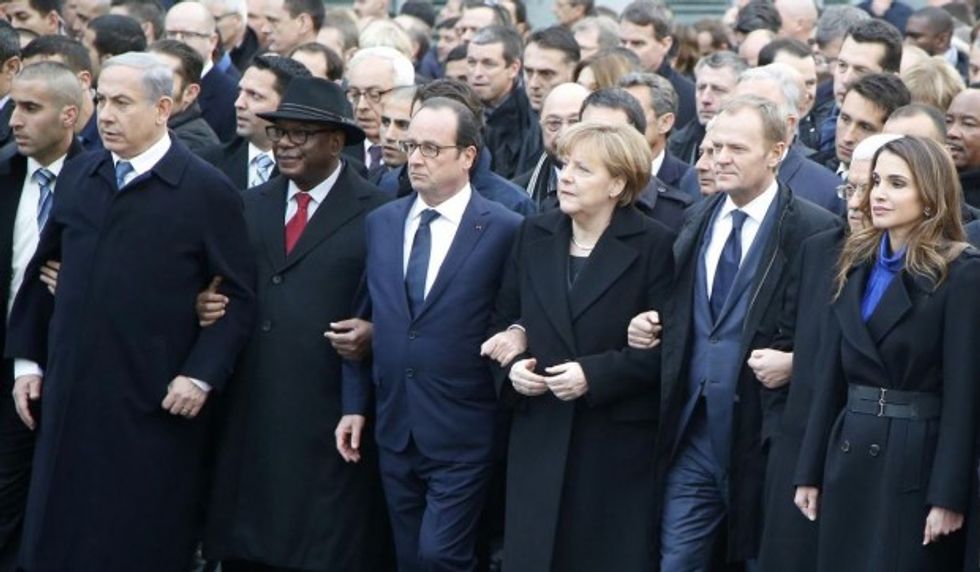 From left, Israeli Prime Minister Benjamin Netanyahu, Malian President Ibrahim Boubacar Keita, French President Francois Hollande, German Chancellor Angela Merkel, EU President Donald Tusk and Queen Rania of Jordan march in Paris, Sunday, Jan. 11, 2015. Thousands of people began filling France's iconic Republique plaza, and world leaders converged on Paris in a rally of defiance and sorrow on Sunday to honor the 17 victims of three days of bloodshed that left France on alert for more violence. (AP Photo/Michel Euler)
"Of course his security's important, and you don't want to detract from the event," Henry said during the press briefing. "How do you explain then that the Israeli prime minister, Benjamin Netanyahu, he made it there? He's a huge target, obviously, unfortunately. … Dozens of leaders from countries that are very important. They're not America, but very important."
Earnest told Henry, "You should talk to them about the security precautions they have in place."
Henry followed up a few moments later asking how Obama was able to make it to Nelson Mandela's funeral in late 2013.
"The Mandela funeral, there were dozens and dozens of leaders, the American security might be more, but it comes up on short notice — unfortunately, Mandela dies and you wanted to be there, you made it. How did that come together?" Henry asked.
Earnest said there had long been a travel framework in place in anticipation of Mandela's death.
"The difference with President Mandela is that there had been discussions that had been ongoing for frankly a number of years about the ceremony that would take place in the event to his death, and so there was a much clearer, a plan that was already in place that could be followed," he said. For France, "there was obviously nothing in place because I don't think anybody contemplated the kind of attack we saw in Paris."