President BarackObama did not attend Sunday's massive march in Paris to honor the victims of last week's terror attacks, and the White House is not explaining his absence.
Asked directly about Obama's absence among dozens of other world leaders, a White House spokeswoman only addressed a question about Attorney General Eric Holder.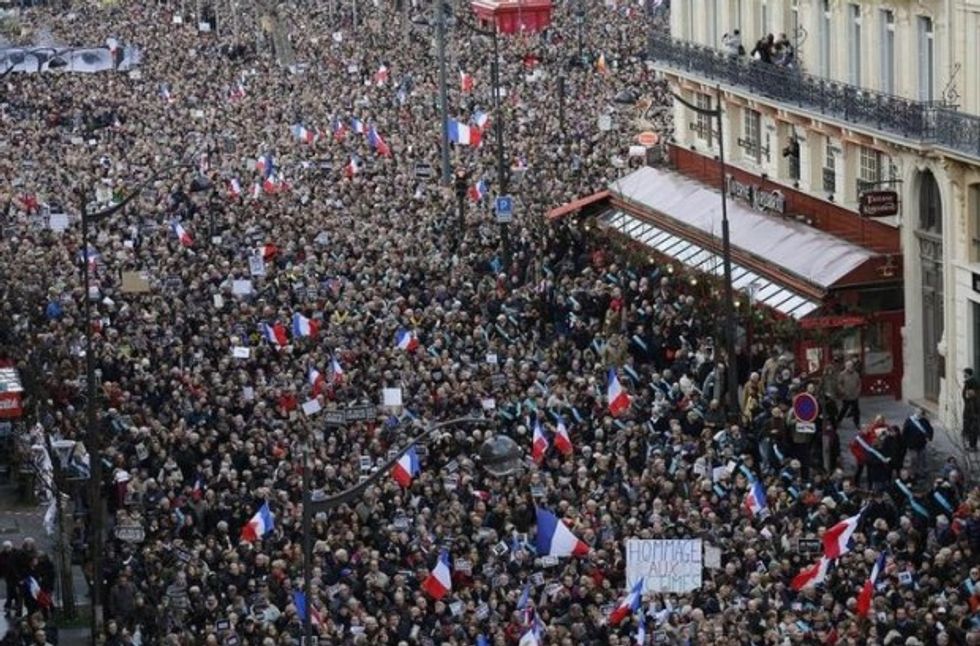 The crowd gathers during a march in Paris, Sunday, Jan. 11, 2015, where more than 3.7 million people rallied in a massive show of unity and defiance in the face of terrorism that killed 17 people in France's bleakest moment in half a century. (AP Photo/Laurent Cipriani)
World leaders linked arms and marched together at a unity rally that numbered more than 3.7 million people. Among the attendees were Angela Merkel of Germany, U.K. Prime Minister David Cameron, King Abdallah of Jordan and the brother of the Emir of Qatar, marching with French President Francois Hollande. Israeli Prime Minister Benjamin Netanyahu and Palestinian President Mahmoud Abbas attended, walking feet away from each other. All told, some 50 world leaders attended.
TheBlaze asked the White House press office to comment on why Obama did not participate in the rally. In a follow-up question, TheBlaze asked if Holder -- who went to Paris for an anti-terrorism summit -- was part of the march.
The White House spokesperson responded,"We'd refer you to DOJ for questions about the AG's schedule," in an email.
TheBlaze asked again about Obama's absence. The White House did not immediately respond.
The New York Times reported at 1:53 p.m. that Holder had to return to Washington Sunday. The United States was represented in the march by Ambassador to France Jane Hartley. TheBlaze contacted the Justice Department, which did not immediately respond.
White House press secretary Josh Earnest announced that the White House will host a Summit on Countering Violent Extremism on Feb. 18.
This story has been updated.