The Golden Globes are generally recognized as the entertainment industry's official awards season kickoff.
In addition to all of the chatter about who won, who didn't and what everyone was wearing, there was one moment that captured the hearts of many who watched. And, thanks to the Internet, that moment is finding its way to those who didn't catch it live.
When the Golden Globe was awarded for the best actor in a motion picture, comedy or musical, Michael Keaton's performance in "Birdman" beat out other nominees Bill Murray, Joaquin Phoenix, Ralph Fiennes and Christoph Waltz, and his emotional acceptance speech became one of the most talked-about moments of the night.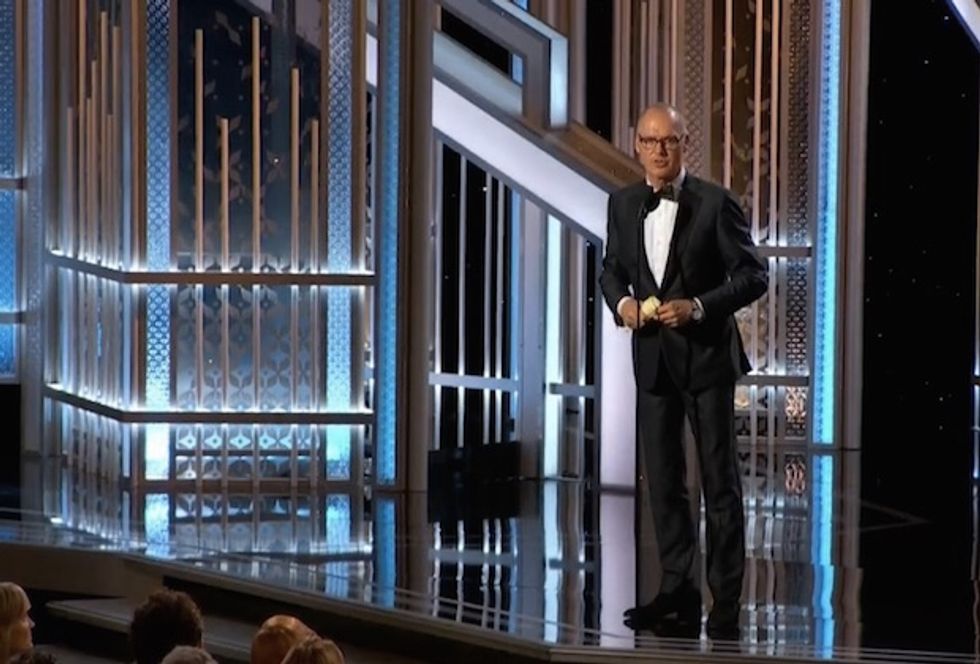 Image source: NBC
His speech stood out, but not because of a blunder or wardrobe malfunction. It wasn't a litany of names of agents, writers and producers. He did thank director Alejandro González Iñárritu, but then took his speech in a different, more personal direction.
Keaton talked about his family and how he was raised.
"In the household in which I was raised, the themes were pretty simple: work hard, don't quit, be appreciative, be thankful, be grateful, be respectful. Also to never whine, ever. Never complain. And always, for crying out loud, keep a sense of humor."
"My name is Michael John Douglas. I'm from Forrest Grove, Pennsylvania. I'm the seventh child of George and Leona Douglas."
"And I don't ever remember a time when my father didn't work two jobs, when my mother wasn't saying the rosary or going to Mass or trying to take care of seven kids in a rundown farmhouse as she was volunteering at the Ohio Valley hospital where I was born -- in a hallway."
Then things got very emotional:  "My best friend is kind, intelligent, funny,  talented, considerate, thoughtful. Did I say kind?" Keaton got choked up as he finished, "He also -- he also happens to be my son, Sean."
"I love you with all of my heart, buddy," he said.
Watch what many are calling the highlight of the night:
—
Follow Mike Opelka (@Stuntbrain) on Twitter
[instory-firewire]