Story by the Associated Press; curated by Oliver Darcy.
—
WASHINGTON (AP) — Smoke from an unidentified source filled a busy downtown subway station in the nation's capital Monday, forcing the evacuation of hundreds just before afternoon rush hour, authorities said. One person died and dozens were injured.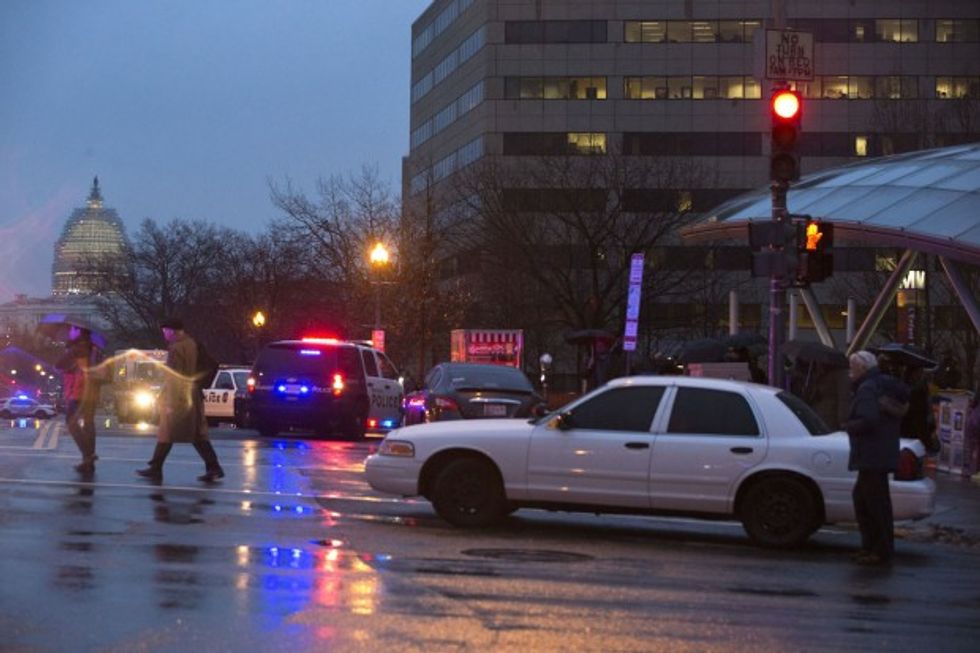 People walk past an exit to the L'Enfant Metro stop, with the U.S. Capitol in the background, after smoke filled the subway tunnel in Washington, Monday, Jan. 12, 2015. Metro officials say one of the busiest stations in downtown Washington has been evacuated because of smoke. Authorities say the source of the smoke is unknown. (AP Photo/Jacquelyn Martin)
Hundreds of passengers were evacuated from the L'Enfant Plaza station, one of the subway system's busiest, about 3:30 p.m., said District of Columbia Fire and EMS spokesman Timothy Wilson.
Latest from Metro GM Sarles: -1 fatality -2 people in critical condition -40 transported to GW Hospital -25 to Washington Hospital Center

— NBCWashington (@nbcwashington) January 12, 2015
Fire and EMS spokeswoman Caroline Laurin confirmed that a person had died, but declined to say more. She said the National Transportation Safety Board, whose office is located at L'Enfant Plaza, was investigating and would provide additional information. The NTSB tweeted that it had begun an investigation and was on the scene.
NTSB has opened an investigation into today's incident at the L'Enfant Plaza Metro station in DC. Investigators are on the scene.

— NTSB (@NTSB) January 13, 2015
Eighteen people from the station were taken to Medstar Washington Hospital Center, most of them for smoke inhalation, according to spokeswoman So Young Pak. She said 11 were treated and released. Of the seven still in the hospital about 8 p.m. Monday, one was in critical condition and one was in serious condition, she said.
George Washington University Hospital spokesman Matt Brock said in an email that 34 patients suffering from smoke inhalation had been brought there. He said their conditions varied.
The Washington Post reported that 40 people were taken to Howard University Hospital.
The source of the smoke was not immediately known.
—