Filling in as guest host on "The Kelly File" Monday night, Martha MacCallum pressed State Department deputy spokeswoman Marie Harf on why the Obama administration is seemingly reluctant to declare that radical Islam is the biggest threat currently facing the United States.
MacCallum set up the segment by first airing comments made by White House press secretary Josh Earnest in which he refused to say whether the U.S. is at war against radical Islam.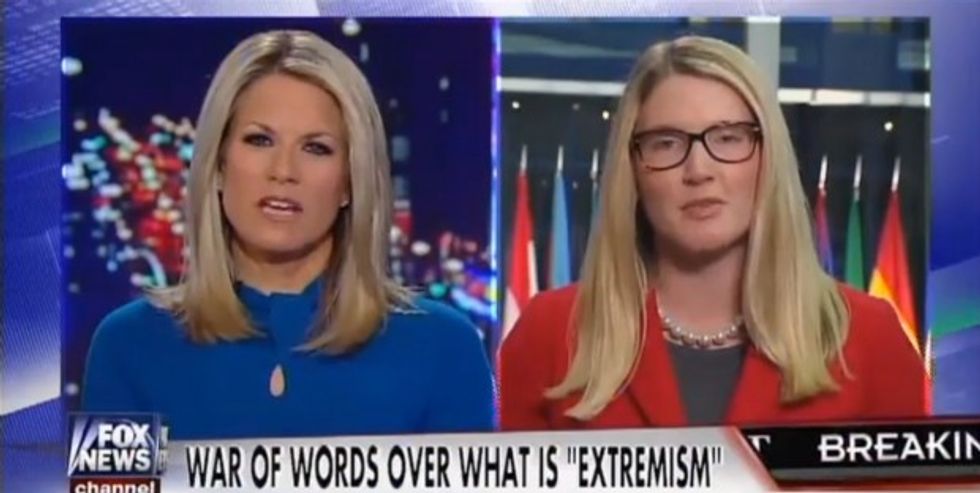 Screengrab via Fox News
"Every time we see this exchange, it seems like the answer is so tortured," MacCallum said. "Like it's so difficult to say what everybody around the world seems to feel so clearly it is. And what the leaders have said in Canada and Australia and Paris, where they have felt it so potently and personally — they've all said quite clearly that the battle is against Islamic extremism."
"Why is that so hard to say?" she pressed.
Harf replied, "Well, it's not hard to say, but it's not the only kind of extremism we face." She also claimed that "more terrorists that claim to do acts of violence in the name of Islam have been taken off the battlefield in this administration than any previous one."
While Harf admitted much of the extremism is "Islamic" in nature, she also said the U.S. has a responsibility to focus on all extremist threats. She also noted that the U.S. feels terrorists are committing acts of violence "falsely in the name of Islam."
When MacCallum asked the spokeswoman what other forms of extremism the U.S. government is highly concerned about, she did not provide a clear answer.
"There are people out there who want to kill other people for a variety of causes," she said. "Of course, Martha, we are most focused on people doing this in the name of Islam. … Part of our strategy to counter this extremism is to have other moderate Muslim voices to stand up and say, 'They don't represent our religion.' They speak for their religion more than we do, certainly."
(H/T: Mediaite)