Thousands of Israelis converged on a Jerusalem cemetery Tuesday to pay last respects to the four Jewish victims slain in the Islamist terror attack on a kosher supermarket in Paris Friday.
Though they were French citizens, Yoav Hattab, 21, Yohan Cohen, 20, Philippe Braham, 40, and Francois-Michel Saada, 64, were buried in Jerusalem at their families' request.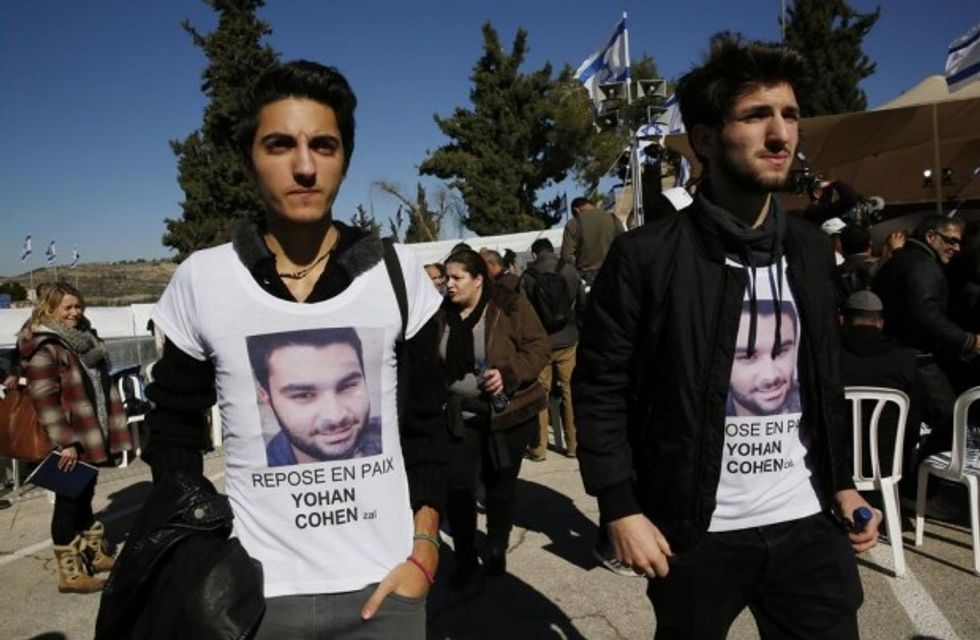 Mourners wearing T-shirts bearing the photo of Yohan Cohen arrive at a Jerusalem cemetery, Jan. 13, 2015, to attend the funeral of the four Jews killed in an Islamist attack on a kosher supermarket in Paris last week. The bodies of Cohen, Philippe Braham, Francois-Michel Saada and Yoav Hattab were flown to Israel from France for burial in the Jewish state. The four Jews were among 17 people gunned down in Paris during three days of bloodshed that convulsed France and sent shock waves through its Jewish community, the third-largest in the world. (AFP Photo/Gali Tibbon)In his eulogy, Israeli Prime Minister Benjamin Netanyahu emphasized the anti-Semitic nature of Friday's attack, saying the four were "murdered solely for being Jewish" by a "despicable murderer."
"These aren't just enemies of the Jews, but all of humanity," Netanyahu said of radical Islamists, the Jerusalem Post reported. "It's about time that all of the civilized word unite and uproot these enemies from our midst."
Having just returned from Paris, where he joined dozens of world leaders in a massive demonstration against terrorism, Netanyahu said that "most leaders understand or are starting to understand that the terror of radical Islam presents a clear and present danger on the world in which we live."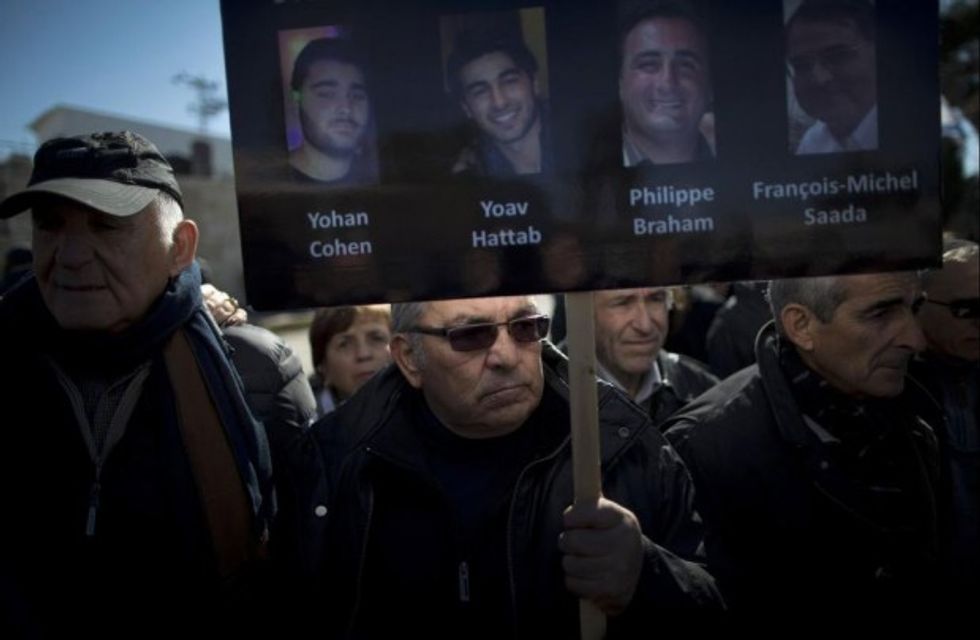 A man holds poster with portraits of four victims of the terrorist attack on a kosher grocery store in Paris during their funeral, at Givat Shaul cemetery in Jerusalem, Israel, Tuesday, Jan. 13, 2015. Israel geared up on Tuesday for the solemn funerals of four Jewish victims of a Paris terror attack on a kosher supermarket amid rising concerns over increased anti-Semitism in Europe. (AP Photo/Oded Balilty)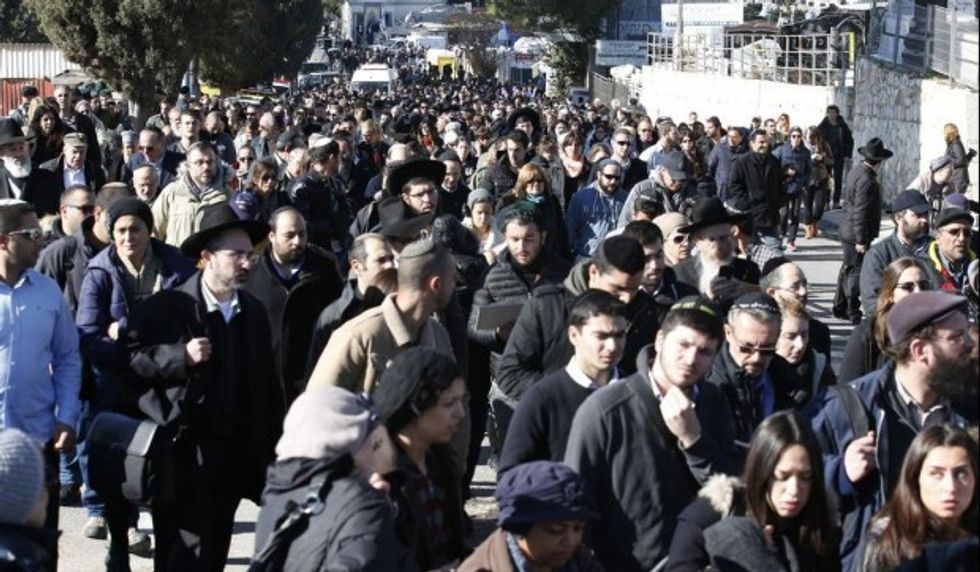 Mourners march on the street in Jerusalem on Jan. 13, 2015 for the funeral of four Jews killed in an Islamist attack on a kosher supermarket in Paris last week. (AFP Photo/Jack Guez)
At #Jerusalem funeral 1000s join families of 4 Jewish victims of #Paris market shooting. #Israel: 'Welcome home' #CBC pic.twitter.com/hrFtosI8sp

— Saša Petricic (@sasapetricic) January 13, 2015
PHOTO: Thousands attending funeral of 4 Jewish victim killed in Paris attack, taking place in Jerusalem - @reglash pic.twitter.com/zAb5FTRnv4

— Israel News Feed (@IsraelHatzolah) January 13, 2015
French Minister of Ecology, Sustainable Development and Energy Segolene Royal emphasized the fraternity between the French people and the Jewish people, telling the mourners, "Each hit suffered by a Jew is a hit suffered by the French people."
"It is our duty to protect the place of the [Jewish] community in our country," Royal said, according to the Times of Israel.
At the funeral of #ParisTerror victims in #Jerusalem widow of slain Philippe Barham lights a candle in his memory. pic.twitter.com/pO2OFmvuHT

— Tamara (@TamaraOnStuff) January 13, 2015
Royal handed each of the families a medal symbolizing the Order of the Legion of Honor of France, bestowed by French President Francois Hollande.
Israeli opposition leader Isaac Herzog tied in the November terrorist attack at a Jerusalem synagogue with the France murders, saying, "A straight line connects the murder of the four Jews [in the Paris supermarket] to the bastards who penetrated the Har Nof synagogue and killed people at worship in their prayer shawls two months ago."
"Today we are all united in the knowledge: terrorism will not win, we will not let terrorism extinguish our light," Herzog said.
Israeli President Reuven Rivlin appealed to European leaders to reinstate a sense of security for Jews there.
"We cannot allow it to be the case, that in the year 2015, 70 years since the end of the Second World War, Jews are afraid to walk in the streets of Europe with skullcaps and tzitzit [ritual fringes]," Rivlin said. "This was pure, venomous evil, which stirs the very worst of memories. This is sheer hatred of Jews; abhorrent, dark and premeditated, which seeks to strike, wherever there is Jewish life."