A newspaper that serves the ultra-Orthodox community in Israel received mainstream attention Monday after editing out the women, including German Chancellor Angel Merkel, from a photo of world leaders standing arm-in-arm at Sunday's massive unity rally against terrorism in Paris.
The Israeli website Walla reported that the ultra-Orthodox outlet HaMevaser removed Merkel, Paris Mayor Anne Hidalgo and others.
This was the official photo released by Israel's Government Press Office, which showed the women among the other leaders.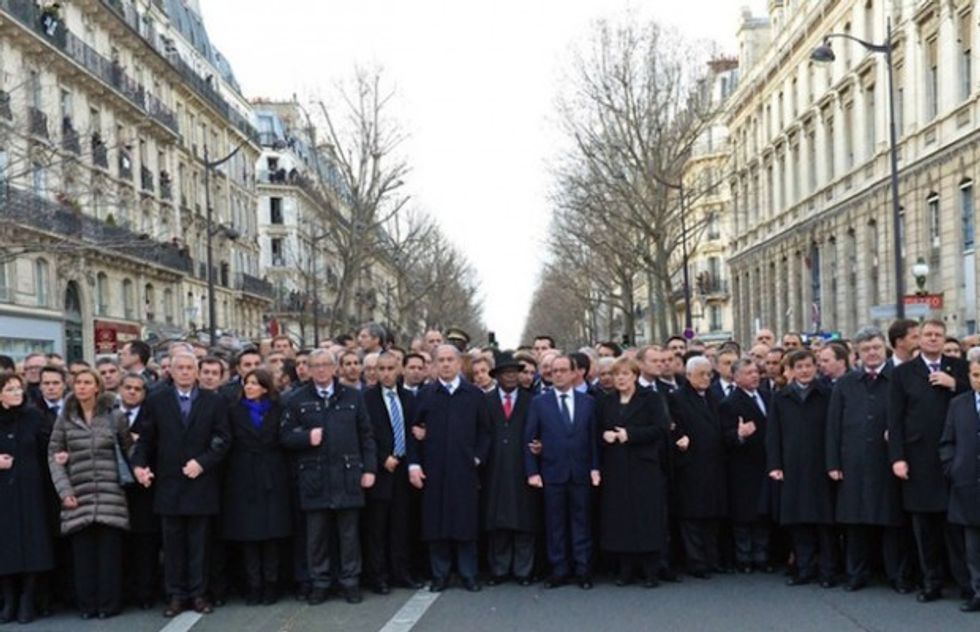 Image source: Israel's Government Press Office
But in the photo that appeared in HaMevaser, Merkel and Hidalgo were clearly digitally removed, and European Union foreign policy chief Federica Mogherini was cropped out. Here's how the photo and accompanying article appeared, via Walla: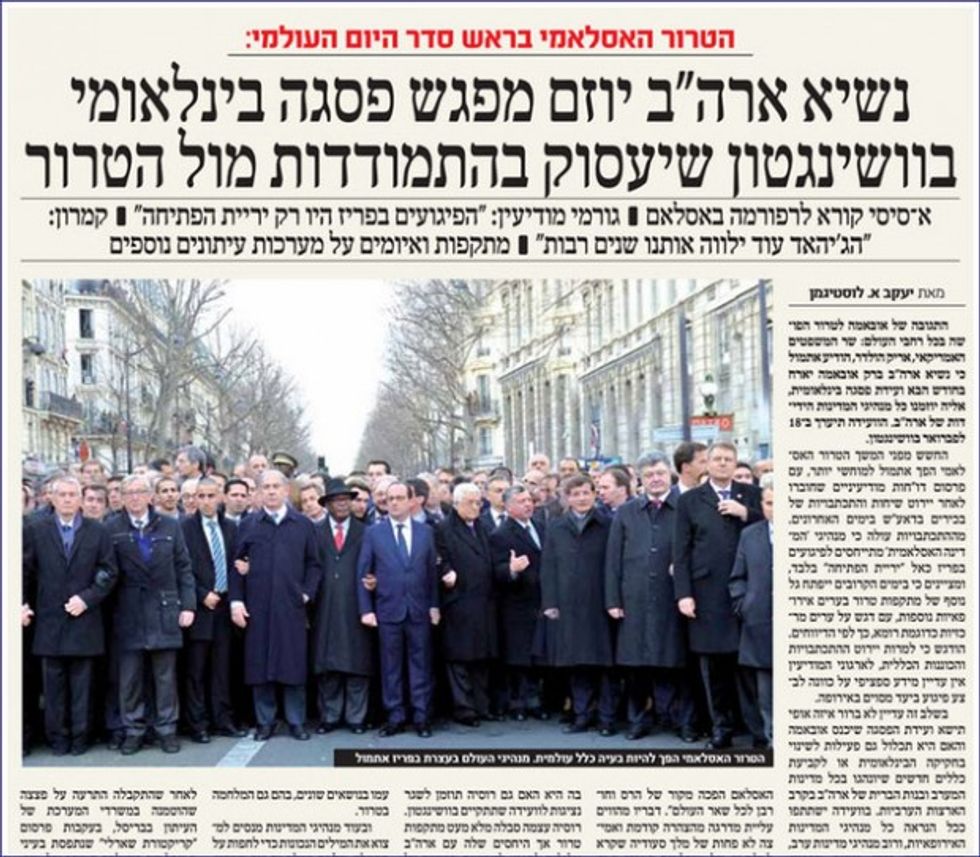 Ultra-Orthodox news outlet HaMevaser edited out the female leaders from a photo from the Paris march on Sunday. (Image source: Walla).
Everyone to the right of Merkel was moved slightly left in order to cover the gap created by the digital alteration. In the new photo, it appeared that French President Francois Hollande stood next to Palestinian Authority President Mahmoud Abbas, when really Merkel was between them.
For some ultra-Orthodox Jews, depicting women in photographs and displaying unmarried men and women touching – even if not of a sexual nature – is considered offensive. Indeed, some ultra-Orthodox websites don't ever show photos of women, while ads on buses in Jerusalem have been torn down when they featured photos of women.
Yair Rosenberg of Tablet magazine, which covers Israel and Jewish affairs, tweeted a past example from a rally in Israel in which a woman had been haphazardly edited out of a photo in an ultra-Orthodox paper, but her high heels remained:
Classic: ultra-Orthodox paper photoshops woman out of protest, replaces her w/ man, neglects to remove her high heels pic.twitter.com/hGtxbf08Qd

— Yair Rosenberg (@Yair_Rosenberg) January 12, 2015
Telling: We can happily mock the ultra-Orthodox Jews who photoshopped out Merkel because none of us are afraid they'll retaliate violently.

— Yair Rosenberg (@Yair_Rosenberg) January 13, 2015
Correction: TheBlaze misidentified Paris Mayor Anne Hidalgo as Danish Prime Minister Helle Thorning-Schmidt. Thorning-Schmidt was at the march, but not visible in either photograph.
(H/T: Mediaite)