A mysterious weather phenomenon is shaking up people from around the country and even into Canada where residents are wondering, "What is that?"
"It was so loud the house shook. My kids ran in yelling, 'what was that mommy?" Kennesaw County, Georgia, resident Tracy Walker told WAGA-TV.
Residents in Walker's neighborhood were spooked by several loud booms Sunday night that began around 6 and occurred sporadically until about 9:30.
"It sounded like a whole bunch of fireworks all going off at once," Noelle Riedemann said. Noelle's mom, Beth told the outlet she thought "maybe a transformer blew."
Atlanta News, Weather, Traffic, and Sports | FOX 5
Just last week residents of Oklahoma heard a similar noise. Law enforcement officials from at least five counties tried to locate the source of the boom but haven't found anything that might have caused the racket, KFOR-TV reported.
The Washington Post reported the booms occurred last weekend in portions of northern Illinois and in portions of Canada near Toronto the weekend before that.
So just what is causing these mysterious booms in so many areas of the continent? Meteorologists in two of the areas most recently affected are suggesting it could be cold temperatures.
"It turns out these 'cold booms' are a fascinating phenomena, KFOR-TV meteorologist Mike Morgan said of the booms heard in Oklahoma last week. Morgan said "cold booms," or "frost booms," to they are also referred, happen when temperatures rapidly fall below freezing after a descent rainfall.
Morgan explained:
"When you go from a liquid to a solid, it gets larger. Well turns out, when it goes to an ice phase, it has no place to go, so it shows up as a 'cold boom' and actually causes a miniature explosion in the ground," Morgan said.
To that, WAGA-TV meteorologist Jeff Hill added "in the winter, the atmosphere is set up with the cold air near the surface and the upper level acts as a cap, so the sound doesn't dissipate."
Technically known as a "cryoseismic boom," the Maine Geological Survey describes it as a "natural phenomenon that produces ground shaking and noises similar to an earthquake, but is caused by sudden deep freezing of the ground."
While the Maine Geological Survey noted there is not much scientific data about cryoseisms. the Weather Channel explains on its website they are "generally harmless, causing nothing more than small cracks in the ground and a bit of confusion in people woken from their slumber."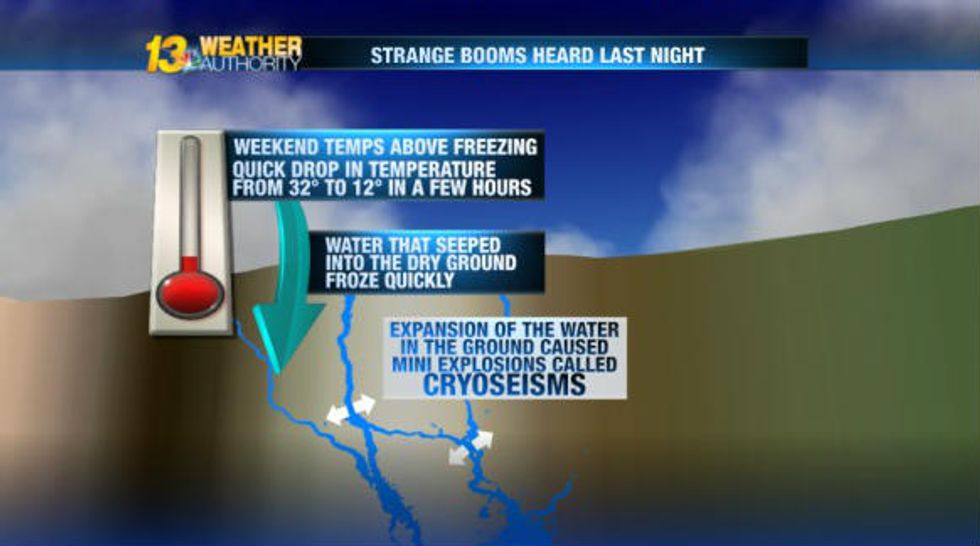 Image source: WREX-TV
But National Weather Service meteorologist Matthew Day isn't convinced the booms are actually cryoseisms. Yet, he admits he doesn't know what else it could be.
"There are some stories going around that's what it was, but based on the research we've done here, it doesn't appear what people heard is related to the cryoseism phenomena. There's not enough moisture, and the temperatures are not cold enough. That happens in areas where you have a lot of water flowing through a lot of rock," Day said, the Associated Press reported.
"We don't know what it was, we just know what it is not," he added.
(H/T: WAGA-TV)
–
Follow Jon Street (@JonStreet) on Twitter