Texas Agriculture Commissioner Sid Miller's first official act was met with cheers and enthusiastic applause by those who attended a press conference in Austin on Monday morning.
Standing in front of an Airstream trailer from local food vendor Hey Cupcake!,  Miller granted "amnesty" to cupcakes and all kinds of sweet treats that parents had been banned from sending to school with their children since 2004.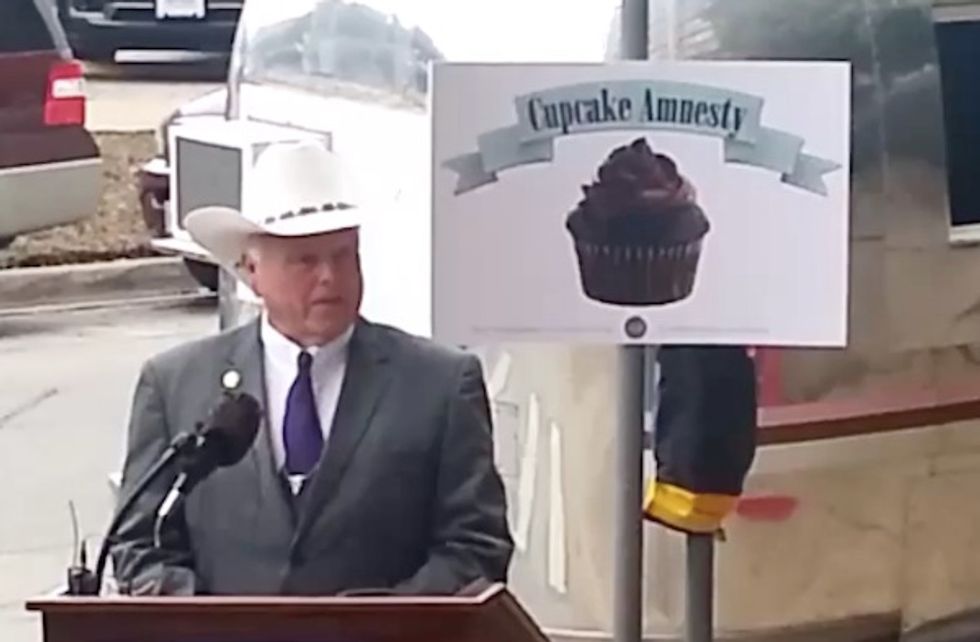 Image: YouTube
The newly-elected commissioner released a statement saying, "We want families, teachers and school districts in Texas to know the Texas Department of Agriculture has abolished all rules and guidelines that would stop a parent from bringing cupcakes to school."
The 2004 policy that prohibited schools from selling certain sugary treats also blocked parents from bringing them to schools. However, the portion of the '04 policy that forbid parents from sending cupcakes, pies, cookies, etc. to schools was reversed last July.
The Texas Tribune reports that Miller's amnesty stunt was intended to let people know, "This is not about force-feeding cupcakes to our children." Adding, "It is about local control."
However, Texas schools that receive federal school lunch benefits are still banned from selling cupcakes and other foods that do not conform to the Smart Snacks in School guidelines.
Miller's spokesperson also reports he delivered 181 cupcakes, provided by a donor, to the Texas state capitol on Monday -- one for each elected member of the state Senate and House.
Watch Miller's cupcake amnesty declaration:
__
Follow Mike Opelka (@Stuntbrain) on Twitter.