Several House Democrats have introduced legislation that would give federal workers a 3.8 percent pay hike, a raise that would take effect in 2016.
The lead sponsor of the bill, Rep. Gerry Connolly (D-Va.), said his Federal Adjustment of Income Rates Act, or the FAIR Act, is needed because federal wages have not kept up with inflation over the last five years.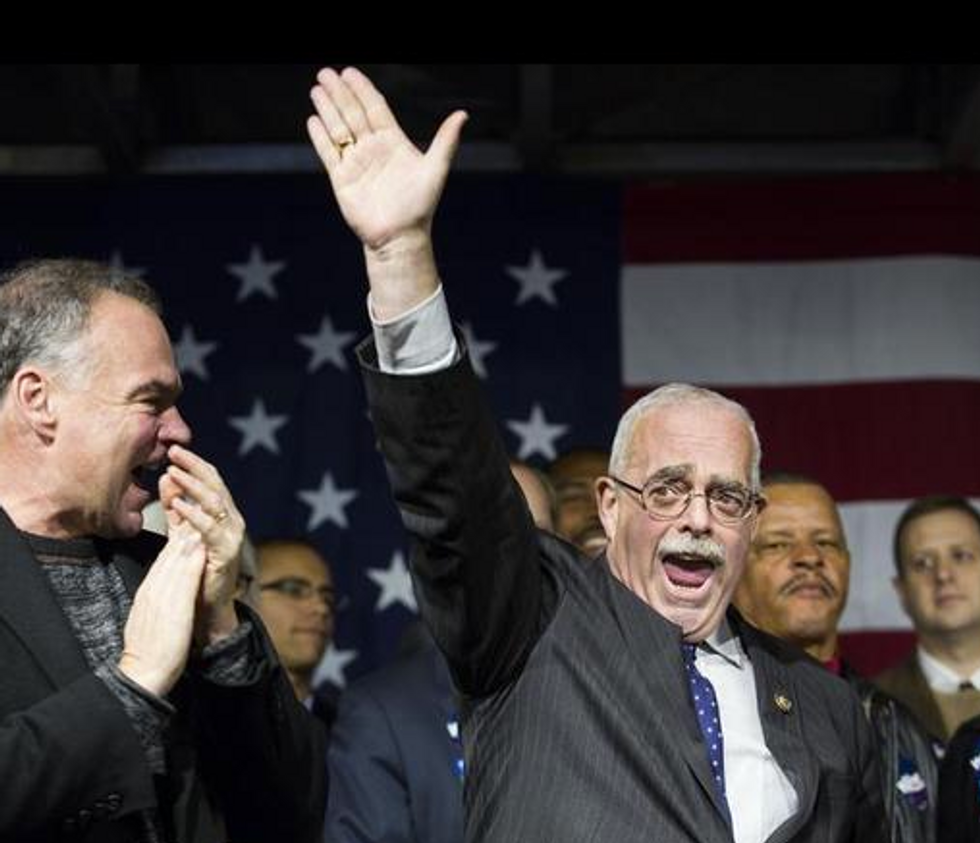 Rep. Gerry Connolly (D-Va.), right, and several other House Democrats have proposed a bill giving federal workers a 3.8 percent pay increase.
Image: Drew Angerer/Getty Images
As part of spending agreements with House Republicans, federal salaries were frozen for three years starting in 2010, and other cuts were made in an effort to control spending. While federal wages grew by 1 percent for the last two years, Connolly said that's still not enough of a bump, and said a 3.8 percent increase would be just a "down payment" on the raise they deserve.
"No other group in our country has been demonized, demoralized and asked to sacrifice more than our federal workforce," he said. "They have been disparaged and belittled."
"This bill is a down payment on trying to help restore some of the losses that have been incurred by federal employees," he added. "They have endured a three-year wage freeze, four years without locality pay, higher retirement contributions for certain employees, wage-reducing work furloughs, cuts from sequestration, and a government shutdown."
While growth in federal salaries has leveled off in the last half decade, studies show that federal workers still make more than private-sector employees. A December report from the Cato Institute, which cited government data and press reports, said the average federal worker earns 74 percent more in wages and benefits than the average private-sector worker.
"In 2013 federal civilian workers had an average wage of $81,076, according to data from the U.S. Bureau of Economic Analysis," Cato wrote. "By comparison, the average wage of the nation's 107 million private-sector workers was $55,424."
When benefits like health care and pensions are included, average annual compensation for federal workers jumped to $115,524, 74 percent more than the $66,357 private sector average.
Still, several groups that support the Democratic bill say it's needed to overcome what some say are "meager pay increases" over the last few years.
"Faced with shrinking resources and meager pay increases — if at all — federal agencies and employees are finding it harder to accomplish their missions," said National Treasury Employees Union President Colleen Kelley.
"Federal employees have seen their standard of living deteriorate in recent years due to a three-year pay freeze, unpaid furloughs, and higher retirement contributions for newer workers," said American Federation of Government Employees National President J. David Cox. "A 3.8 percent pay raise would help federal employees recoup some of that lost income and ensure the government is able to recruit and retain the high caliber workers that taxpayers expect."
Connolly's bill is supported by several members from Virginia and Maryland, where many federal workers live. Of the 31 Democratic cosponsors, 10 are from the DC area, including Del. Eleanor Holmes Norton (D-DC).
Read their bill here: