All's fair in love and war — especially when you're dating a professional killer?
NASCAR driver Kurt Busch, appearing in Delaware court Tuesday over his ex-girlfriend Patricia Driscoll's request for a no-contact order, testified that believes Driscoll to be a trained assassin, the Associated Press reported.
Among Busch's claims:
A character in "Zero Dark Thirty" was based on Driscoll.

She showed him pictures of dead bodies and said her work took her throughout Latin America and Africa.

Once in El Paso, Texas, Driscoll left wearing camouflage and came back in a trench coat and blood-spattered evening dress.
"Everybody on the outside can tell me I'm crazy, but I lived on the inside and saw it firsthand," Busch said when his incredulous attorney, Rusty Hardin, questioned why he still believed Driscoll to be a professional killer.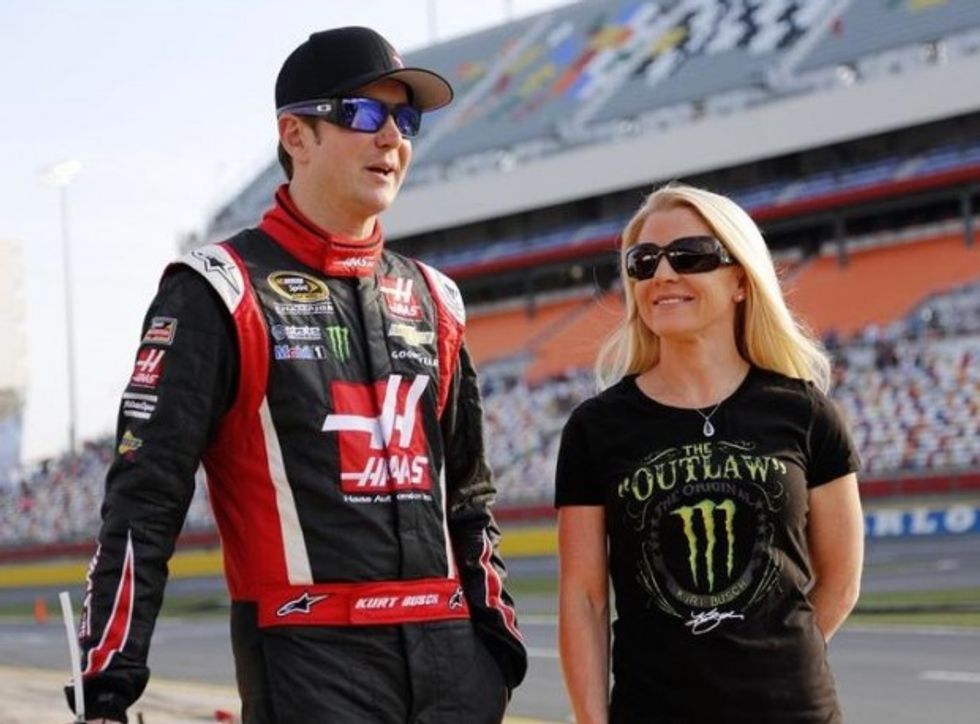 In this May 22, 2014, file photo, Kurt Busch, left, walks with Patricia Driscoll before qualifying for a NASCAR Sprint Cup series auto race at Charlotte Motor Speedway in Concord, N.C. (AP Photo/Terry Renna)
After court proceedings wrapped up Tuesday, the AP caught up with Driscoll, who flatly denied Busch's claims and said the driver probably got his ideas from a screenplay she's been writing.
"These statements made about being a trained assassin, hired killer, are ludicrous and without basis and are an attempt to destroy my credibility," Driscoll said. "Not even [his attorney] Rusty Hardin believes this. I find it interesting that some of the outlandish claims come straight from a fictional movie script I've been working on for eight years."
But Busch isn't the only one making claims about Driscoll being some kind of super spy.
Last month, a man who'd served as a personal assistant to both Busch and Driscoll, Michael Doncheff, testified that Driscoll had told him she was a trained assassin and that she'd once said, "I take down foreign governments. I own Washington."
In a separate legal battle, Driscoll accused Busch of assaulting her in his motorhome at the Dover International Speedway a week after he ended their relationship.
Busch said he merely cradled her face and that "her head tapped the wall" as he was doing so, but Driscoll claimed her grabbed her by the throat and slammed her head against the wall three times.
A Christian music minister who knew the couple took Busch's side, testifying that Driscoll had initially told him that Busch had merely pushed her and she'd bumped her head.
The minister said Driscoll's attitude changed "from a broken heart looking for love and reconciliation to anger and a little bit of revenge," adding that she'd told him, "I will destroy [Busch]."
A decision on the no-contact order is expected in February.
—
Follow Zach Noble (@thezachnoble) on Twitter