The White House said vowed that President Barack Obama's executive actions on immigration will be implemented, despite "political theater" by House Republicans to defund them.
"The president knew when he announced these executive actions, we would have this debate," White House domestic policy director Cecilia Muñoz told reporters Wednesday. "The concerns about people coming forward were experienced during the Deferred Action on Childhood Arrivals."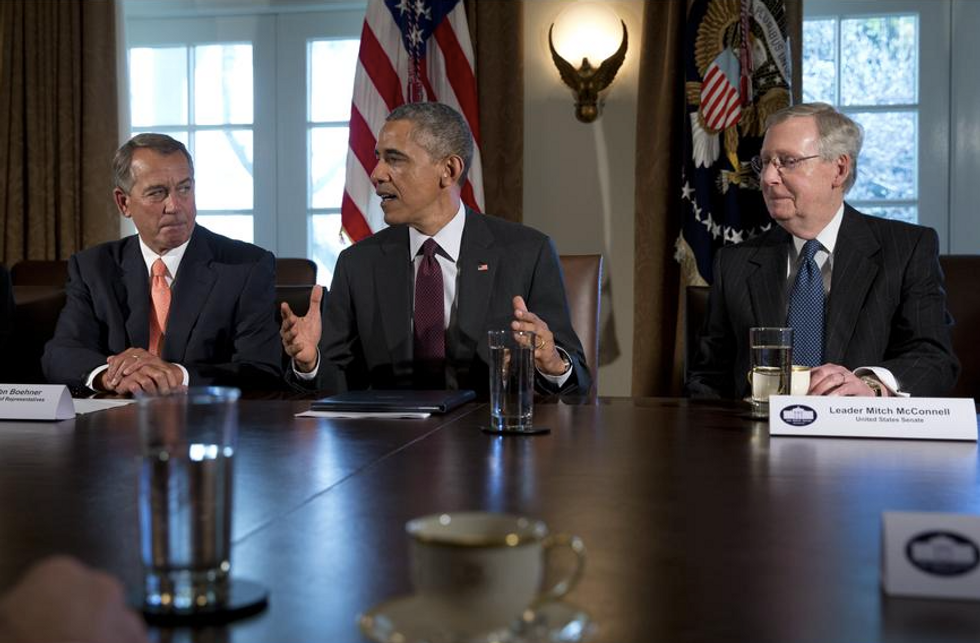 President Barack Obama speaks to reporters during a meeting with House Speaker John Boehner of Ohio and Senate Majority Leader Mitch McConnell of Ky., Tuesday, Jan. 13, 2015, at the White House. (AP Photo/Carolyn Kaster)
She said Obama's deferred action has been successful with about 600,000 young immigrants coming forward.
"He encouraged us to be inspired by that example," she said. "That example is stronger than the political theater we are seeing in the House."
The House voted Wednesday to defund the executive actions Obama took in November that would shield about 5 million illegal immigrants from deportation. The 237-190 House vote, mostly along partisan lines, was for an amendment to a funding bill for the Department of Homeland Security. Once adopted, the Homeland Security funding bill passed the House by a vote of 236-191.
"If this legislation reaches the president's desk, he will veto it," Munoz vowed.
She said the "House of Representatives also voted restore the broken immigration system to the status quo."
U.S. Customs and Border Protection Commissioner R. Gil Kerlikowske said the budget could interfere with funding border guards as well as important technology used to secure the southern border.
"Technology has to be repaired, and there are contracts," he said. "There aren't many contractors or research and development organizations that want to work with you for a month or two."
He stressed the need for a fully funded fiscal year budget and defended Obama's executive actions.
"If we are going to be successful in protecting this country at every level we need a budget and we need America's broken immigration system fixed," he said. "We've done prioritization in every level of law enforcement I've ever worked in and this is no different."
Obama implored Republicans during a White House meeting Tuesday not to pass the defunding measure.