A senior Republican Senate leader on Thursday offered several indications that the GOP might be thinking of abandoning language in a House-passed spending bill that would defund President Barack Obama's immigration plans.
The House this week passed a Department of Homeland Security spending bill with an amendment to defund Obama's immigration decisions. But the bill is expected to stall in the Senate, since at least six Democrats will be needed to advance the legislation in the upper chamber, and Democrats are known to oppose it.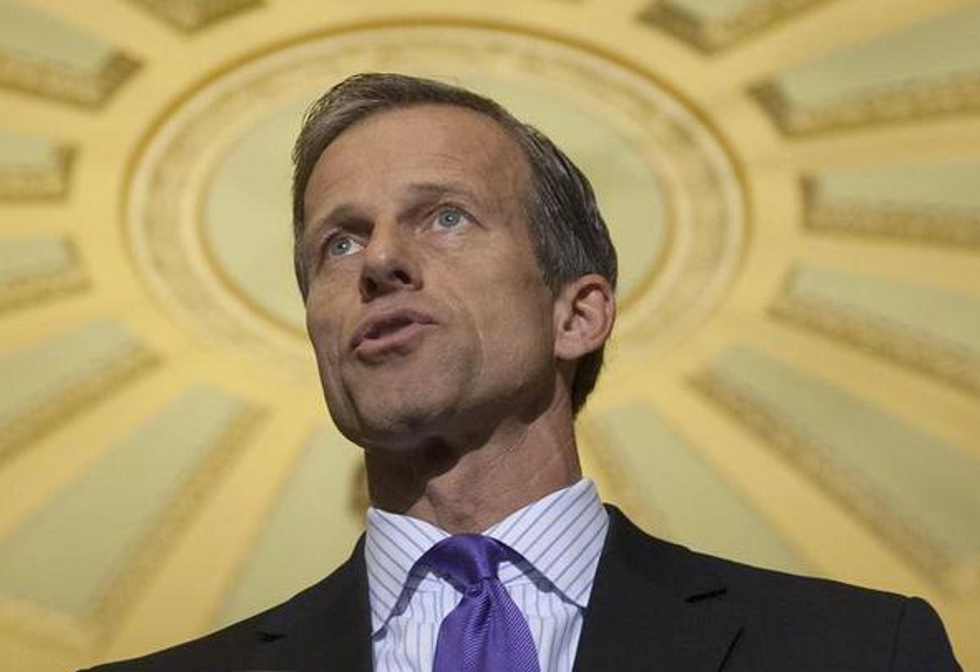 Sen. John Thune (R-S.D.) said Thursday that Republicans want a chance to 'express their opposition' to President Obama's immigration plan.
Image: AP Photo/Cliff Owen
On Thursday, Senate Republican Conference Chairman John Thune (R-S.D.) seemed to hint that the Senate may only end up holding a symbolic vote on immigration as a way to free up the DHS bill.
"We want to give our members an opportunity to vote, to express their opposition to the president's action," he said in Hershey, Pennsylvania during the GOP's policy retreat.
Thune was not any more specific and stressed that the House vote was "the start of a process," making it impossible to read too much into his comment. But his line about finding some way to let senators "express their opposition" to Obama's plan could be a sign that the GOP will set up a vote on immigration that is not tied to the DHS bill.
Republicans who want to defund Obama's immigration plans have been wary of any attempt to separate the DHS bill from the immigration defunding language. These members argue that the GOP has more leverage over Obama on immigration when the defunding language is on the must-pass DHS bill, and have warned for the last several weeks that the two must be paired for that reason.
If the two were separated, it would allow the DHS bill to move ahead and be signed by Obama, and allow Obama to simply veto the separate defunding bill that he opposes  — that's why some say doing this would only create a symbolic vote. While that could be the final outcome, it's a far cry from what many conservative GOP members want, which is to keep immigration linked to the DHS bill and force Obama to decide whether he wants to veto the DHS bill.
Thune said the sticky issue was one being debated at the policy retreat this week.
"The discussions about how to process that particular bill… continue," he said. "There may be different ways and approaches to this issue that… we can get the point across. We'll see."
Thune also stressed a few times that nothing can move in the Senate without 60 votes, a comment that many opponents of Obama's plan may see as another hint that the GOP will have to cave on its defunding demand at some point.
"The magic number in the Senate is 60," he said. "The outlook in the Senate is going to depend on what we can get 60 votes for."