Fisherman Larry Warren reeled in quite the catch last week when he reported catching a 7-year-old, 28-pound rainbow trout. But as it turned out, some things just aren't meant to be.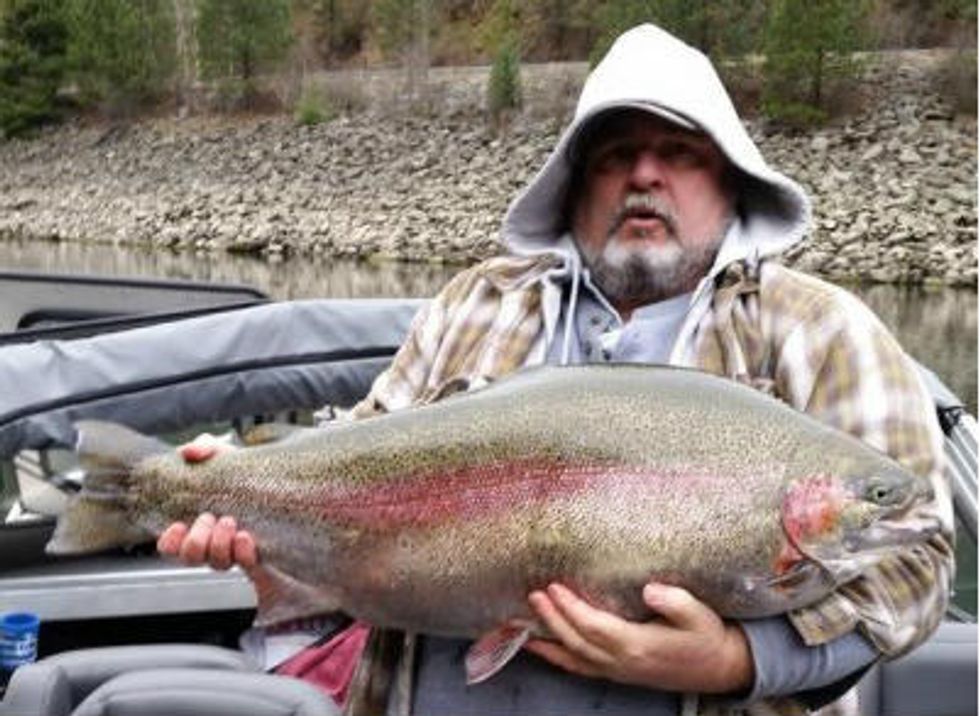 Image source: Idaho Fish and Game via OutdoorHub
Warren used a 6-pound test line to apprehend the massive fish from the Clearwater River in northern Idaho, according to OutdoorHub.
"It's the biggest rainbow trout I've seen," Idaho Fish and Game spokesman Steve Liebenthal told Fox News, adding, "We have no reason to believe this fish weighed any less than reported."
It was so big, in fact, that it would have been the largest in the state's history. The record for the biggest rainbow trout was caught on the Snake River in 2009 by Michelle Larsen-Williams of Pingree, Idaho. It was 20 pounds and 2 ounces, the Spokesman-Review reported.
The world record for the largest rainbow trout was also caught in 2009 when Sean Konrad hooked one from Lake Diefenbaker in Canada, topping the scales at about 48 pounds.
But since the state of Idaho considers the fish an "endangered species" so Warren had to throw his 28-pound catch back into the river. And because it wasn't weighed on a state-certified scale, it doesn't technically break the state's record for the largest rainbow trout, Fox News reported. Liebenthal suggested the fish's endangermen was the reason the fish grew to be so large in the first place.
(H/T: Fox News)
–
Follow Jon Street (@JonStreet) on Twitter