The call came shortly after the clock struck midnight.
Ian — the second of Jody and Jase Kinsey's newborn triplets — stopped breathing momentarily and the dreaded alarm went off at the clinic in Billings, Montana.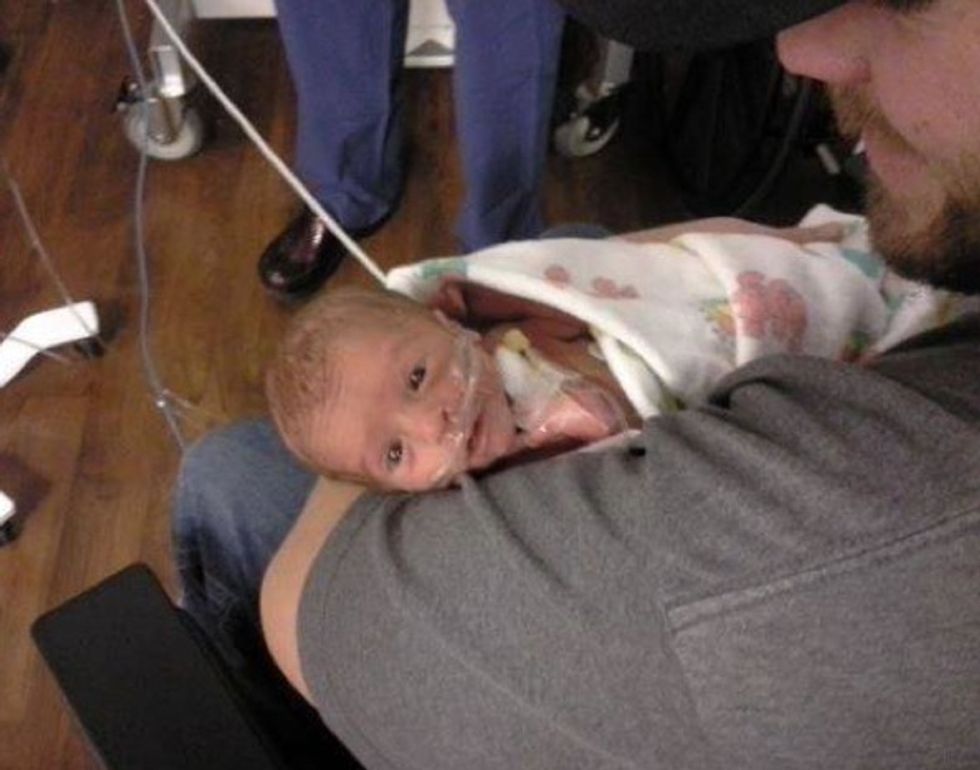 Ian Kinsey, hangin' out. (Image source: Facebook)
The little guy corrected things on his own, but the blip on the monitor earlier this week meant Ian would need to stay another five consecutive days without a repeat incident before he could go home. His brothers Cade (born first) and Milo (born last) are already out of the hospital.
It's been a long haul for the Kinsey boys, all of whom were projected for release from the clinic by now. Born Dec. 5 — a hair before 32 weeks' gestation — they garnered celebrity status because they were conceived naturally. Identical triplets conceived with fertility treatments are much more common, as are spontaneously conceived fraternal twins.
But these guys? They're flat-out uncommon.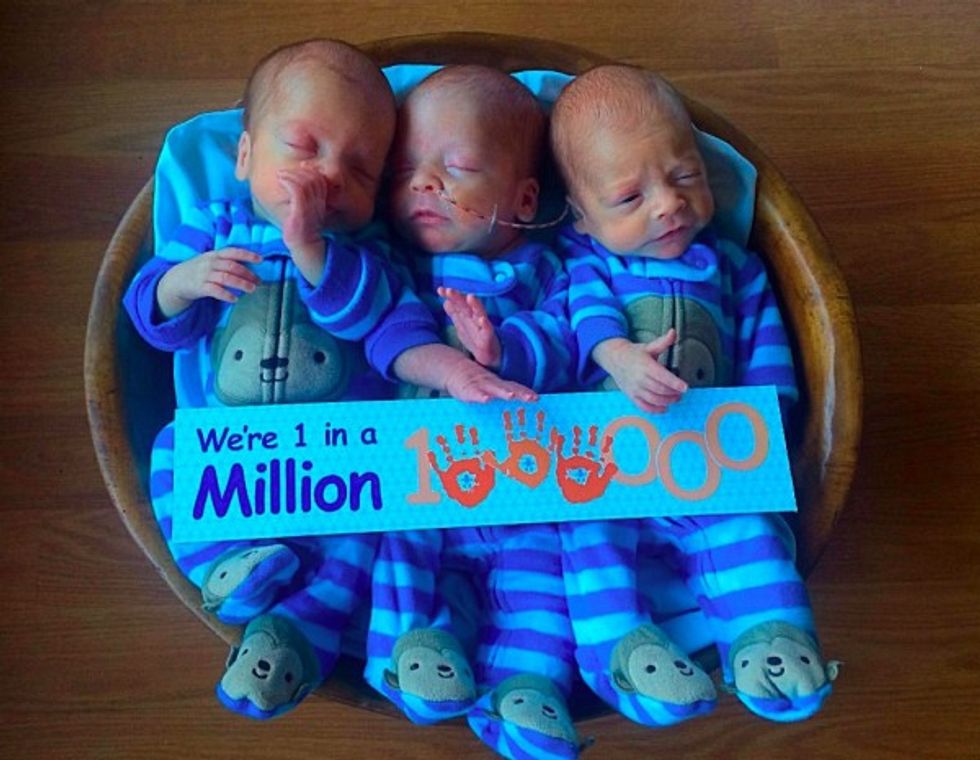 Image source: Facebook/Billings Clinic
Dr. Dana Damron, who delivered the Kinsey boys at the Billings Clinic, told the Missoulan that "to have a patient with spontaneous identical triplets is incredibly rare." So rare he called their birth a "one in a million" occurrence, ABC News reported.
But now that the cameras aren't clicking as feverishly and other big stories have hit the headlines, Jase Kinsey, 29, knows there are long hours of infant care coming up and good ol' life to be lived — the kinds of daily events that rarely receive the spotlight.
Since the triplets' birth, Jase has been home in Miles City with 6-year-old Jax, who had been the Kinseys' only child until last month. Jody, 30, has been two hours away in Billings at the Ronald McDonald House with Cade and Milo, waiting for Ian to be released from the nearby clinic.
Jax, as you might expect, doesn't care about all the hoopla.
"He's been Mom's number one," Jase told TheBlaze regarding his oldest, who soon will share his house with three new brothers — and just wants to "be around Mom."
But the most Jase and Jax can manage is grabbing Skype time with Jody when time permits and motoring down to Billings on weekends.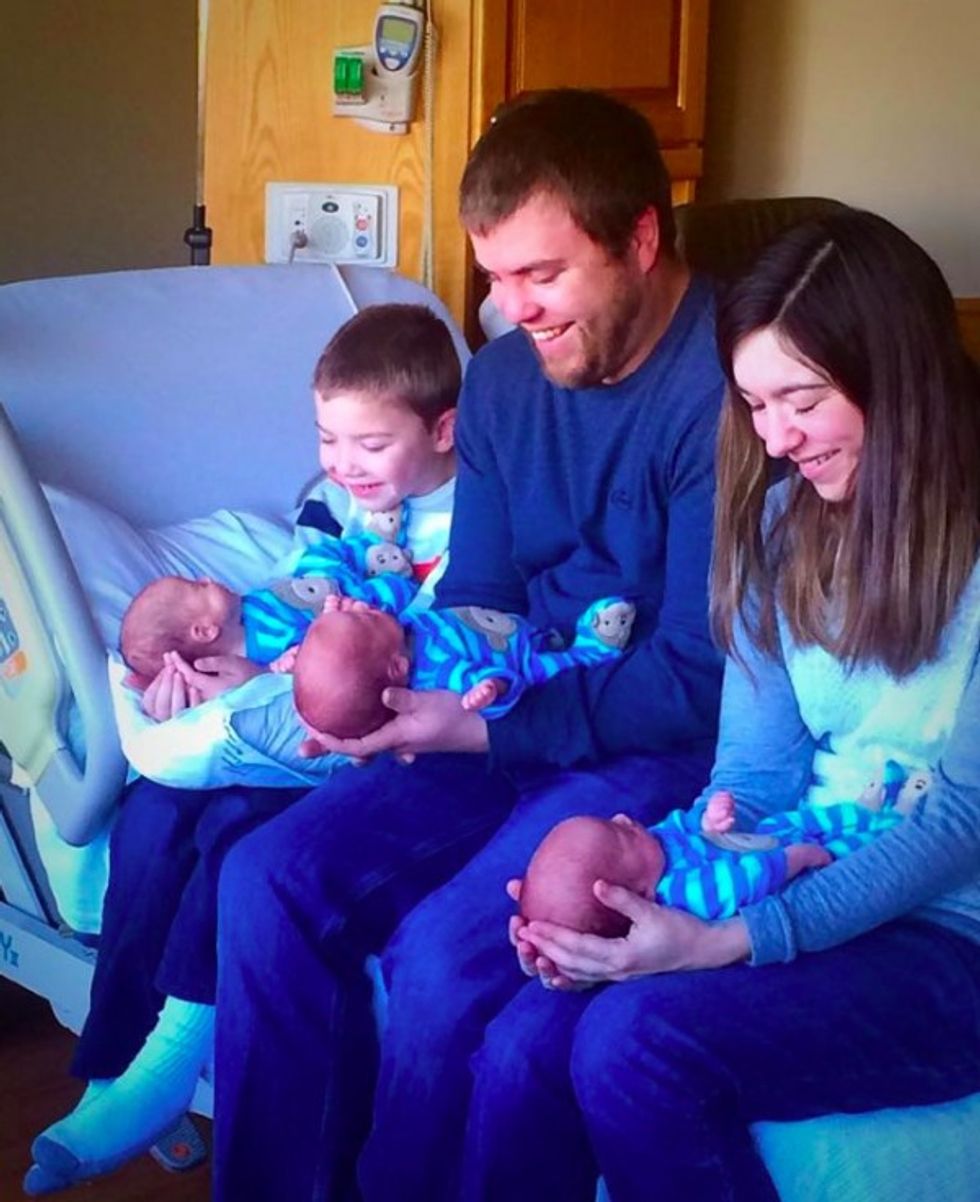 From left, Jax, Jase and Jody Kinsey each hold a new addition to the family. (Image source: Facebook/Billings Clinic)
The reason Jase and Jax are staying in Miles City is so Dad can attend to his two jobs. He works full time with the Miles City water department as a meter reader and heavy-equipment operator. But after Jody stopped working in September to reduce stress on her body, Jase grabbed a gig at a tire store — cleaning up, putting tires away and "helping as they need me to" — for two to three hours in the evenings. Grandparents tend to Jax when Dad's at work.
With three new mouths to feed — not to mention triple the clothes, diaper changes, and every other task you can multiply by three — every extra dollar will come in handy.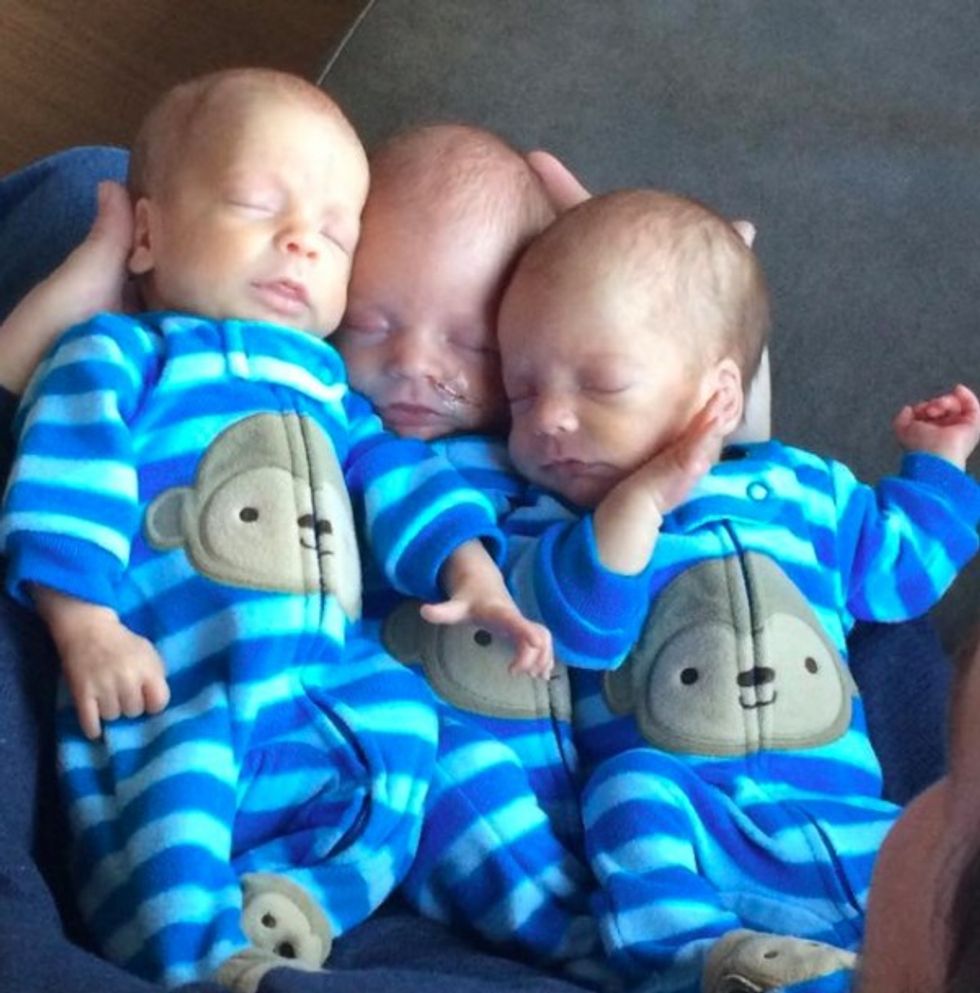 Image source: Facebook/Billings Clinic
Married for nine years since meeting at Custer County High School, Jase and Jody have strong ties to Miles City where they were both born and raised. And it shows in the support they've received from the 8,000-strong community, many of whom have stepped up to assist the growing family.
"Lots of people come by the house and offer to help when we need it," Jase told TheBlaze. "Twenty or 30 people have offered to babysit. It's been really good."
Dad also can't say enough about the Billings Clinic and its neonatal intensive care unit that's been "amazing through the whole thing."
[sharequote align="center"]"Twenty or 30 people have offered to babysit."[/sharequote]
Dr. Damron admitted Jody to the clinic all the way back in November when she began showing early signs of labor.
"When you see a patient with triplets, you take a deep breath and realize all sorts of complications that can occur," he told the Missoulan. "But when it turns out well in the end, it's one of the most amazing experiences."
Since Jase's father was a twin, he's had a feeling multiple babies might be in his and Jody's future — and the future turned out to be now.
After Jody first got the ultrasound news in May that she and Jase would be having triplets, she told ABC News that she called her husband and asked if he was sitting down.
"When she called, I said, 'Why? Are we having twins?' because my dad is a twin," Jase told ABC. "She said, 'No, we're having triplets,' and I said, 'I'll sit down now.'"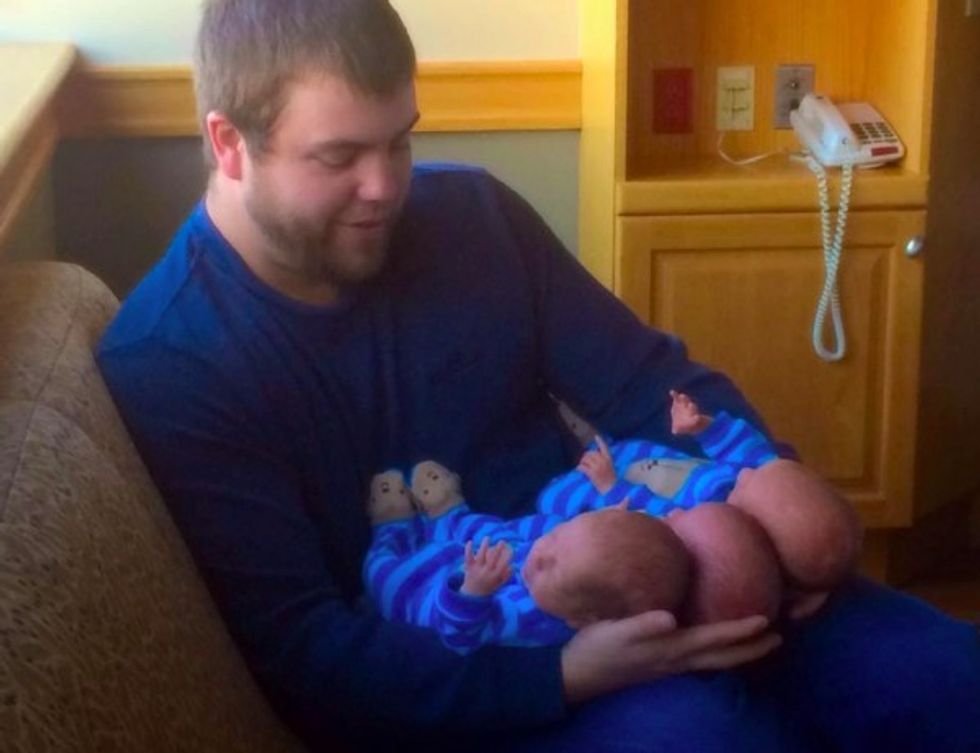 Image source: Facebook/Billings Clinic
The news apparently took a while to sink in. "I called her back 20 minutes later and said, 'This isn't a joke, right?' and she said, 'No, this is for real.'"
And as the Kinseys wait for baby Ian to finish his clinic stay, they realize their journey has only just begun.
"It's going to be interesting," Jase told the Missoulan. "I think it will be a blast, though. I can't wait."
A gofundme page has been set up to receive donations for the Kinseys' new trio of boys; donations also can be sent to Murdoch's Ranch & Home Supply, 620 Meadows Dr., Miles City, Montana, 59301.
This story has been updated.
—
Follow Dave Urbanski (@DaveVUrbanski) on Twitter