Manny Pacquiao is internationally known for being one of the world's fiercest boxers, but he told TheBlaze on Friday that it's his Christian faith that matters most to his identity, as it serves as the basis for each facet of his wide-ranging career.
In addition to his boxing success, Pacquiao is also a congressman representing the Philippine province of Sarangani, an actor and a professional basketball player. But above it all, the evangelical Christian said that he seeks to live his life by following "God's way."
The boxer, who is the subject of a new documentary about his life titled, "Manny," grew up in a Catholic home, though he had a dramatic conversation experience a few years ago that led him to become a born-again Christian — a transformation that he said radically changed his life.
It was a "conviction from the holy spirit" that inevitably led him to discover Jesus after he claims to have heard the "voice of God."
"I heard the voice of God and I saw two angels," he said of the conversion experience that he claims unfolded deep inside of a beautiful forest amid flowers. "When I heard the voice of God I felt like I died. … I was in the middle of the forrest and I was kneeling and praying with my face on the ground and then I saw a light, a very white light and I heard the voice."
He reflected on this experience in an interview with the Telegraph last year as well, describing the angels he saw as having "white, long, big wings" and claiming that God showed him "about the end of time" and that these experiences inevitably changed him. Regardless of whether people choose to take him at his word, it's certainly true that a profound change took root in his life.
After that experience, Pacquiao began to read his Bible every day and rather than womanizing and gambling as he did in the past, he continues to live a devout Christian life.
"I'm really thankful that God has given me this kind of a heart," Pacquiao told TheBlaze of his religious devotion.
The boxer, known for his brutal takedowns in the ring, also had a heartfelt message for those who might not share his devotion to Christ.
"I just want to let them know that — all over the world — that there is only one way of salvation, only through Jesus Christ," he said. "They have to know about Jesus and believe. If they don't believe, they don't have salvation, because the Lord Jesus is the only way of salvation."
Pacquiao is living his faith out as well, with a project currently unfolding in the Philippines to build a church and community center — something that he said will help make positive change in the community.
"We are starting building the church and also helping the people, giving them shelter," he said, noting that the church will help the community discover and follow God. 
On the political front, Pacquiao said that he sees the platform as yet another blessing God has placed in his life to allow him to spread the gospel and to help others in need.
"The Lord has blessed me [with] everything I have … [my] political career and serving the Lord and being a boxer — and I believe God has a purpose," he said. "It is behind my expectation and imagination. I think it's time to proclaim his name, not mine."
He's hoping his government post will help him assist those in need by cutting through corruption and focusing on what truly matters.
"I want to serve people honestly and help them. The government has money, has power to help people but the problem is a lot of public officials figure that they have their own agenda," Pacquiao said. "My goal is to serve with the fear of the Lord and [follow him]."
He added, "Whatever God plans will be done. I don't want to follow my ways. I want to follow God's ways."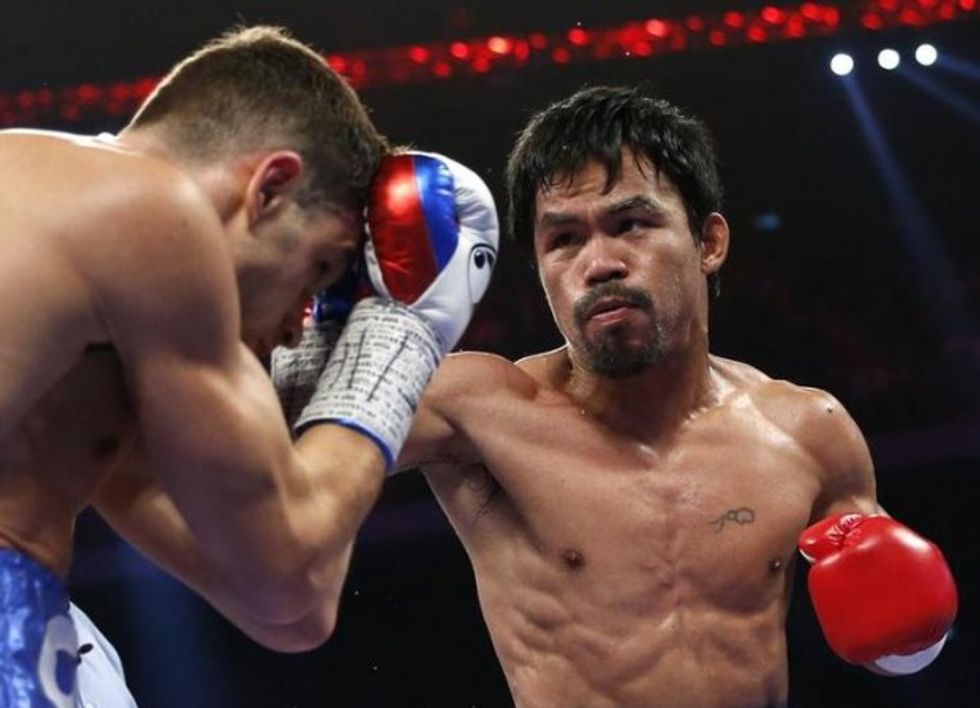 WBO welterweight champion Manny Pacquiao of the Philippines and WBO junior welterweight champion Chris Algieri of the U.S., left, exchange punches during their world welterweight title boxing match at the Venetian Macao in Macau, Sunday, Nov. 23, 2014. (AP Photo/Kin Cheung)
Whether its in the ring or from the political pulpit, it is this ideology that guides all that the famed boxer does in life.
Pacquiao, who is expected to potentially box Floyd Mayweather Jr. in May — a highly anticipated clash that has been years in the making and that could shatter records -- said that he generally spends two months intensely training for each fight.
"I jog every morning Monday through Saturday [at 7 a.m.] and go to the gym in the afternoon from 1 to 4 o'clock … for two months preparing for the fight," he said, noting that he eats thousands of calories each day in the process.
As for retiring from the ring, he didn't commit to a specific timeframe, but said that he will likely make an announcement in "a couple of more years" regarding when he'll stop professionally fighting.
Pacquiao is currently promoting "Manny," which premieres on demand and in theaters January 23. Directed by Ryan Moore and Leon Gast, the film explores how the boxer went from childhood poverty to international stardom, offering a behind-the-scenes look at his life.
Find out more about the movie here.