While reportedly thousands of protesters and counter-protesters stood outside an anti-Islamophobia conference in Texas on Saturday, the director of Jihad Watch — which identifies and critiques Islamic extremism — spoke sharply regarding what he said is the event's real intent.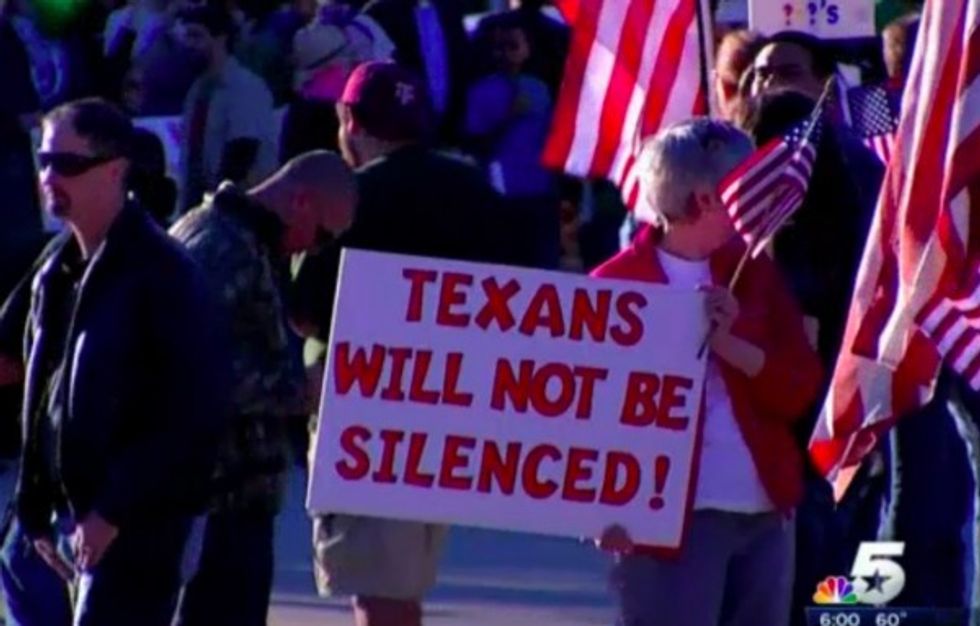 Image source: KXAS-TV
"Stand With the Prophet Against Terror and Hate" has been billed as a fundraiser for a center to teach Muslims how to combat negative depictions of their faith, KXAS-TV in Dallas reported.
But Robert Spencer said that while the event is "dedicated to eradicating Islamophobia," what that phrase really means is "dedicated to eradicating any honest discussion of how Islamic jihadists use the text and teachings of Islam to justify terror and hatred."
Spencer, the director of Jihad watch, added: "They have too long controlled the discourse and shut down any honest examination of the motives and goals of terrorists by crying 'Islamophobia.'"
Here's a clip featuring Spencer's take:
The conference had been attracting attention over the last several days by those worried over violence — but KXAS reported it was peaceful, even amid heated debate between opposing sides outside the conference in Garland.
"We're here to stand up for the American way of life from a faction of people who are trying to destroy us," one man protesting the conference told the station.
A woman KXAS identified as Muslim said, "They want for people to see that we are kind, peaceful people. We're not here to fight, we're not here to argue. We're just here to show that we're Americans too."
(H/T: The Gateway Pundit)
—
Follow Dave Urbanski (@DaveVUrbanski) on Twitter