The Rev. Martin Luther King Jr. once said that 11 a.m. on a Sunday morning is "the most segregated hour in this nation," going on to call rampant racial segregation in American churches "tragic."
Decades later, the same issue is on the minds of many pastors who still claim that houses of worship are among the most divided institutions in American society.
And recent poll of pastors conducted by LifeWay Research found that 86 percent of church congregations are, indeed, comprised of mainly one racial group — seemingly affirming this sentiment.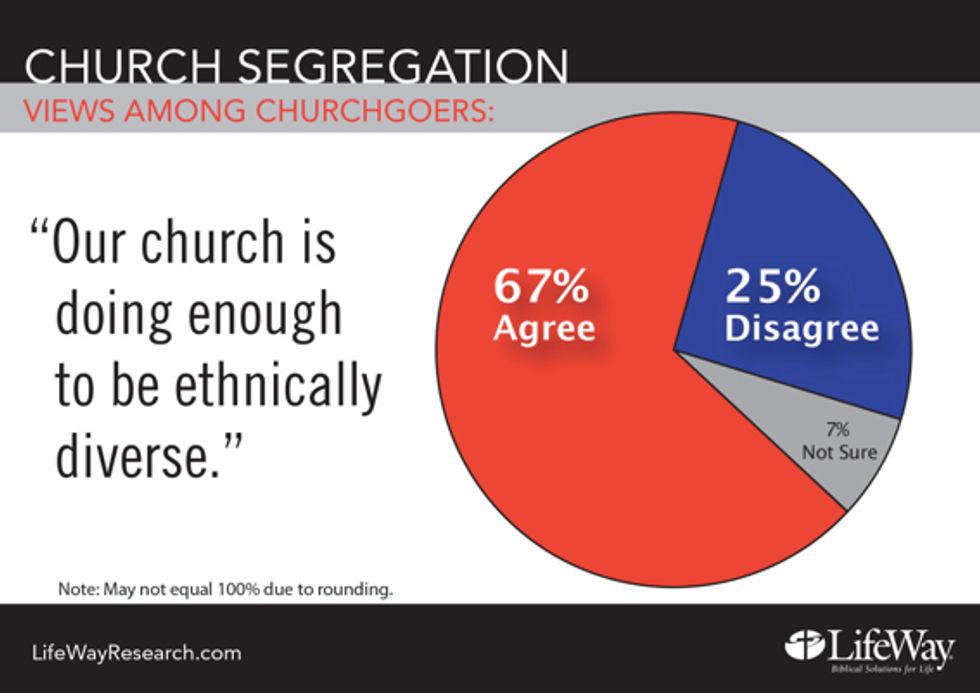 LifeWay Research
Digging a bit deeper, in a separate poll of 994 churchgoers recently surveyed by the research firm, 67 percent of respondents said their church has done enough to become racially diverse.
When asked to agree or disagree with the statement, "My church needs to become more ethnically diverse," 53 percent of respondents disagreed — and 33 percent strongly so.
Looking more pointedly at race when examining this sentiment, LifeWay Research found that blacks (51 percent) and Hispanics (47 percent) were more likely than whites (37 percent) to affirm a belief that their churches should be more diverse.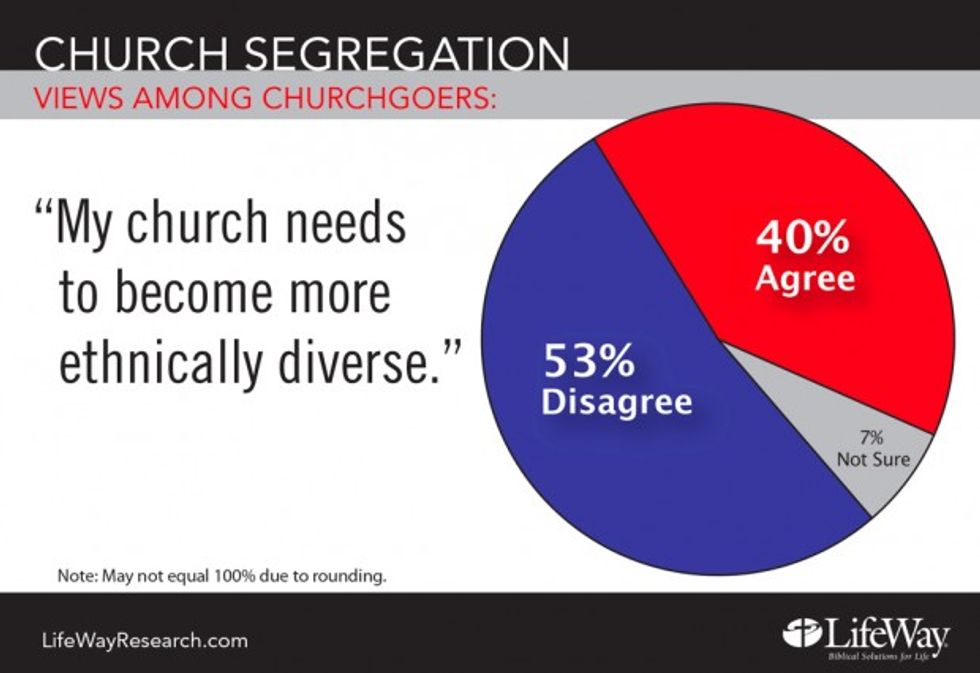 LifeWay Research
As TheBlaze previously reported, faith leaders like Derwin Gray, pastor at Transformation Church in Indian Land, South Carolina, have recently voiced concerns over the racial divide in U.S. churches.
Gray, an African American, recently issued a challenge to Christians everywhere, taking aim at the divisiveness that is inherent among and inside many churches.
"I expect people who don't have the love of Jesus to be divided, but what I don't expect is people who do have the holy spirit in them to be so divided," he told TheBlaze. "I believe we're so divided, because nearly 90 percent of churches are homogeneous."
With a lack of racial diversity among some church bodies, Gray said that it's possible for ethnocentrism to run rampant, adding, "How dare we say 'racism' when 90 percent of our churches are are homogeneous?"
Find out more about Gray here — and read what he had to say about gun laws in a 2013 interview with TheBlaze. The pastor's comments about race and Christianity follow other recent interviews TheBlaze has done along similar lines with famed rapper Lecrae and Texas pastor Matt Chandler.
Read the LifeWay Research study in its entirety here.