House Speaker John Boehner (R-Ohio) said late Tuesday that President Barack Obama's State of the Union speech offered nothing more than the same Democratic plan Republicans have been fighting for years.
"The State of the Union is a chance to start anew, but all the president offered tonight is more taxes, more government, and more of the same approach that has failed middle-class families," Boehner said after Obama spoke. "These aren't just the wrong policies, they're the wrong priorities: growing Washington's bureaucracy instead of America's economy."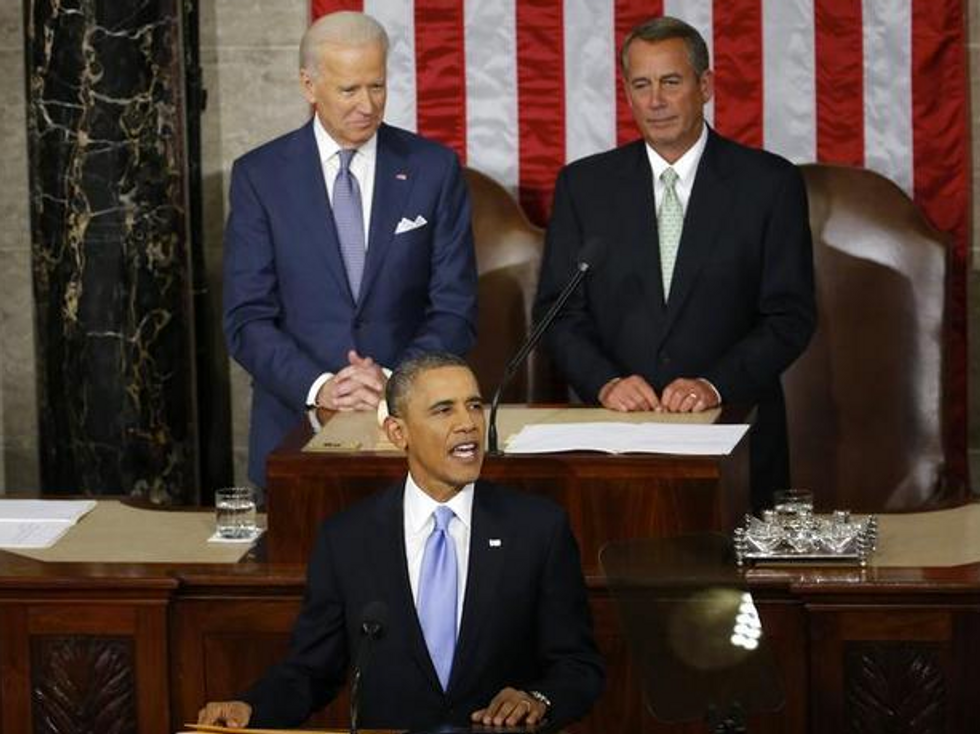 House Speaker John Boehner (R-Ohio), upper right, said President Barack Obama's speech was filled with new ideas for taxing and spending.
Image: AP Photo/Charles Dharapak
"Finding common ground is what the American people sent us here to do, but you wouldn't know it from the president's speech tonight," he added. "While veto threats and unserious proposals may make for good political theater, they will not distract this new American Congress from our focus on the people's priorities."
Obama used his speech to warn he would veto bills aimed at undermining Obamacare, the financial reform law, or legislation to impose new sanctions against Iran.
But it was Obama's proposal to raise taxes on the wealthy that many Republicans saw as not just a non-starter, but a sign that finding a way forward on tax reform will be much more difficult this year. Obama proposed higher taxes on dividend income of high-income earners to pay for things like free community college.
In response, House Ways & Means Committee Chairman Paul Ryan (R-Wis.) said Congress and the White House should be working on ways to simply the tax code.
"I found the president's tax proposals to be misguided," Ryan said. "A $320 billion tax hike is the last thing we need. What we really need is to make our tax code simpler, flatter, and fairer, so we can create more jobs."
While Obama talked about the need for the parties to work together, many Republicans dismissed that as an empty call, and one that Obama himself has not followed.
"Last year, the president promised he would use his pen and phone to ignore the legislative branch and push through his agenda by executive fiat," said Rep. Trey Gowdy (R-S.C.). "We have witnessed one executive power grab after another, setting a dangerous precedent and eroding the constitutional balance set forward by our Founders."