President Barack Obama used his State of the Union address to characterize his proposed tax hikes on the wealthy and tax credits for lower earners as "middle-class economics."
"That's what middle class economics is – the idea that this country does best when everyone gets their fair shot, everyone does their fair share, and everyone plays by the same set of rules," Obama said before a joint session of Congress Tuesday night. "We don't just want everyone to share in America's success – we want everyone to contribute to our success."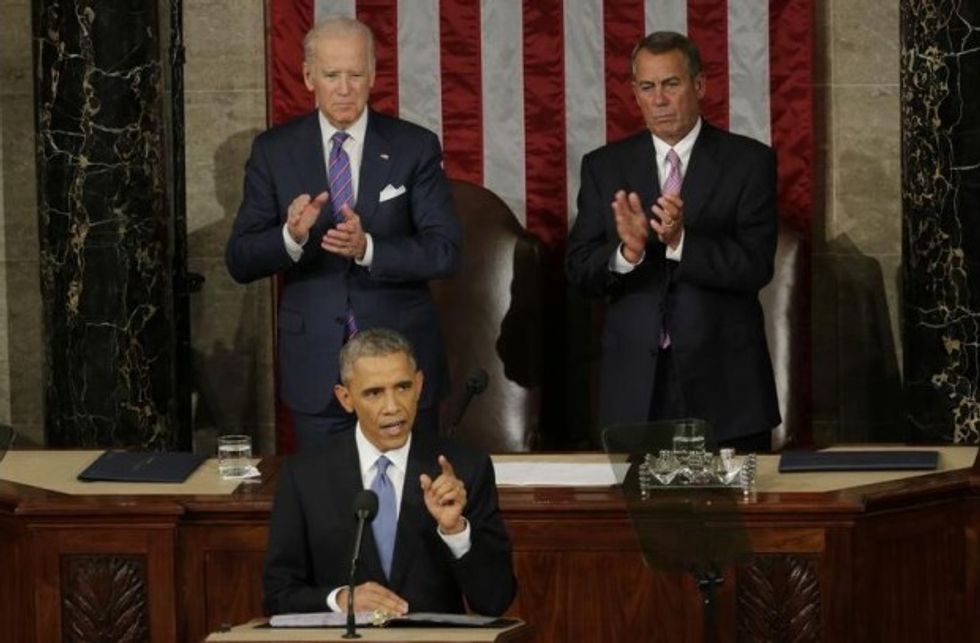 Vice President Joe Biden and House Speaker John Boehner of Ohio applaud President Barack Obama, on Capitol Hill in Washington, Tuesday, Jan. 20, 2015, during his State of the Union address before a joint session of Congress. (AP Photo/J. Scott Applewhite)
Obama did not refer directly to increasing taxes, but said, "For far too long, lobbyists have rigged the tax code with loopholes that let some corporations pay nothing while others pay full freight."
Obama is proposing $320 billion in tax increases on high-income earners over the next 10 years, targeting capital gains and inheritances. The revenue will be used to pay for an estimated $235 billion in tax credits for low- and middle-income earners.
He framed the policy in broad terms, using the phrase "middle class economics" five times. After heralding improved employment and lower gas prices, he said: "the verdict is clear. Middle-class economics works."
"At every moment of economic change throughout our history, this country has taken bold action to adapt to new circumstances, and to make sure everyone gets a fair shot," Obama said. "We set up worker protections, Social Security, Medicare and Medicaid to protect ourselves from the harshest adversity. We gave our citizens schools and colleges, infrastructure and the Internet – tools they needed to go as far as their effort will take them."
Under Obama's plan, capital gains tax rates would increase to 28 percent from 23.8 percent. The rate was already increased once under Obama, as it was at 15 percent when he came into office. President Bill Clinton signed a capital gains tax cut in in 1997. It would also expand to tax estates for capital gainses on securities when inherited. Among the tax credits would be a $500 annual tax credit for households with two income earners. His plan would also expand the child tax credit to $3,000 per year.
Though few expect the president's budget proposal to pass, he referred to it as "practical, not partisan."
In his first State of the Union address to a House and Senate both controlled by Republicans, he issued a sweeping warning.
"We can't put the security of families at risk by taking away their health insurance, or unraveling the new rules on Wall Street, or refighting past battles on immigration when we've got a system to fix," Obama said. "And if a bill comes to my desk that tries to do any of these things, it will earn my veto."
Obama went on to talk about restoring trust between police and minorities after the controversial police altercations in Ferguson, Missouri, and New York City that ended in the deaths of unarmed black men.
"We may have different takes on the events of Ferguson and New York. But surely we can understand a father who fears his son can't walk home without being harassed," Obama said. "Surely we can understand the wife who won't rest until the police officer she married walks through the front door at the end of his shift. Surely we can agree it's a good thing that for the first time in 40 years, the crime rate and the incarceration rate have come down together, and use that as a starting point for Democrats and Republicans, community leaders and law enforcement, to reform America's criminal justice system so that it protects and serves us all."
Obama has established task forces to look into community policing and into the use of military equipment by local police departments.
Obama said the United State has engaged in a "smarter kind of American leadership" regarding foreign policy with diplomacy and coalition-building. This, he said, is leading to progress in battling the Islamic State militant group.
"In Iraq and Syria, American leadership – including our military power – is stopping ISIL's advance," Obama said. "Instead of getting dragged into another ground war in the Middle East, we are leading a broad coalition, including Arab nations, to degrade and ultimately destroy this terrorist group. We're also supporting a moderate opposition in Syria that can help us in this effort"
The president again did not specify "radical Islam," but he said the United States is "assisting people everywhere who stand up to the bankrupt ideology of violent extremism."
He did reference Islam in talking about American value, saying, "It's why we continue to reject offensive stereotypes of Muslims – the vast majority of whom share our commitment to peace. That's why we defend free speech." At that, Rep. Gwen Moore (D-Wis.) held up a pencil to represent solidarity with the French satirical newspaper Charlie Hebdo, which was targeted in a terror assault in response to cartoons it has published of the Prophet Muhammad.
Well after talking about terrorism, the president said that "no challenge – no challenge – poses a greater threat to future generations than climate change."
While most initiatives received applause along party lines, some Democrats sat out cheering when Obama said, "I'm asking both parties to give me trade promotion authority to protect American workers, with strong new trade deals from Asia to Europe that aren't just free, but fair."
In calling for cybersecurity measures, Obama also made a veiled reference to North Korea, which the United States has accused of perpetrating the Sony hack last year.
"No foreign nation, no hacker, should be able to shut down our networks, steal our trade secrets, or invade the privacy of American families, especially our kids," Obama said. "We are making sure our government integrates intelligence to combat cyber threats, just as we have done to combat terrorism."
Last week, a group claiming sympathy to the Islamic State hacked the social media accounts of U.S. Central Command. Obama urged Congress "to finally pass the legislation we need to better meet the evolving threat of cyberattacks, combat identity theft and protect our children's information."
"If we don't act, we'll leave our nation and our economy vulnerable. If we do, we can continue to protect the technologies that have unleashed untold opportunities for people around the globe," Obama said.
Obama called for Congress to pass America's College Promise, which would provide two free years of community college for students that maintain a 2.5 grade point average. The administration estimates it would cost $60 billion.
"I am sending this Congress a bold new plan to lower the cost of community college – to zero," Obama said. "Forty percent of our college students choose community college. Some are young and starting out. Some are older and looking for a better job. Some are veterans and single parents trying to transition back into the job market. Whoever you are, this plan is your chance to graduate ready for the new economy, without a load of debt."
Obama again called for Congress to raise the minimum wage, a central point of last year's address. This year, he seemed to taunt GOP lawmakers to raise the wage.
"To everyone in this Congress who still refuses to raise the minimum wage, I say this: If you truly believe you could work full-time and support a family on less than $15,000 a year, go try it," Obama said. "If not, vote to give millions of the hardest-working people in America a raise."
After the Obama administration was plagued by a Department of Veterans Affairs waiting list scandal, the president talked agains about how the administrations is improving veterans' access to health care, job training and other benefits.
"Already, we've made strides towards ensuring that every veteran has access to the highest quality care," Obama said. "We're slashing the backlog that had too many veterans waiting years to get the benefits they need, and we're making it easier for vets to translate their training and experience into civilian jobs."