A handful of college football conferences basically own the NFL.
Need proof? Take a look at where the players in the upcoming Super Bowl went to school — a huge majority went to Power Five colleges.
Leon Lovett — "That Data Dude" — broke down the distribution and found that nearly 70 percent of the 106 active players on the Seattle Seahawks and New England Patriots' rosters went to a college that competed in the Power Five conferences: the Big Ten, Pacific-12, Southeastern, Big 12 or the Atlantic Coast Conference.
Take a look at some of the best known players and you'll quickly see the dominant presence of the Power Five.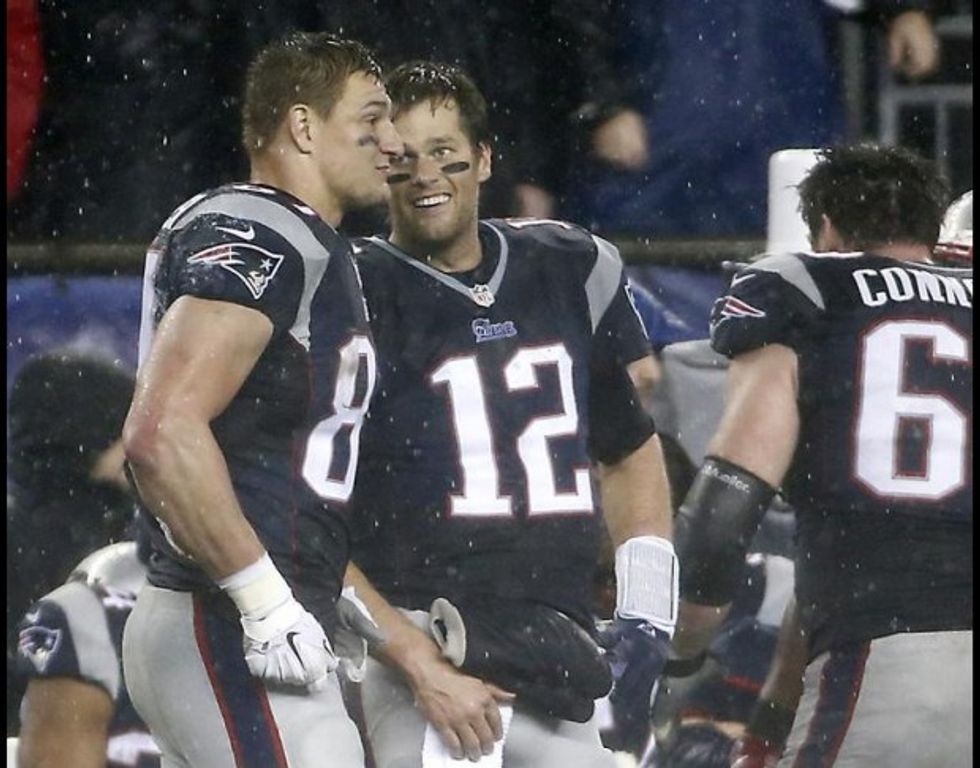 New England Patriots quarterback Tom Brady talks to teammate Rob Gronkowski after the game was in hand against the Indianapolis Colts during late fourth-quarter action during the AFC Championship Game at Gillette Stadium in Foxborough, Mass., Jan. 18, 2015. Both Brady and Gronkowski played for Power Five conference schools. (Boston Globe via Getty Images)
All of the below players went to Power Five schools (in Russell Wilson's case, twice):
Patriots quarterback Tom Brady: University of Michigan, Big Ten

Seahawks quarterback Russell Wilson: University of Wisconsin, Big Ten, and North Carolina State University, Atlantic Coast Conference

Patriots tight end Rob Gronkowski: University of Arizona, Pacific-12

Patriots cornerback Darrelle Revis: University of Pittsburgh, Atlantic Coast Conference

Seahawks cornerback Richard Sherman: Stanford University, Pacific-12

Seahawks running back Marshawn Lynch: University of California, Berkeley, Pacific-12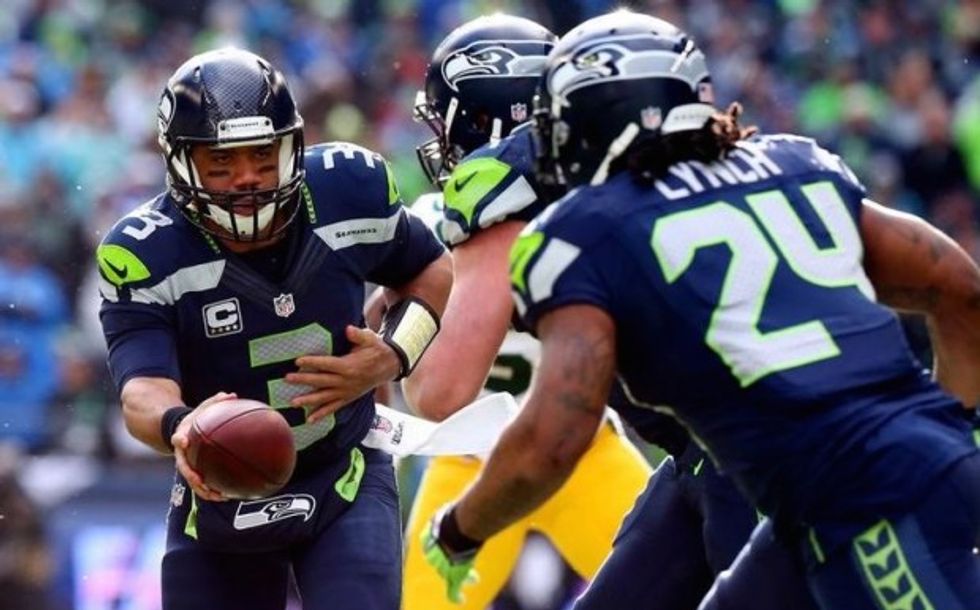 Russell Wilson of the Seattle Seahawks hands the ball off to Marshawn Lynch during the second quarter of the 2015 NFC Championship game at CenturyLink Field, Jan. 18, 2015 in Seattle. Both Wilson and Lynch played football for Power Five conference schools. (Ronald Martinez/Getty Images)
There are, however, some exceptions to the Power Five predominance on the champion teams — and some of them are responsible for some of the most entertaining plays of the past few weeks.
Jon Ryan, the Seahawks punter who became the first kicker in NFL history to throw a postseason touhchdown pass on Sunday, went to the University of Regina in the Canada West Universities Athletic Association, while Julian Edelman, the Patriots wide receiver who played quarterback in a rare trick play in against the Baltimore Ravens, attended Kent State University, in the Mid-American Conference.
See the complete breakdown of Super Bowl players by college conference below:
—
Follow Zach Noble (@thezachnoble) on Twitter