Republican National Committee Chairman Reince Priebus said there will have to be limits on who takes the stage at the 12 planned presidential debates, after more than 20 people have expressed some interest in running for president in 2016.
Radio host Hugh Hewitt asked Priebus on Monday, "How do you do 20 people on a platform?"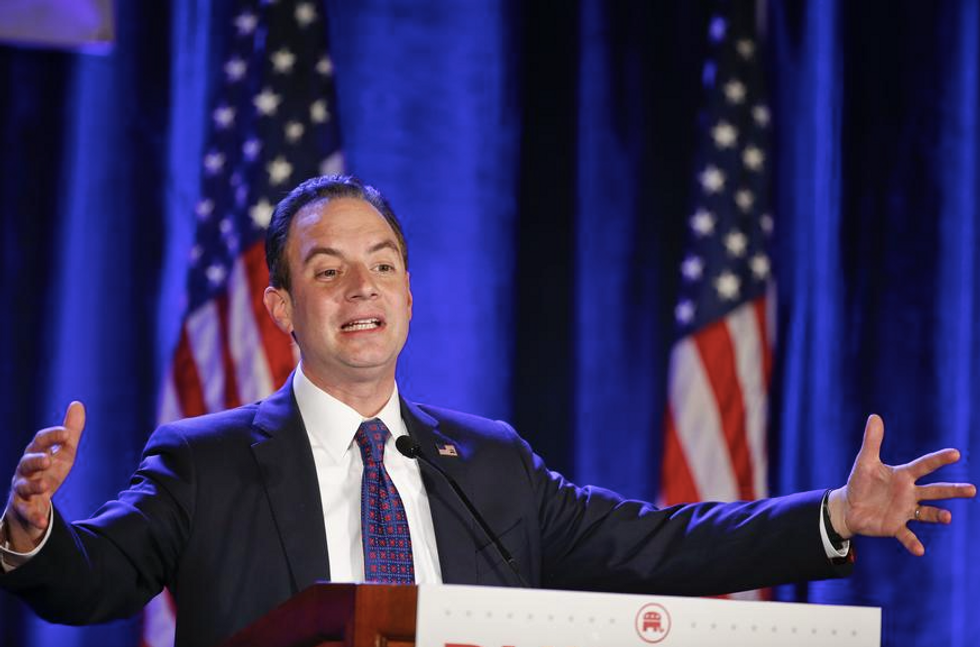 AP Photo/Lenny Ignelzi
"I think in combination with the RNC and the media partners, and this is not in stone, but I just want to give you a flavor for what I'm talking about," Priebus said. "You have to have certain thresholds in place. So you have to be at 1 percent of the vote in Iowa, and that threshold can move like a slide rule based on the proximity to the Iowa caucus and the New Hampshire primaries, etc., just like it did before."
"If you look at the percentages of what 1 or 2 percent in Iowa would get you, you could have eight or nine people on the stage," he added.
A Gravis poll last week found that nine potential GOP candidates have more than 4 percent in the state with the first caucus.
There is typically some threshold for being in presidential debates, but such a threshold takes on new importance after Friday's RNC announcement that there would be 12 debates – about half as many as were held during the 2012 election cycle.
Nine of the 12 have been scheduled, while three – including the conservative media debate – are still pending.
Priebus said in some cases, the existing debates with CNN, Fox News, CNBC and other outlets would include conservative media as well.
"The first issue is on the conservative media front," he said. "We were close to announcing everything last week, but I needed to button down a few things to make it very clear what we were doing. And so very soon, what we will do is announce in some cases conservative media partners with the current, with the nine that you're seeing there on a piece of paper."
"So you'll see media partners join in with the base that you already see … in many cases, those nine debates will expand to include conservative media partners," he said.